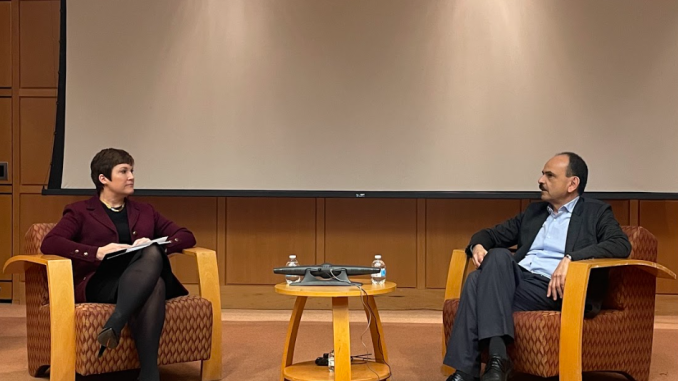 By Gabriela Flores
    In her first visit to Brooklyn College, CUNY's Executive Vice Chancellor and Provost Wendy Hensel, who oversees the university's academics, openly answered questions from the campus community in a town hall on Thursday, Feb. 9. Faculty and students in attendance asked about Governor Hocul's latest executive budget for CUNY, the future of online courses at BC, the university's low enrollment, and other concerns. 
    "It is really a pleasure to speak with you, and an important opportunity for us to have a conversation about what's going great, what is challenging, and how CUNY Central can help move Brooklyn College along to fulfill its own mission and its goals," said Hensel on Thursday. 
    Hensel was appointed as CUNY's chief academic officer in February 2022 and has overseen several projects since her arrival, including the Black, Race, and Ethnic Studies Initiative where $3 million from the Mellon Foundation were used to further develop race and ethnic research across campuses.
   Hensel's visit to BC formed part of her listening tour across the university's 25 campuses, which began last fall. Alongside Peter Tolias, the college's dean of School of Natural and Behavioral Sciences, Hensel first delved into the work she and her colleagues at CUNY Central are creating to address the "achievement gap" that impacts the university's over 500,000 student population, especially since the pandemic's start. 
   "Student success is a moral imperative," Hensel said. To meet student demand for online courses, CUNY intends to offer training and support for faculty who are interested in implementing online instruction. In doing so, the university aims to extend modality flexibility for students who are employed, may have disabilities, look after their children, or face other circumstances that limit their access to campus.   
   "The days of a student being totally in-person or totally online are probably mostly over as a result. What we are seeing is students demanding a mix of modalities that can allow them to create flexible and personalized schedules," said Hensel, emphasizing that faculty have the final say on what instruction they wish to offer for their programs. 
    For Tolias and other professors in attendance, balancing student demand for online instruction and creating a meaningful program that prepares students for their respective careers has its challenges, especially with some skills needing in-person instruction. These discussions of more online courses are backdropped by an ongoing enrollment crisis across CUNY. At Brooklyn College, about 13,100 students are currently enrolled this spring as of press time, illustrating a nearly 23% deficit from the enrollment in spring 2020 when the pandemic led CUNY into lockdown. 
    "There's significant destruction from COVID, and we have trouble both bringing in new students at this moment – although we're starting to see some results there – but also with retention. And those are things that will be critical for all of us to change and be successful," said Hensel. 
    To stay afloat during the pandemic's peak, CUNY used its federal funds from the U.S. Department of Education under the Higher Education Emergency Relief Fund. That federal support, however, is no longer available. Under Governor Kathy Hocul's latest executive budget, the university has been allotted $604 million in capital funding over five years for its senior and community colleges. SUNY is slated to receive approximately $700 million in capital funding for its campuses. 
     In her executive budget, the governor also proposes raising tuition by 3%, according to AMNY, for the 2024 fiscal year. Despite Hochul's historic contributions to the state's two public higher education systems, the proposed tuition hikes and the current budget falls short of realizing the New Deal for CUNY, a plan that calls for the university to be free for in-state undergraduates along with other demands. Members of the Professional Staff Congress, a union that represents CUNY's faculty, directly asked Hensel in the town hall if she and Chancellor Félix V. Matos Rodríguez would publicly back the New Deal for CUNY. Hensel noted that she, the chancellor, and other administrators are lobbying "in front of the legislature for exactly this."
    "We need more resources. And to get those resources, we also must continue to innovate and show that we're a high-quality program and show that we're relevant and meaningful and moving these students into the middle class and serving their needs," said Hensel, noting the inequity between CUNY and SUNY state funding in the current budget. Despite the difference in funding between the two universities, Hensel, the chancellor, and other CUNY members recognize Hochul's significant investment in higher education and a "state that really values public education." 
     Beyond enrollment and funding, Hensel also discussed with town hall participants the university's commitment to bettering campus climate. Recently, CUNY partnered with Hillel International, a Jewish-based organization, to improve how campuses address incidents of antisemitism and other forms of discrimination. In the town hall's closing, one faculty member asked about the university's commitment to consistently invest in more diverse staff and programs that are representative of Brooklyn College's student body. The professor also noted that the long-advocated tenure line for a Puerto Rican and Latino Studies professor is undergoing further consideration by the university's review board, which further postpones the potential installment of the demanded faculty line. 
     "I said to the faculty today, I know that they don't see me as faculty, but I see myself as faculty and I consider myself to be the chief advocate for faculty," Hensel said, explaining that CUNY is doing its best in keeping up with multi-million structural deficits and other costly university expenses in the wake of an enrollment decline and loss of federal funding. "I sit on that review board, and I will articulate that position as well."