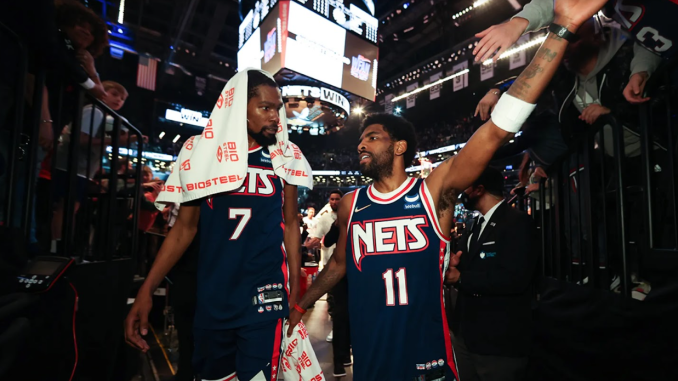 By Owen Russell 
   The dust settles on what may be the wildest NBA trade deadline in recent memory. The days leading up to Feb. 9 gradually ramped up the intensity, reaching a boiling point in the final hours. At the heart of the madness was none other than the Brooklyn Nets. Jay-Z's favorite team sent both Kevin Durant and Kyrie Irving west (Durant to Phoenix, Irving to Dallas), closing the book on false promises and unlived potential. After dumping two generational talents, and receiving a cache of draft picks in return, what is next for the Nets?
   Anybody following the Nets in recent years can admit this was a long time coming. Irving proved to be a massive headache; first refusing to play because of vaccine requirements and then demanding a trade multiple times. Durant came with his own baggage too. The Nets acquired Durant after tearing his Achilles in the 2019 NBA Finals. Durant missed his first year in Brooklyn, while Irving missed substantial time himself. In total, the two played 74 games together. Even if you ignore the James Harden debacle, Brooklyn's Durant and Irving experiment is the biggest flop in NBA history. Brooklyn laid claim to some of the greatest players ever and has nothing to show for it.
   Well, not nothing… Brooklyn received a hodgepodge of players and picks for their efforts. The Nets now own Phoenix's first-round pick in 2023, 2025, 2027, and 2029. They also picked up Dallas' first-round pick in 2029. Three second-round picks were sprinkled in to sweeten the deal. As for physical bodies, the Nets gained five new players: Spencer Dinwiddie and Dorian Finney-Smith from Dallas, as well as Mikal Bridges, Cam Johnson, and Jae Crowder from Phoenix. Crowder was soon flipped for five second-round picks. All in all, Brooklyn received an overhaul of draft picks, with four serviceable rotation players to fill out their current roster. 
   So what comes next for Brooklyn? The Nets exist in basketball limbo currently. After losing their franchise superstars, most teams would openly tank (lose in order to gain better draft positioning), but Brooklyn can't afford to tank. The Nets traded the farm back in 2021 to acquire James Harden from Houston. The team sent three unprotected first-round picks, and the right to swap picks in four other drafts. In other words, if the Nets suck, Houston benefits by getting their draft pick. Brooklyn has no incentive to tank, so they most likely won't.
   That being said, the Nets no longer look like contenders. As of now, Brooklyn is the fifth seed in the East. If the season ended today, they would be a playoff team. Considering how poorly the bottom of the conference has played, expect Brooklyn to hold on to a playoff spot this season. They have exciting young players who have shown promise. Nic Claxton could be a top center in years to come. He's putting together a career year at 23 years old. Second-year surprise Cam Thomas has shown flashes of brilliance, which fans hope can be sustained. The four players Brooklyn retained from the Irving and Durant trades are more than capable as support pieces, but unfortunately, there is no star to support anymore. Are the Nets destined to exist as mediocre for eternity?
   Durant and Irving offered Brooklyn a realistic shot at the NBA Championship. Their current roster offers a puncher's chance at the playoffs. Maybe the Nets will win big. Maybe their roster will rise above expectations and produce a homegrown star. Maybe the Phoenix Suns will collapse, and the draft picks Brooklyn received will become inordinately more valuable. Maybe an asteroid will strike, and we can all forget that Brooklyn wasted three future hall of famers. All of these things could happen, but don't count on it.
   This is the same franchise that sold its future for battle-worn veterans Kevin Garnett and Paul Pierce back in 2013. Ten years later, nothing has changed. Brooklyn sold out to get Durant, Irving, and Harden, only for it to go bust once more. It may take a miracle for things to turn around in Brooklyn. On the bright side, at least tickets will be cheaper now.