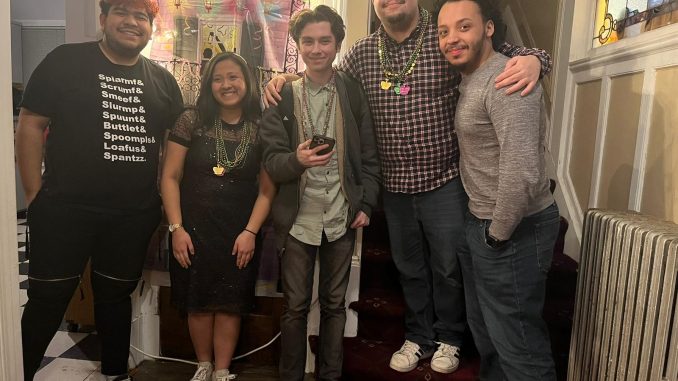 By Haritha Lakshmanan
   The Brooklyn College Newman Catholic Center hosted its annual Mardi Gras party in celebration of Lent, a month of Christian religious observance, on Feb. 17. Featuring delicious food and fun-filled games, the event saw students of all backgrounds.
   Newman has been actively uplifting the college's Christian community since 1963, looking to strengthen the bond believers have with their faith. Its latest Mardi Gras celebration was the first one back in-person following the COVID-19 pandemic. Although the center had remote celebrations in the past years, they enjoyed the energy and community that its in-person return brought to campus.
    "Mardi Gras is the day before Lent – a season of fasting and prayer for many members of the Christian community. As such, many of us celebrate the night before with unhealthy food," explained Michael Martinez, a BC graduate student and Newman's spiritual director.
   The party featured card games and other Mardi Gras-themed activities. A specific game involved students removing beads off their Mardi Gras necklaces every time they mentioned a "forbidden word." This game was a variant of a baby shower activity but modified for the Mardi Gras party. 
   Forbidden words included Mardi Gras, Fat Tuesday, baby, and king cake. "Fat Tuesday" refers to the day before Ash Wednesday, or the start of Lent, where celebrants eat "as much butter, sugar, or meat as possible," according to Phoebe Marbid, treasurer of the Newman Center. The term "king cake" references the decadent, sugar-layered treat that is associated with the three kings who visited Jesus Christ after his birth. "Baby" is a nod to baby Jesus, who is celebrated during the Mardi Gras festivities.  
   Aligning with the meaning of the holiday in the Christian denominations, there were also unhealthy food options at the party, such as fried chicken, donuts, and cakes. Other than the games, there were also dances. 
   "Getting to learn a glimpse of the dances was my favorite part of the party! I don't come from a nation where the carnival festival is heavily prominent, so I loved every moment of learning the dances from some of our members," said Marbid.
   BC Newman leaders stated that they were worried about the event turnout as it was held on a Friday evening. The initially planned date fell on a Tuesday that ran on a Monday schedule for classes, pushing the event back a few days. Despite the worry, there was a good turnout, with guests from Queens College in attendance as well.
   The event asked that all students who attended wear fancy masks in traditional Mardi Gras style. Masks were available for selection provided by the Newman Center. 
   "I loved wearing and seeing everyone else wear the masks! Wherever I turned around, there were students wearing masks, and I liked that I couldn't identify everyone around me. It allowed me to interact with anyone and everyone I saw without worrying or overthinking," Alexander Ocasio, president of the Newman Center, told The Vanguard.
   The BC Newman Catholic Center hopes to have a St. Patrick's celebration in the near future, as well as a Holy Week service during spring break in early April to celebrate Easter. Every Tuesday, the center hosts mass at 12:30 PM followed by Tea with Litanies, a series of events where Newman members and attendees enjoy an assortment of drinks while listening to prayers. They encourage anyone interested in understanding more about scriptures to come to their weekly mass or schedule a meeting with their spiritual counselor. The Newman Center is located at 2401 Glenwood Road, and is open to all BC students whether they are of Christian faith or not.