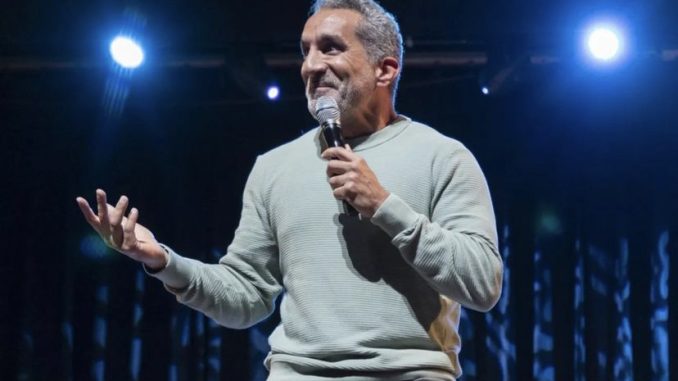 By Haritha Lakshmanan        
   Stressed out students versus laughter: thankfully, laughter won over the 500 students who attended Comedy Night. World renowned comedian Bassem Youssef came to town on Feb. 21 to give Brooklyn College a show to remember at Whitman Hall. The night was filled with satirical jokes, free USG merchandise, a speech from President Michelle Anderson, and a post-show dinner for student leaders.
   "I was invited, so I came," Youssef told The Vanguard. 
   Youssef, a cardiac surgeon turned comedian, was the host of the popular television show "El Bernameg," the first political satire show in the Middle East. The program made tremendous waves, with Youssef poking fun at the politicians in his native Egypt. Eventually, it became too dangerous for him to stay in the country, which led him and his family to journey to the United States. Dubbed as the "Jon Stewart of the Arab World," Youssef continues making strides as he travels the world doing stand-up.
   "There was a certain atmosphere of excitement all throughout the night. Bassem kept everyone on the edge of their seats with sharp, witty jokes and thoughtful satire. The feeling was surreal," said Robert Adler, a BC senior and Undergraduate Student Government's student advocate.
   The evening was moderated by Adler and student leader Mariam Alex, who form part of the teams that made Youssef's visit possible, including USG, American Medical Student Association, B.A.-M.D. Student Committee, and Brooklyn College Speech and Debate Team.   
   Prior to Youssef taking the stage, Adler and Alex introduced him in peak entertainment fashion, using knock-knock jokes and even a song to explain the house rules for the night. Once the stage belonged to Youssef, he did not disappoint. His comedy gold centered on his Arab identity while he compared his life experiences in Egypt and the United States. From taking a jab at Los Angeles' traffic, to his fun retelling of the day he received his US citizenship, Youssef brought out the laughs from BC students. After his show, he interacted with the audience members in a Q&A. 
   "A real highlight of this event was the opportunity to directly interact with Bassem and ask him questions on everything from his life and his journey from medicine to comedy to his skincare routine and tips on vegan eating," said Alex, USG's events director. "Bassem was extremely gracious in giving us the chance to directly interact with him, allowing us to gain valuable insight from an inspiring comedian!" 
   The event, which took months to plan, resulted in a night of success thanks to many students and faculty on campus. "We couldn't have done it without the really amazing staff at CUNY, all our student volunteers with the USG events team, and all the students that attended and brought along their strong enthusiasm," Alex said. 
   The event saw close to 500 students, faculty, and staff in total attendance. For Phoebe Marbid, sophomore and treasurer of the BC Newman Catholic Center, Youssef's use of comedy in the context of religion was something she found hilarious. She referenced Youssef's joke about Moses parting the Red Sea to avoid traffic and reach the Promised Land as one of the highlights of the night. 
    "As a religious study double major myself, I found his religious jokes to shed light on how we could make jokes in religious contexts and be mature about it," she said. 
   Looking forward to more events, USG hopes that students on campus will be able to attend Rage Against Midterms on Mar. 14, where students can relieve their stress surrounding midterms by breaking plates and other materials, as well as an Iftar dinner hosted on Mar. 27 by the Muslim clubs on campus.