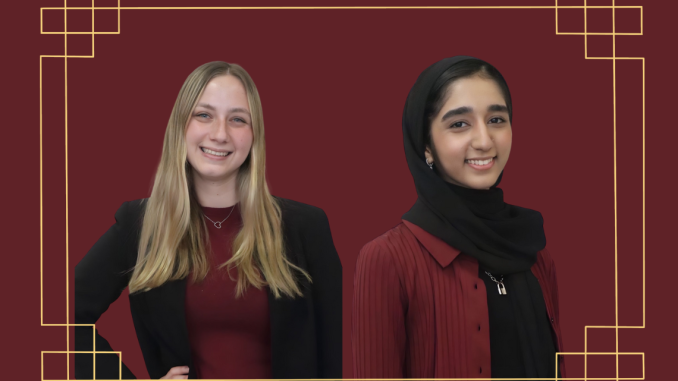 By Shlomie Katash
   The candidates on the first slate for president and vice president are campaigning strongly on the platform of being familiar faces around campus. Carrie Ebbin and Huda Ayaz are running for president and vice president, looking to use their prior experiences in USG to continue building a campus community that uplifts all its students. 
   Ebbin is a sophomore in the Macaulay Honors program, studying business with a concentration in marketing. She is serving as vice president alongside Aharon Grama, USG's president. Her inspiration to get involved sprung from personal experiences of having student government help her in her first semester as a freshman, where she imagined she could do the same for others. Ebbin understood early on that she could best support her campus peers through student governance. She eventually became a senator that spring, the first semester she could, and ran for vice president soon after. 
    Her running mate Ayaz is a sophomore studying multimedia computing, who became USG's current club director after working with various organizations on campus in her first year. "I was exploring a lot in freshman year in general. I went to lots of different club meetings, I met a lot of people through my classes and whatnot, and the topic always just comes up about what issues you're having in school," Ayaz said. At the start of this past fall, she assumed her current position in USG. 
   As evidenced by their enthusiasm to work for BC students, both Ebbin and Ayaz cite their passion for helping others as one of their principal drives as candidates.
   "I think we're both pretty driven and motivated and passionate. We both really like helping people in general. That makes you want to get involved in USG," Ebbin said.
   They noted their shared interest and passion for student governance and advocacy as some of the main reasons they believe they can accomplish their priorities for leading USG. 
   "I'm looking forward to making changes that students actually want to see on campus," Ayaz added. "And I'd say both of us, we can be pretty focused, and we have a goal that we want to accomplish and we want to see it come to fruition."
   The ticket hopes to utilize their experience to successfully lead a team in USG that correctly and fully advocates for students. In doing so, they hope to further diversify the students voices USG hears, especially since BC has "a broad spectrum of diversity," Ebbin explained. 
   As incumbents of student government, the first slate will continue what they have started if elected, including improving the Boylan cafeteria, diversity equity and inclusion, advocating for an affordable CUNY, improved infrastructure, and a hunger-free campus. 
   To help combat declining enrollment and retention, a pressing issue both BC and CUNY-wide, the duo hopes to host more community events to make Brooklyn College a more attractive place to enroll and stay in.
   "I think those really make people more excited to be on campus and make them want to stay," Ebbin said. "Statistics show that when students are part of a community like that, they want to stay in college." 
   The slate believes, though, that more goes into a campus-for-all than just hosting enjoyable events. "With a campus that's advocating for you, that's making the campus a place that people want to be, we hope that people would want to stay for that," Ayaz added.