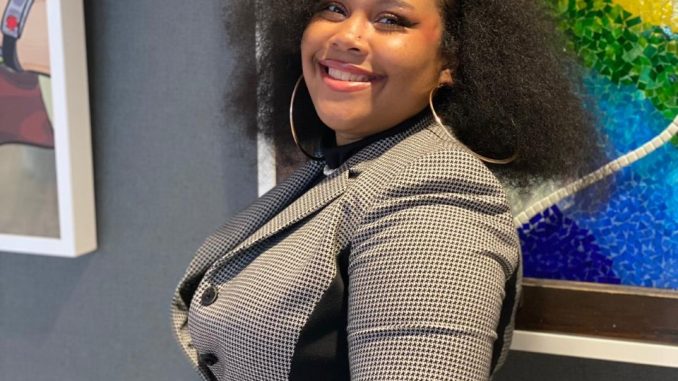 By Serin Sarsour
   As an up-and-coming leader in the business world, Brooklyn College student Jessica Vaivao is starting the foundation of her career on campus. In doing so, she uplifts her peers and communities as president of the National Association of Black Accountants, carrying on the independence and leadership skills she first gained at a young age. 
   "I had a lot of curiosity," Vaivao told The Vanguard. "I was told 'to not try, but instead do,' and that rings in my head whenever I want to make an impact for my community."
   As president of NABA, Vaivao aims to help underrepresented and marginalized communities at BC make names for themselves in the business field. This passion blossomed throughout the COVID-19 pandemic after Vaivao witnessed first-hand the significant difference between the financial status of Black, indigenous, and people of color communities and that of their white counterparts. This surreal awakening for Vaivao inspired her to get involved in her community and help those in need, starting with a non-profit her friends founded called Bushwick's Art. 
   "[…] We essentially donated food to people, had leisure and creativity events to help BIPOC individuals' mental health needs, and supported BIPOC artists in low-income neighborhoods and assisted in helping them earn something to get by, just to make it easier on them," said Vaivao, noting that NABA is an extension of the work she participated in during the pandemic.
   Many NABA members have gone on to get accepted into internships and jobs working for successful companies and accounting firms, including "the big four": Deloitte, PwC, EY, and KPMG. However, without Vaivao having the initiative to become club president after COVID-19 had shut the club and everything else down, NABA may not exist today.
   "NABA has taught me the importance of not letting the fear of failure control you, and that it's okay to branch out and break a bubble that had been set from systemic oppression," Vaivao said. "We're taught that failure should be avoided. However, failure is a natural thing in life and a learning lesson to be had so it won't happen again."
   Besides being at the forefront of NABA's operations, Vaivao is majoring in business administration under management. Vaivao realized early on that she was good at managing and assisting others. In further developing her skills and knowledge of the industry, she actively picks up tips she could apply to her own business and network. Vaivao's knack and passion for business are rooted in her upbringing with several relatives working in the field, from her grandmother who has been an accountant since 1979 and is now an associate director at UBS, to her uncle being one of the senior managers for BlackRock.
   Vaivao even kick-started her own small business in 2020 called Mushi Mu's Artiso, named after her nickname Mushi, where she mainly sold handmade paintings, pins, bookmarks, and stickers. She created this business as a way to deal with trauma and grow as an individual after escaping from a toxic relationship. As a physical vendor, she traveled around NYC to attend gallery showcases and vendor markets. Since she was able to meet so many different people and make new connections while doing this, she was given the opportunity to become a modeling agency manager and a manager for a non-profit organization. Although her business has been on hiatus since 2022, Vaivao hopes to eventually reestablish it after she graduates with newfound knowledge of the business world.
   For 12 years of her life, she attended Catholic school, where she played badminton and did debate for eight years, among other endeavors. Vaivao described her childhood as "fulfilling" despite the bad as she was always doing something.
   Now at 20 years old, Vaivao's main career goal is to become a chief operating officer since assisting a body or company in their operations is her strong suit. Though, she wouldn't be opposed to pursuing a career in human resources, public affairs, insurance, or consulting.
   "I'll have a good career and I'll be okay with not living an extravagant lifestyle, I just want a fulfilling life," she said, noting that she also wants to be a mother and a wife one day, as well as continue to support her community in whatever way she can.
   Painting and drawing are some of Vaivao's favorite hobbies, especially when she is stressed out. She's the type of person whose mind is always on "go mode" even during calm, quiet moments after painting or drawing something.
   "It's just a nice feeling to organize an excel sheet, or plan my future into steps to create a better financial future for myself," said Vaivao. "It helps me feel productive and makes me feel like my daydreams are more attainable. If they feel more attainable, I won't let anything stop me from getting what I want."