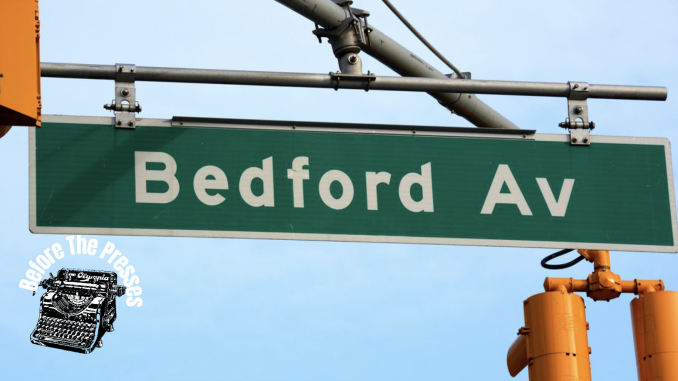 By Michela Arlia 
    It is no shock that this city loves to pack its people in like sardines, and when we can no longer build horizontally, we build up. This often ruins the once-beautified views of the city and beyond, making it sometimes feel as if we're in a slowly closing trash compactor.
   Neighborhoods we once were told as kids to never touch with a 10-foot pole are now up and coming with apartment complexes selling at five to six figures and above. 
   Nonetheless, Brooklyn is a walk in the park in comparison to Queens with its intricate street naming system. 
   However, there is something to be said about how these streets reflect the growing changes that have arguably led to BK's diminishing visual charm. Brooklyn, like Manhattan, is dependent on thoroughfares, or streets that span the grid as a main road. I find it ironic that the longest street in the borough is the very one this campus sits on: Bedford Avenue. The avenue starts where Greenpoint ends, and stretches through to Sheepshead Bay. With just a quick Google search, it is clear that Bedford holds a very different definition depending on who you ask. This is gentrification at its clearest, as Bedford Avenue on the World Wide Web shows to be synonymous with Williamsburg, a section of the borough that once held strong as an industrialized neighborhood. Since 2005, it has been flipped on its head, with once low-run industrial plants transformed into expensive high-rises.    
   I believe a bit of gentrification here was much needed as living spaces expand. But how much reinventing is too much?
   Take, for example, Remsen Street, the entranceway to the Brooklyn Heights Promenade. It sits just over the Brooklyn-Queens Expressway and offers what I believe are some of the best views of the city. When nearing the end of the path on Orange Street however, where you once were able to get the closest photo angle on the strip of the Brooklyn Bridge, you are hit with an enlarged advertisement for the latest Apple product in true capitalist fashion. Sitting on the side of a high-class residential building nonetheless, it obstructs 100% of the view and makes it unworthy of even traveling all that way by foot. 
   Two arguments can be made here with both the obtrusive (yet clever) marketing and the view obstruction. To highlight the latter, the streets of Brooklyn offer much history and many hidden gems through its views. The constant hunger to fit more and more people in small spaces only diminishes much of the beauty built into the streets over time. 
   22nd Street in Park Slope between 5th and 6th Avenues sits ever so perfectly atop a hill, that when on its peak, you are offered a clear shot of Lady Liberty. If developers ever find an unnecessary need for a 22-story condominium complex just a few blocks up – of which they will – then bye-bye, Liberty. 
   It seems as though the real estate term "location, location, location" has held too much weight over time, making it hard for us Brooklynites as we feel like tourists in our own borough. Prices of pretty much everything will continuously go up, which will force people out, leading to even more gentrification. From there, it is just a snowball effect. 
   In times of ever-evolving gentrification and developer monopolizing times, I thank my lucky stars for the Brooklyn Historical Society for overseeing the 40-plus historical districts Brooklyn calls home to. Because of them, there are still some places in Brooklyn that won't have a finger laid on them. In the midst of building up, I know these streets are the few places left where I can revisit to remember what Brooklyn once was yet will never be again.