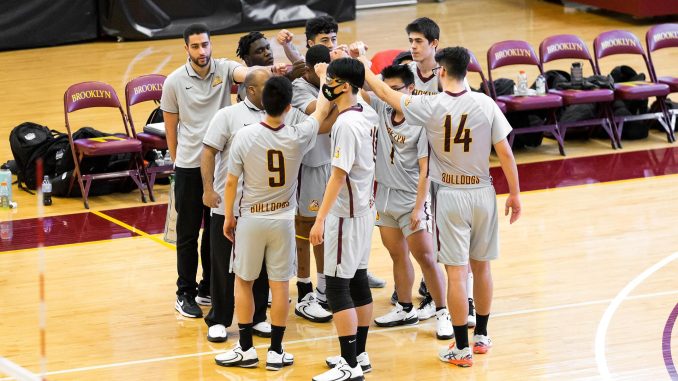 Men's Tennis Secures More Wins
By Owen Russell
   The men's tennis team won their two matches this week in fantastic fashion. 
   The Bulldogs' first match came on Monday, Apr. 10 against Lehman College. Brooklyn was unstoppable on the court.The Bulldogs defeated the Lightning 9-0, winning each singles and doubles contest. Ryan Sham pulled double duty, winning both #1 singles and #1 doubles, to help the Bulldogs trounce the competition. Junior Craig Pazarecki secured the decision in #2 singles.
   Brooklyn's second match of the week amounted to a second straight nine match sweep. The Bulldogs swept John Jay for their fourth conference victory of the season on Apr. 14. Brooklyn took care of business in doubles and singles. With the victory, Brooklyn advances to 7-4 on the season.
Men's Volleyball Closes Out Season
By Owen Russell
   The men's volleyball season is over. The Bulldogs closed out their season with a loss to John Jay in the quarterfinals of the CUNYAC championships on Apr. 11.
   The Bulldogs lost the clash of the canines in three straight sets. Brooklyn battled the Bulldogs tooth and nail, but were unable to secure a single set. The Bulldogs came close in the first and second set (25-23, and 25-22), but lost by double digits in the third (25-15). Tommy Min led the team with seven kills, junior Armand Kaloshi scored five as well. Sophomore David Lema led the game with 20 assists. The loss effectively ended the Bulldogs' season. Brooklyn concluded with a record of 10 wins and 16 losses.
Women's Softball Makes Major Wins
By Owen Russell
   Brooklyn decimated York College in two double-headers this past week, winning all four games in dominant fashion.
   In the first double-header on Apr. 12, Brooklyn got off to a hot start in game one. The Bulldogs scored eight runs in the first inning of game one. By the end of the game, Brooklyn added eight more runs. The Bulldogs won 16-0. Right-fielder Sandra Diaz led the team with four RBIs on two hits. In game two, Brooklyn committed another walloping. The Bulldogs blasted seven runs in the first inning, and never looked back. Brooklyn won game two 15-1. Second base Yesileidy Paulino scored four RBIs on three hits. 
   Brooklyn and York met once more on Apr. 14, crushing the Cardinals once again. Brooklyn won game one on 16-0, and then won game two 17-0. The Bulldogs won by a combined score of 34-0, a dominating performance. Shortstop Melanie Millan scored six RBIs across the two games to help Brooklyn absolutely throttle the competition. With the wins, Brooklyn advances to 7-12 on the season.