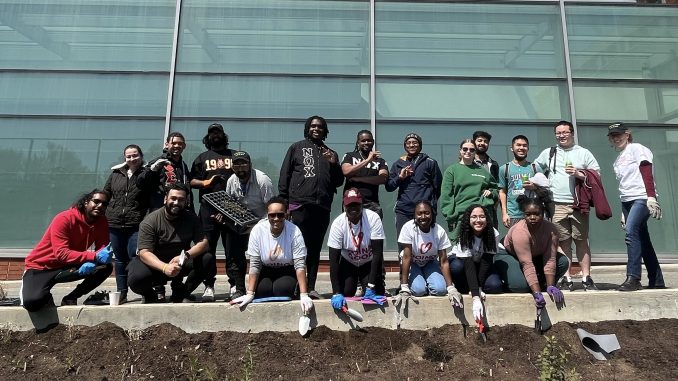 By Paulina Gajewski 
   Spring blooms blossomed across campus with the turn of the season. Pink petals blanketed the trees waking from dormancy as tulips of reds and oranges sprung from the ground. The campus became a sea of green as the Brooklyn College Sustainability Club had its two-day gardening initiative Tuesday, Apr. 18, and Thursday, Apr. 20. 
   Campus Sustainability teamed up with the Student Activities, Involvement, and Leadership Center, Undergraduate Student Council, LGTBQ+ Center, and the Greek Council to plant over 650 native seedlings. Across the West Quad, varieties of lovegrasses, bushes, and strawberry plants were sowed. 
   "I learned about native perennials and their benefits of what they do for pollinators and how their resiliency is tied to them," said Michael Gonzalez, a member of the Sustainability Club.
   Newcomers were situated in gardening plots of around four to six volunteers. Regardless of their level of knowledge of gardening, the welcoming environment allowed for an open learning experience. "What I really enjoyed about this event was the diversity of the attendees when it comes to experience level and even college major," volunteer Katherine Veligurskiy told The Vanguard. "I felt so welcomed as someone who has never gardened before."
   Club organizers not only aimed to engage volunteers with these events, but also promote sustainability as a value to implement into daily life. Sofia Mariyamis, an organizer who is running for president of the Sustainability Club, wants to spread sustainability beyond the surface level. 
   "I want to get people out into the community more, get people to advocate for sustainability on campus, changing infrastructure, changing policies, and changing the system. To be more favorable for the environment for the people that are going to be coming here," said Mariyamis. 
    The BC campus was one of the first colleges to implement sustainable gardens and other initiatives starting in 2007. Over time, other CUNY campuses have gone beyond BC. "We need to follow in that trajectory and set an example," Mariyamis added.
   Even the Urban Sustainability major has had problems with student retention. Mariyamis hopes to increase retention rates through these events, with the aim of funneling new students into the major. Volunteers are already looking forward to future opportunities. 
    "I look forward to planting not only on campus but also in communities beyond," said volunteer Zahra Jamil. "More importantly, sustainability practices go beyond planting, and so I look forward to future initiatives of helping underserved communities, especially in countries outside of the United States." 
   In 2007, CUNY launched the Sustainable CUNY program with the aim of addressing climate change and reducing energy use, in which it vowed to decrease its carbon footprint by 30%. Since then, BC has taken on many environmental initiatives. The campus joined the BuildSmart 2025 program, which revolves around New York State and its goal for energy efficiency and environmental protection.
   BC was cited in "The Princeton Review to Green Colleges" as "one of the nation's most environmentally responsible colleges." Aside from taking part in events such as those that the Sustainability Club hosts, students are able to see sustainable initiatives all across campus. The Leonard and Claire Tow Performing Arts building is certified in Leadership in Energy and Environmental Design. Opened in 2018, the building has energy-efficient lighting systems, recycled construction materials, and low water-use toilets. 
   "My favorite part of the event was being able to get my hands dirty again and passing on the bits of knowledge that I have gathered over the years to people who are interested in learning," said Gonzalez. "I know the wide variety of plants will be great to see bloom later this year and next spring." 
  The Sustainability Club is appreciative of the effort put in by volunteers and does a great deal to engage with students through its initiatives. From collecting food scraps for compost to volunteering at parks around the city, their actions are bringing people together and teaching new generations of students the value of sustainability.