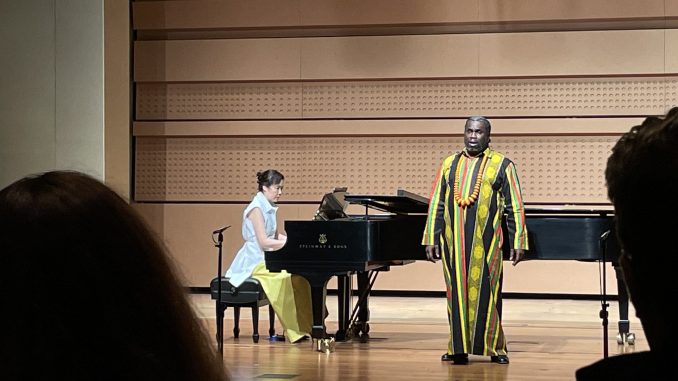 By Samia Afsar
   Despite the dreary weather outside, much love and affection beamed from the Don Buchwald Theater as bass-baritone Joe Chappel showcased his master's recital this past Saturday afternoon. 
   The recital, which was given in partial fulfillment of Chappel's degree requirements, was an emotionally and beautifully curated ode to his father who passed away in February 2021. 
   "My father's death was the moment I really began to meditate seriously on my own mortality," wrote Chappel in his program note. "[…] I wanted this program to be a meditation on life's journey, as all artists have mused over the ages. It is THE subject matter that connects all artists of all times – our mortality and all the way our oeuvre can outlast our physical mortality."
   The event was set in motion when Chappel, dressed in a dark gray suit, took the stage with his piano accompaniment Saffron Chung, who was decked in an elegant, black floor-length gown adorned with jewels that charmingly reflected the stage's light.
   During the first half of the recital, Chappel performed "Michelangelo-lieder" composed by Hugo Wolf, Henri Duparc's "Le manoir de Rosemonde," and "Chanson Triste," Mozart's "Per Questa Bella Mano," as well as J.S Bach's "Betrachte meine Seel" and "Höllische Schlange."
   Being a bass-baritone, Chappel's earthy voice reverberated through the air with a weighty presence that commanded attention. However, as robust as his sound was, the emotions Chappel's recital evoked were serene and supple, reminiscent of a summer night's air.
   Following a short intermission, Chappel and Chung reemerged on stage. This time, Chappel was dressed in a traditional yellow robe with Chung also being color coordinated with yellow flared pants and a white top. 
   The second half of the recital consisted of orchestral performances of T. Weston's "Seed of Peace," and a piece from Vaughan William. 
    Like a fine aged whiskey, Chappel's smooth and warm voice indulged the patrons as it echoed throughout the theater, radiating much devotion and tenderness. 
   As the event started to come to a close, Chappel showcased his last performance of the afternoon – a musical setting of Robert Hayden's poem under the same name, "These Winter Sundays," composed by T.Cipulo. 
   In the poem, the narrator reflects on his childhood, recognizing that all the mundane things his father did for him were actually acts of love. 
   "While my story is not this story, I wanted to end with this song, because it is in my own father's absence that I too recognize how so many things he did for me – so many ordinary mundane things were profound acts of love," Chappel explained in his program note.
   The next student recital will be held on Sunday, May 7, in the Don Buchwald Theater where soprano Zuzanna Chauvin will showcase her undergraduate student recital.