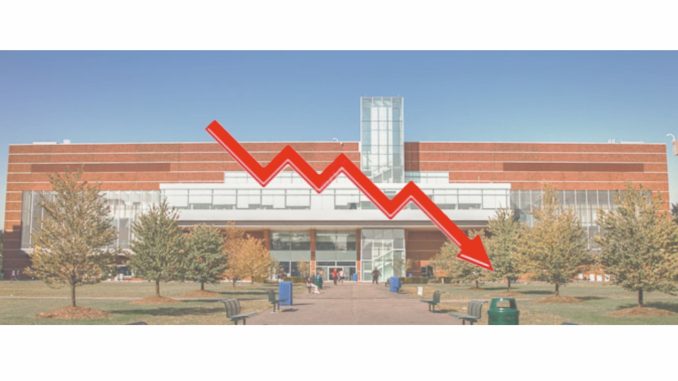 By Michela Arlia 
   As the end of the spring semester nears, Brooklyn College and the CUNY system still grapple with student enrollment and retention concerns.
  The enrollment numbers at BC have continued to decline annually, and even semesterly. Compared to fall 2022 data, the total spring 2023 enrollment numbers have decreased by about 1,000 students. However, with enrollment standing at 13,231 students as of February 2023, it is higher than the enrollment counts throughout the height of COVID-19 lockdown. 
   In spring of 2021, just one year following the initial pandemic lockdown, BC saw total enrollment numbers under 10,000, coinciding with campus reopenings and more of a selection for in-class learning. 
   The numbers have climbed since, but are still not reaching the college's targeted enrollment numbers each semester.
   Enrollment and retention at BC has been a longstanding issue, even before the pandemic. In fall 2019, the last semester to be fully on campus prior to the start of the lockdown, analyses report enrollment being 12,309. With constant fluctuating numbers throughout the semesters in the past four years alone, it has become a struggle for Brooklyn College and CUNY to raise numbers.
   At the start of the spring semester however, CUNY reported a win as the university exceeded its re-enrollment numbers for the academic year through CUNY Reconnect. Clocking in at 14,443 students enrolled across all colleges through the program, the university surpassed its 10,000 student re-enrollment goal. CUNY Reconnect, an initiative in which administration contacts students in the CUNY system who were shown to have not completed their degree over a long period of time, allows for individuals to finish their degree of higher education.
   In an effort to boost enrollment from high school graduates for the coming semester, CUNY announced an initiative to waive the $65 application fee for all high school seniors in the New York City public education system.
   "We are trying to motivate seniors who may still be undecided about applying to college to take this important step toward their future at no cost," wrote CUNY Chancellor Félix V. Matos Rodríguez in a CUNY Communications press release. "We are also removing a financial roadblock that has deterred many students from applying." 
   The fee waiver initiative is a part of CUNY's newest approach to expand access to higher education. A targeted audience in particular is first-generation college students, immigrants, and working-class Black and Latinx New Yorkers.