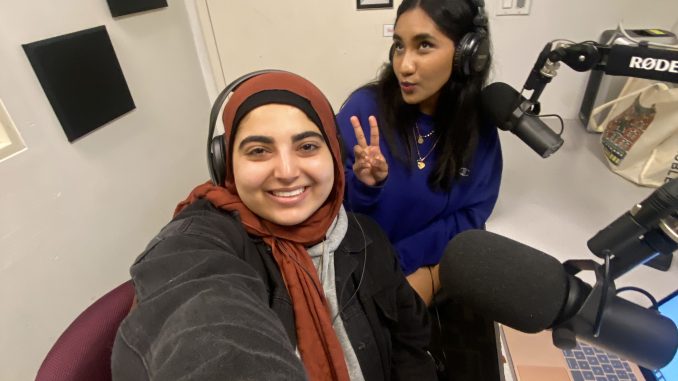 By Samia Afsar
   Growing up as a third-culture kid and having to relocate every few years to a new country, new house, and new school, goodbyes have become somewhat of a second nature to me. Looking back at my childhood, my memories are flooded with white polo shirts marked with sharpie signatures saying "goodbye Samia, I hope you have fun wherever it is you're going now."
   So, I guess I'm finally graduating and have to pull out another white polo tee to say ta-ta again.
   I've opened and closed this document several times throughout this week. Writing sweet words, deleting sweet words. I truly felt as if whatever I wrote couldn't come close to encapsulating all the support, laughter, and love I experienced working at The Vanguard. But Gaby just texted asking me when my farewell would be in the Drive, so I'm opening this document again, attempting to bid adieu; writing sweet words, deleting sweet words, and finally coming to the realization that for once in my life, I'm not ready to say goodbye. 
   I have always been quite fond of writing. I decided to major in Journalism and Media Studies solely because of my love for words. I never really understood what it was that I wanted to do with my life, all I knew was that I had to write. 
   But somewhere along the way, I grew severely depressed. I'd lay in bed for days, staring at the delicate network of veins that ran across my ceiling, listening to the symphony of clattering wheels and rushing air of the train passing by that would shake the four walls of my room, urging me to get up. There was so much I wanted to do, so much I dreamed of accomplishing, but I just simply couldn't find the courage to get up and write. 
   My time at The Vanguard started around two years ago with a text from the Managing Editor, Michela, who learned I was a journalism major and reached out asking whether I would be interested in writing for the paper. In all honesty, I was immensely intimidated, but I agreed thinking it would be a great addition to an empty resume. I wrote for The Vanguard for a year as a staff writer before being promoted to the Arts Editor, a position I'm still not sure how the team thought I was capable of.   
   Every Saturday I'd bombard Gaby with texts — "I'm so sorry Gaby, my story will be in soon I promise, *otter emoji, hug emoji.*" To which, every single week, Gaby would reply "No worries, Vangirly. Let me know when it's in *otter emoji, hug emoji.*" 
   The Vanguard quickly became my motivation to write again. Gaby and Michela were counting on me, and I couldn't let them down. 
   Dearest Gaby, thank you for believing in me. Thank you for all your patience, all the laughs, and all the meaningful conversations we had in Roosevelt 118. But most importantly, thank you so, so much for giving me a purpose. Without you, and all my Vangirlies, my time at Brooklyn College would've passed laying on my bed staring at the ceiling, listening to the train pass by. Thank you for reconnecting me with my love for writing, and thank you for being the angel that you are. 
   To Michela, in many ways, I owe it all to you. Without your text two years ago, I probably never would've joined The Vanguard. Thank you for trusting me and for welcoming me to The Vanguard family with open arms. I'm sorry for ghosting you when you were Arts Editor. I've learned my lesson, I swear.    
   To my little sister Serin and The Vanguard's incoming Editor-in-Chief, I am so, so proud of you. You are constantly amazing me with all that it is you do. I am so very fortunate to have met you and only wish we had gotten acquainted sooner. Thank you for listening to all my boy-drama and for always making sure I'm alright, for reaching out with a helping hand, even at times when you were overwhelmed yourself. I will never forget your unconditional, selfless love, and all of our little giggles in Capstone. I am so excited to watch you blossom into the awe-inspiring journalist you prove yourself to be every single day. I love you and will miss you wholeheartedly. 
   And finally, thank you to Michael Mannino, whom I probably annoyed for two years straight with my utter stupidity and lack of social cues. Michael, thank you for being so patient with me. I grew quite fond of our back-and-forth banter and will truly miss irritating you. I still think you should put in a good word for me to get a job.   
   So I'll end with this — spread love and take risks. As cliché as it may sound, life is simply too short to lay in bed, staring at the ceiling, listening to the train pass by. So, thank you so very much to every single one that encouraged me to get up, making my last two years at Brooklyn College so beautiful. I will miss you all, truly.
   With much love and gratitude, Samia Afsar *otter emoji, hug emoji.*