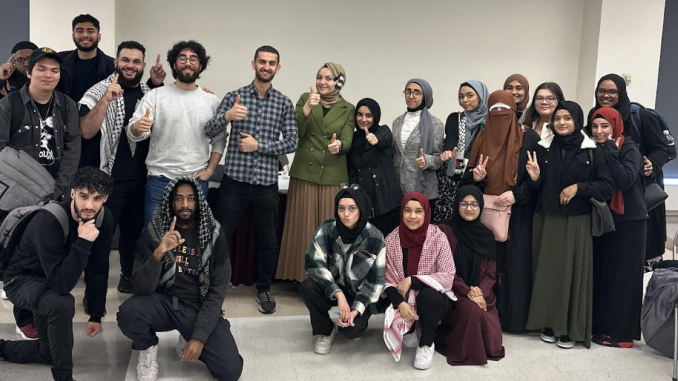 By Jason Lin
   Brooklyn College's Muslim Student Association and the Muslim Women Educational Initiative collaborated to host a panel about relationships and mental health on Apr. 27. Both clubs invited Esra Aslan, a clinical mental health therapist who pursued her undergraduate degree in general psychology at Bridgewater University, and master's degree in clinical mental health counseling at Eastern Illinois University. 
    "The main motivation behind this event was to tackle the topic of mental health. As college students, I think we tend to worry about so many things like school work, internships, and work that we push off taking care of ourselves," said Salma Bari, a BC sophomore and MWEI president.
   MSA and MWEI acknowledge the misunderstanding and little recognition of how mental health is crucial as it can significantly impact a person's overall well-being and future. Misunderstanding mental health can lead to stigmatization and lacking support for those who need it. Taking care of one's mental health can improve relationships, increase productivity, and enhance overall life satisfaction. Not tending to mental health needs could lead to depression, anxiety, and other issues.
   MSA is a student-led organization that helps Muslim students through education. The members organize events and activities that promote Islamic values and culture, engaging in outreach initiatives to help bridge the gap between different communities in BC.
   MWEI offers programs and events that promote education and empowerment. The club's members also challenge stereotypes and misconceptions about Muslim women, aiming to create a welcoming and inclusive environment for Muslim women at Brooklyn College and beyond.
   Aslan came in with patience and calmness to gain everyone's attention, making small talk with students, who were mostly majoring in psychology, before the event started. When the presentation began, Aslan tried getting participants to engage in activities like answering questions. Those who answered correctly were awarded bracelets.
   "Science and religion are taught as two different fields of study. However, Esra Aslan was able to show that we don't have to disregard one to understand another," said Uswai Husna, a junior at BC who is the vice president of MWEI. "Muslim students' lives revolve around their religion, and asking them to overlook their Islamic values when in a psychology class or any other class is having an adverse effect on the student's perception of each field."
   Towards the end of the presentation, Aslan suggested self-care tips, with the first being never judging yourself and expanding your perspectives about the world to build healthy relationships. She noted that one should appreciate themself for who they are instead of degrading their life because of others' unappreciation.
   Aslan highlighted the importance of always having a sense of awareness towards choices in both words and actions to showcase respect, giving a list containing the "Four Horsemen," which are criticism, contempt, defensiveness, and stonewalling. These four categories are to help self-identify if any conflicts are supported by these definitions. If so, it is a necessary first step to eliminate them and replace them with healthy, productive communication patterns.
    "As a young Muslim woman, it was wonderful seeing Esra Aslan come and talk about mental health and marriage. It's rare to see Muslim representation in psychology, and a woman is even more scarce," Husna said.