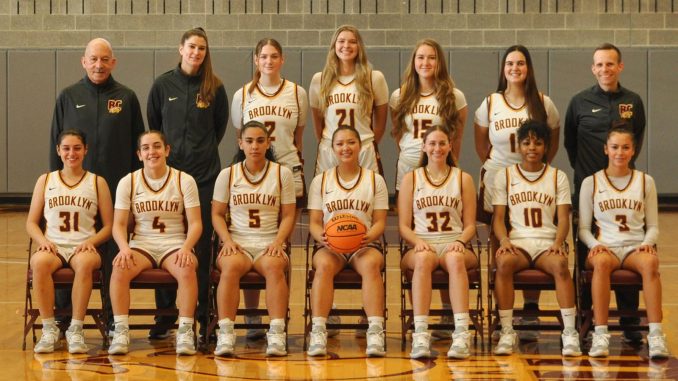 By Gabriela Flores 
   Shooting hoops, moving quickly on the court, and creating a strong defense have become second nature for the talented student-athletes who build the women's basketball team at Brooklyn College. The team, which won its third consecutive CUNY Athletics Conference Championships in February, has garnered numerous accolades on the university, regional, and national levels. For many of them, the love of the sport came from an early age, with collegiate athletics giving them the space to hone their craft and build bonds. 
    "What I value most about my team is how they never hung their heads low. With sports comes
lows and bumps in the road and they never backed down for a challenge," said Gianna Gotti, one of the team's captains who garnered innumerable accolades while playing as a guard during her student athletic career. 
      Each team member shined in their latest regular season, playing hard to earn double-digit wins and beating the competition. Among the headlines of their successes, Gotti's force in collegiate athletics was frequently recognized. One of her most recent honors is being named First Team All-Met for Division III by the Metropolitan Basketball Writers Association. Before becoming a Bulldog two years ago, Gotti played for the University of Bridgeport, where she started her collegiate sports career in 2018. Once she transferred to BC in the 2019/2020 season, she and her skills contributed to the team's dominance on the court.  She and Dasha Goodman, a fellow guard, helped lead the team to two CUNYAC Championship wins. As Gotti graduates in June with a major in communications, she leaves with the title of CUNYAC Player of the Year, among many others. Her powerhouse talent was first piqued at just four years old. 
    "I used to play with my grandpa everyday and I fell in love with it ever since, it's definitely a passion of mine. Growing up I also played baseball, lacrosse, figure skating, and soccer," she wrote to The Vanguard.
    Similarly for Goodman, the introduction to basketball came early on. 
   "I started playing basketball when I was five years old. I fell in love with the sport at a very young age, and as I got older, my love for the sport grew, as well as my desire to win and compete at a higher level. I also play softball, which I love very much too," Goodman wrote to The Vanguard.
    Goodman and Gotti are two of the several players who led the women's basketball team to a first-ever, historic win  in 2022. They ousted Emmanuel College from Massachusetts in a National Collegiate Athletic Association tournament game, beating them 70-57. The big win established the Bulldogs and their program on the national map. Though they dropped the NCAA matchup this year against Christopher Newport University, the athletes of the women's basketball team have established themselves as one of the best teams in the collegiate games. 
    The road to gathering their wins, however, did not come served on a platter. They worked hard, handling personal struggles and adversity with the goal of persevering. For Goodman, who fractured her foot two weeks into the season during her junior year, which then became a stress fracture, it was especially difficult to get back into the swing of things. 
   "This was a very frustrating challenge, and I was very upset not being able to play, but my teammates were there for me the whole time lifting my spirits. Once I healed I was able to work toward my next season and have a very successful season with my team," said Goodman. 
   At the crux of their accomplishments are good time management and consistency, as the student-athletes juggle personal, academic, and work responsibilities off the court. Most importantly, what keeps them intact and driven is each other. 
   "Awards come from the team's success. Staying together as a team improves performance on the court and builds trust. These benefits can lead to greater success and satisfaction for all members of the team," said Gotti. 
    Together, the team has stuck through it all. Even when facing tough opponents like New York University and Christopher Newport, they took challenges as opportunities to grow and better not only their playing skills, but their own characters as people. They took adversity as a means of development. 
   "I think a major key to success on the basketball court is to always try to have fun and find the joy in the sport. There needs to be a balance between having that fire and passion to win, and smiling and enjoying yourself out there," said Goodman, who's set to graduate in 2024 and work towards another championship win in the upcoming season. "I personally play much better when I'm relaxed and enjoying myself."
    As some players continue their momentum and others like Gotti bid farewell to their career as a Bulldog student-athlete, the team will continue to grow stronger. Looking ahead with their new head coach Megan Campbell, they will work to continue thriving and striving as they have always done. 
   "I can't wait to come back in the future to see my teammates compete next year. Words can't express how proud I am of them and what they will accomplish in the future," said Gotti. "I still will always be a part of their lives and support."