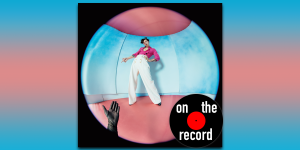 I've been thinking a lot lately about role models — about those who set precedents, raise the bar, and inspire us to dig deeper. 
   Maybe it's because I've been neglecting to keep up to date with the latest presidential campaign news and I feel a bit guilty about it. I've had multiple conversations with people over the last several months about the idea that whoever sits in the Oval Office should be a role model. I didn't think that was too far reaching of a request, but apparently there are plenty of people that don't seem all that concerned about the character of the leader of the free world. As long as the job gets done, right? As long as the bills are paid, the roof is solid, and the food is on the table.
   That's not an entirely unreasonable way to go about living. But I struggle to think about what it must feel like to be the parent of a young child, and about having to explain to them why the actions of a particular person — a person we elected to do the right thing — are wrong and inexcusable. Of course, a great many of us did not elect Trump to do the right thing. We continued to resist and protest, but, at the end of the day, we still have to explain to our children why the man on the TV is not someone they should look up to.
   So who do we look up to? Figuring out who your role models are takes years. Role models get added, dropped, and swapped out over the years. I've got a few of my own. 
   I suppose I've been thinking about this concept as of late because I've indulged myself, and I've listened to Harry Styles' sophomore album, Fine Line, for a second time. 
   I was never on the One Direction bandwagon in quite the same way that many of my friends in middle school were. But if there's one thing I love, it's a boy band, and if there's one thing I love even more, it's former boy band members inevitably showing their true colors. 
   I always had the feeling that it would be Harry Styles who would go on to expand his horizons and, frankly, get weird with it. He had talent, ambition, and an impressive fan following — the recipe for a superstar. 
   In his 2019 Rolling Stone profile, the same year Fine Line was released, Styles talked about how he would repeatedly queue up an interview with one of his role models, the late David Bowie. In that interview, the Thin White Duke dropped one of his most famous quotes:
   "If you feel safe in the area you're working in, you're not working in the right area. Always go a little further into the water than you feel you're capable of being in. Go a little bit out of your depth. And when you don't feel that your feet are quite touching the bottom, you're just about in the right place to do something exciting."
   I can confidently say that there will never be another Bowie; it's just not possible. But the key is that Styles isn't trying to become Bowie, he just wants to channel some of that artistic bravery and boldness.
   I will note that there are too many fruit references in the lyrics on Fine Line. (Strawberries, cherries, watermelon, etc.) I like a good concept album just as much as the next guy, but fruit is not a concept. And while the second half of the record is decidedly stronger than the first, I'm still eager to hear deeper songwriting out of Styles. "Golden"and "Lights Up" prove to me that Styles is beginning to scratch the surface — I want him to get even weirder with it. "Falling" and "She" prove that he's willing to be vulnerable with this writing — I want him to trust that the best art gets made that way. 
   But it doesn't hurt to have a role model like David Bowie to light that path.