Meet The Vanguard E-Board
Ryan is a film production major at BC and is beginning his first semester as Editor-In-Chief of the Vanguard, having previously spent two years as Managing Editor. He is a freelancer for his local paper in Queens, and also spent a summer as a reporter for the New York Daily News. Friend of dogs, and collector of useless things. 
Moises Taveras is somehow the managing editor of the Brooklyn College Vanguard. He spends an unfortunate amount of time playing difficult video games or rewatching Gilmore Girls.
Cami Dejesus, Layout Editor
Camila Dejesus is a TV/Radio major and the current Layout Editor of the Brooklyn College Vanguard. She left her hometown of Houston, Texas to take a bite out of the Big Apple in 2017. She transferred into Brooklyn College in the fall of 2018 and has since enjoyed frequently getting lost and discussing her favorite band to a degree of annoyance. 
Setting her sights on becoming a journalist, Chaya transferred to Brooklyn college in fall of 2020. Since then, she has managed to finagle her way into two awesome positions- business manager at the BC Vanguard and associate editor at a local Brooklyn news outlet, Kings County Politics. In her free time, she enjoys listening to podcasts (if you try calling her name and she doesn't answer, chances are she has her AirPods in under her bushy hair) and watching people trying to pronounce her name (the CH in Chaya makes a sound that has no equivalent in the English vernacular).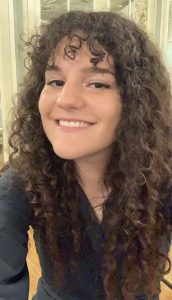 Carmen Saffioti is a senior and Journalism and Media Studies major at Brooklyn College. She joined The Brooklyn College Vanguard in the Fall of 2019 as a writer, and in December of 2019 she became publication's the Digital Editor and Social Media Manager. Previously, she was the Arts Editor at the Excelsior. Carmen loves traveling, camping, and foreign films.
Humza Ahmad, Photo Editor
Humza Ahmad has worked at the Apollo Theater and WBCR. He is a TV, Radio, and Emerging Media Major at Brooklyn College. Humza has skills in video editing, audio editing, production, voice-over and animation. He made a risky fictional podcast called "Coming From Uranus" which iHeartRadio won't publish for some reason. Right now, he's probably thinking about "Yuri On Ice" and how much Yuri and Victor are goals.
Meet the Section Editors:
Maya Schubert is a senior JAMS major. When not chasing down stories, she can be found reading, acting in theatre, drinking coffee, or doing all three at the same time. 
Gabriela Flores is a rising sophomore, intending to double major in Political Science and Journalism/Media Studies. She is an aficionado of epistemology, street food hunts, and Bad Bunny.  
Transferred to Brooklyn College in the Fall of 2019 from Grand Rapids, Michigan. He is currently studying history and in addition to his work at The Vanguard, Ian is also involved in the college's Historical Society and works at both the Magner Career Center and the Special Collections. Ian is interested in politics, urban history, sad folk music, and middlebrow fiction. When he's not burning his time with his school-related activities, Ian is also an avid cyclist and works at a bike shop in Queens. I hated writing that.

John Schilling is a junior at Brooklyn College, a Journalism and Media Studies major, and the current Arts editor for the Vanguard. A native of Rockaway Beach, John's passion for writing stems from his high school days where he was encouraged by his English teacher to join the school newspaper. With his entertainment reviews, John went on to win "Best Column" two years in a row at The Tablet's High School Press Awards. In his free time, John can be found ranting about the New York Mets, catching up on sleep, and watching the latest film or a Broadway musical (sometimes all at once).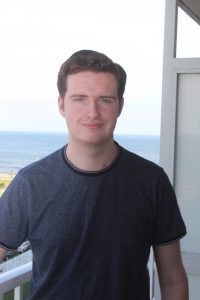 Conrad Hoyt is an avid sports fan, book, TV and movie lover, and current Journalism and Media Studies major at Brooklyn College. Also a Senior Editor at KultureHub.com, Conrad has been with Vanguard and its predecessors since 2018.