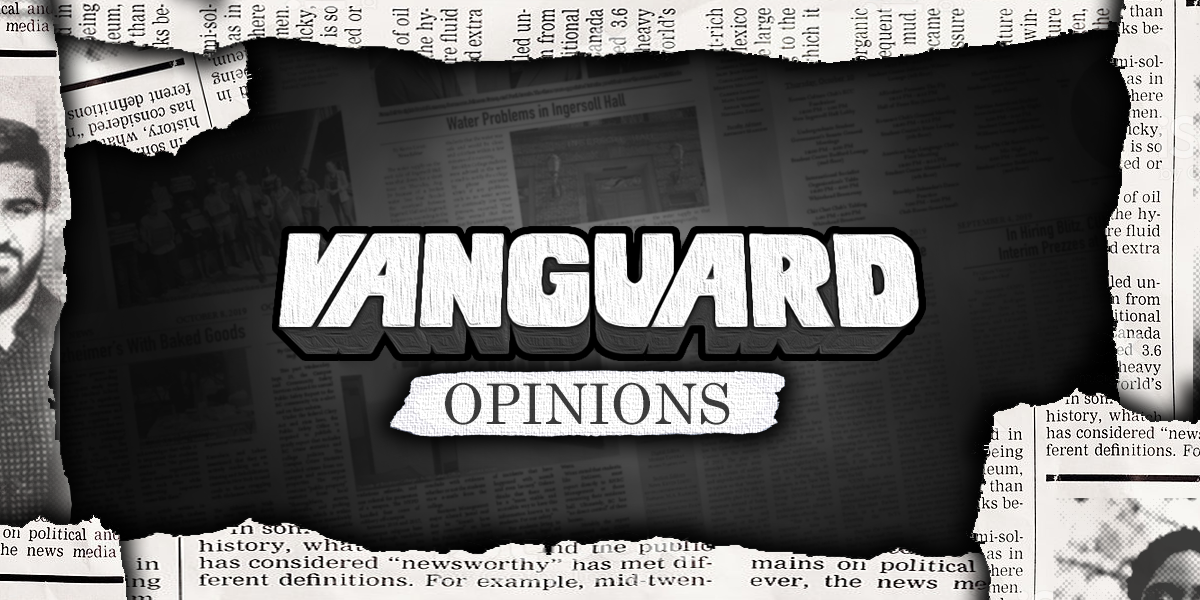 Hello and welcome to On the Record! Thank you to those returning readers who picked up copies of Kingsman and/or Excelsior every week. We were truly sad to see the two names disappear from the campus, but their legacy will live on. We are utterly thrilled to be back as The Vanguard and we hope to continue to serve the community of Brooklyn College for years to come. 
   This column, On the Record, is a brand new experiment written by yours truly, Allison Rapp, former digital editor of The Kingsman. I'm spending the fall 2019 semester studying abroad in Glasgow, Scotland, and will be writing about some of my experiences while attending classes and traveling: the good, the bad, and hopefully a lot in between. In addition, this column will function as a weekly album review station. Each week, I'll be spinning a new record, front to back. (Digitally, of course: they won't allow me to bring my turntable in my carry-on.) We'll talk old music, new music, and my e-mail inbox will be fully open for suggestions. Thanks, as always, for reading our paper — we wouldn't exist without the support from Brooklyn College students and faculty. Without further ado, let's dig into it…
---
Though classes officially began several days ago, this week I am home in Buffalo. I am, in fact, part of the very small population of students who came to Brooklyn College from outside the city. I am sad to be missing the first few weeks of the fall semester, when it still feels like summer on campus and the quads are full of fresh faces.
In less than two weeks, I'll begin my junior year of college studying abroad in Glasgow, Scotland, a place I've never set foot in. I'm set to be a full time student at Glasgow Caledonian University and will be away until late January, just in time for the spring semester in Brooklyn. The planning process has been lengthy, but the people who work in the international education office on the BC campus are remarkably helpful and efficient. Speak with them if you have even the faintest itch to study abroad. My biggest advice is to seek them out early.
My friends and co-workers are a bit shocked at my total willingness to up and leave the country for multiple months, but with this administration, can you blame me? I've never been one to shy away from doing the most, it's now or never.
Speaking of those who have always put everything on the line: this week I'm spinning Tanya Tucker's new album, While I'm Livin'.
Tanya Tucker got her first hit, "Delta Dawn," in 1972 at age 13. At 15, she appeared on the cover of Rolling Stone with a title that read: "Hi, I'm Tanya Tucker, and you're gonna hear from me." Talk about badass. She hasn't stopped since.
I'll come right out and say it: While I'm Livin' sounds like what Springsteen's Western Stars should have sounded like. Western Stars was good, but Tucker's record feels infinitely more like she sat down with her guitar one day, asked "Who am I?", and then wrote the record. Springsteen feels like maybe he's trying just a little bit too hard to be a cowboy while still living in New Jersey. I suppose if you want something done right, ask a woman to do it.
Tucker's vocals are deep, muscled, and almost a little bit masculine – this is what proper country women sound like. There's a no-nonsense sort of attitude, the kind that so many other female musicians embody when they hit the stage or the studio, like Joan Jett, Chrissie Hynde, or Janis Joplin. They could easily kick your ass; they just choose not to.
A large part of why the album is so good is due to another kick-ass woman who is finally getting some of the recognition she deserves: Brandi Carlile. I've adored her for years, and to see her name as a producing credit is a real treasure. It's clear that Carlile wants to dig into Tucker's personality in the same way Rick Rubin did with Johnny Cash. Tucker is a legend, but you know you're doing something right when a young person says "Hey, I see something of myself in you."
If you like classic country or just feel like kicking up your boots, give While I'm Livin' a spin.