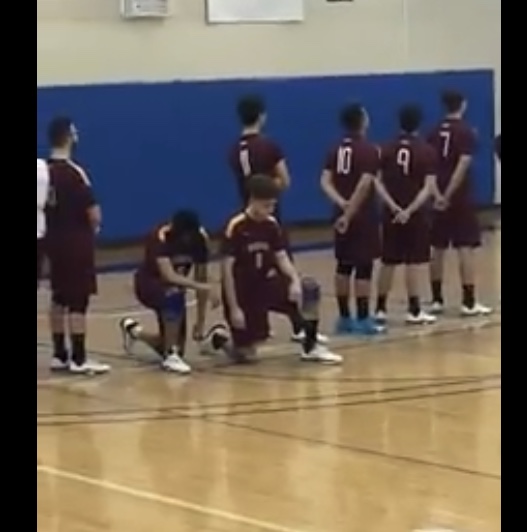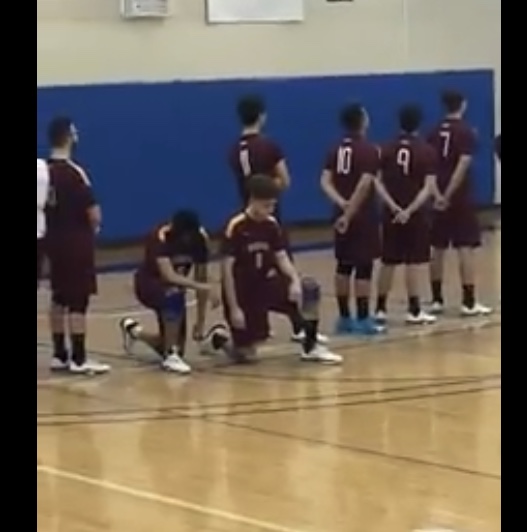 In this Sunday's match against Yeshiva University, a Modern Orthodox Jewish college, two players from the Brooklyn College men's volleyball team appeared to kneel during the playing of the Israeli national anthem.
   Sophomore Omar Rezika and freshman Hunnan Butt knelt during the playing of "Hatikvah" ahead of the match on Sunday, Feb. 23. Video of their apparent protest gained traction on social media after it was posted on Facebook by Yeshiva University student Sarah Serfaty.
   "This is Anti-Semitism. This is not a place to make a religious or political statement," she said in the post. "Respect the other team."
   Serfaty also alleged that following the match, which the Bulldogs won 3-0, the same two BC players refused to shake hands with the YU players and cursed at them in Arabic. No other sources have substantiated these statements. Yeshiva University's athletic department's Twitter account has posted that these additional claims are not true, as has Brooklyn College.
   Critics took to Twitter to call out the Bulldog players' actions, and to call for Brooklyn College to condemn and take disciplinary measures against the two players. Among these voices was the Simon Wiesenthal Center, a global Jewish rights organization.
   "We demand to know what steps Brooklyn College intends to take with regard to this display of anti-Semitism by members of its volleyball team," the organization said in a press release. 
   Others believed it was within the players' First Amendment rights to kneel during the anthem, in the same way former NFL Quarterback Colin Kaepernick knelt during the national anthem in 2016.
   "The right to free speech and peaceful protest is protected by the 1st Amendment in the United States Constitution. Kneeling for the Israeli anthem falls well within that right," said Brooklyn College student Chris Omar to the Vanguard.
   Some commenters questioned why the Israeli national anthem was being played at Yeshiva University in the first place.
   "Considering both schools are located in New York, why is the Israeli anthem even being played to begin with?" said Omar.
   In an official statement, Brooklyn College defended the players' right to nonviolent protest.
   "Brooklyn College strongly condemns all forms of Anti-Semitism and hatred. The two students who knelt during the national anthem did not refuse to shake hands with players from the other team. Their kneeling is protected by the First Amendment."
   The Vanguard has reached out to the two players who knelt, to other members of the volleyball team, and to the Athletics Department, all of whom have been told they are not allowed to discuss the matter. 
In Addition:
The Brooklyn College media relations office said a request was made to athletics to forward any media requests for an official comment coming from College administration and students are free to speak to whomever they like.