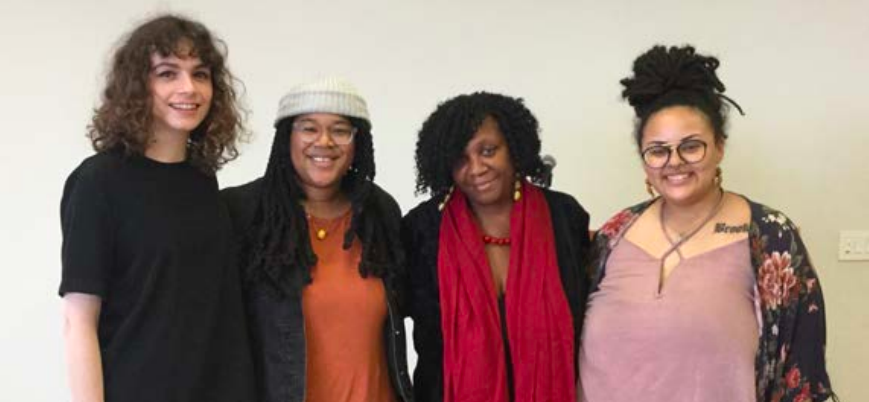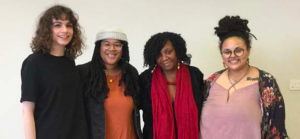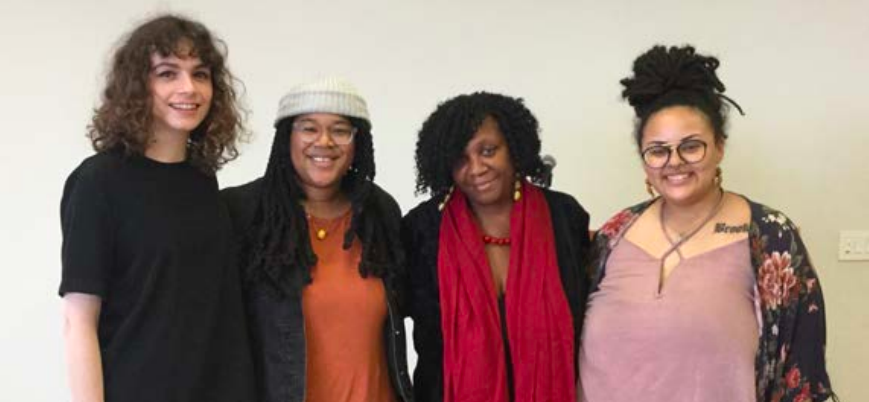 To kick off the BC community's celebration of Women's History Month, the Brooklyn College Women's Center hosted a poetry reading: a poetic exploration of intersectionality with Black Queer writer and performer Kai Davis, alongside two BC MFA Poetry candidates. The poets shed light on the complexity of their own female experience, where gender intertwines with racial and cultural origins, domestic gender roles, sexual orientation, and other identities.
   Since the mid-1970s, the Women's Center at Brooklyn College has created platforms like Tuesday's Drop the Mic to uplift the voices of women across campus. "The BC Women's Center is one of the oldest women's centers in the CUNY system, also in the United States," said Sau-fong Au, the director of BC's Women's Center. "What makes the Women's Center unique at Brooklyn College is that we work constantly with one of the oldest departments– that is, the Women's and Gender Studies Program. We are like a sister unit."
    The event opened with imagery of war, as CUNY Edge Director and MFA Poetry candidate  Monique Ngozi Nri read from her poem "Powdered Egg," about the need for liberation. As a child, Nri resided in Nigeria until the end of the Biafran War in 1970, a civil war fought between the Nigerian government and the secessionist state of Biafra. According to ICE Case Studies: The Biafran War conducted by American University, there were about 100,000 military casualties. Between 500,000 and two million Biafran citizens died of starvation. "Powdered Egg" draws on these experiences.
   "If you've never seen a woman, an ordinary woman, still running, as her head rolled down the street," recited Nri, "you cannot understand that liberation is fought for our whole people, that fighting is more than words. That dying is less frightening than living."
   Following Nri's performance was Houston, Texas native Anneysa Gaille, a BC English professor and pursuing her Poetry MFA. Through her three poetic recitations, Gaille shared her experiences, from coping with the death of a friend to learning a recipe from her Lebanese grandmother.
   "Her [Gaille's] work is interested in creating an archive of events that have been debased on the basis of their affiliation with femininity or femaleness; because, archives gesture to tradition and often serve as a means in which one can be claimed or redefine narrative," said Drop the Mic hostess Ivy Bryan.
   Thereafter, Kai Davis took the stage to unravel her perspective on misogyny, the everlasting effect of ancestral trauma on Black Americans, and other issues, such as oppression and the relationship between men and women.
   To start her performance, Davis prefaced her first poem "Ain't I A Woman" as a tribute to Sojourner Truth's groundbreaking speech, all the while serving as a response to those who have alienated her for her being a black woman. During a college discussion on how black liberation can be achieved, Davis' former Black Social Political Thought professor shared his belief that black women are the primary problem.
   "He said, 'In order for that [liberation] to occur, black women have to put their petty differences aside.' So yeah, I was not really feeling that," said Davis. "He went on to say, 'It should be race first, gender second.' Which is impossible for me, being black and a woman at the exact same time, all the time. Race first, gender second, just means black men first, everyone else maybe never."
   Furthermore, the homage was intended to describe the isolation she felt while attending honors classes in Temple University that were predominantly white.
   "I would experience a similar disconnect, where I wasn't allowed to be black, while I was being a woman. I wasn't allowed to be a woman, while being black."
   Davis continued the discussion of her blackness, and the uniqueness it has within the context of our American history. The poet explained how the experiences of her ancestors are carried into her present, and into Black America, where descendants face similar injustices, fears, or worries.
   "Thinking about what that means for black folks in America, who have gone through the Transatlantic Slave Trade, sharecropping, Jim Crow, mass incarceration, the Reagan Era, and what it means to carry all of that with us, and the inevitable of passing it along to our children," said Davis.
    To conclude, Davis recited her piece "A Conversation About Respect," which is intended to address the oppressive power dynamic between a man and a woman. In doing so, the poet addresses the complexity of oppression, and its impact on any individual. 
   "A person works the same way, regardless of what you are oppressed by," said Davis. "So, it doesn't matter if you are black, if you are queer, or if you are an immigrant, or if you just grew up poor, it all happens."
  Through each poet's account of their intersectionality, the BC community was exposed to certain women's issues that are often left unrecognized and unheard.
   "I encourage all of you to speak out, as long as your intentions are good and pure," said Davis. "And, if you are trying to defend yourself, or the rights and needs of other folks."