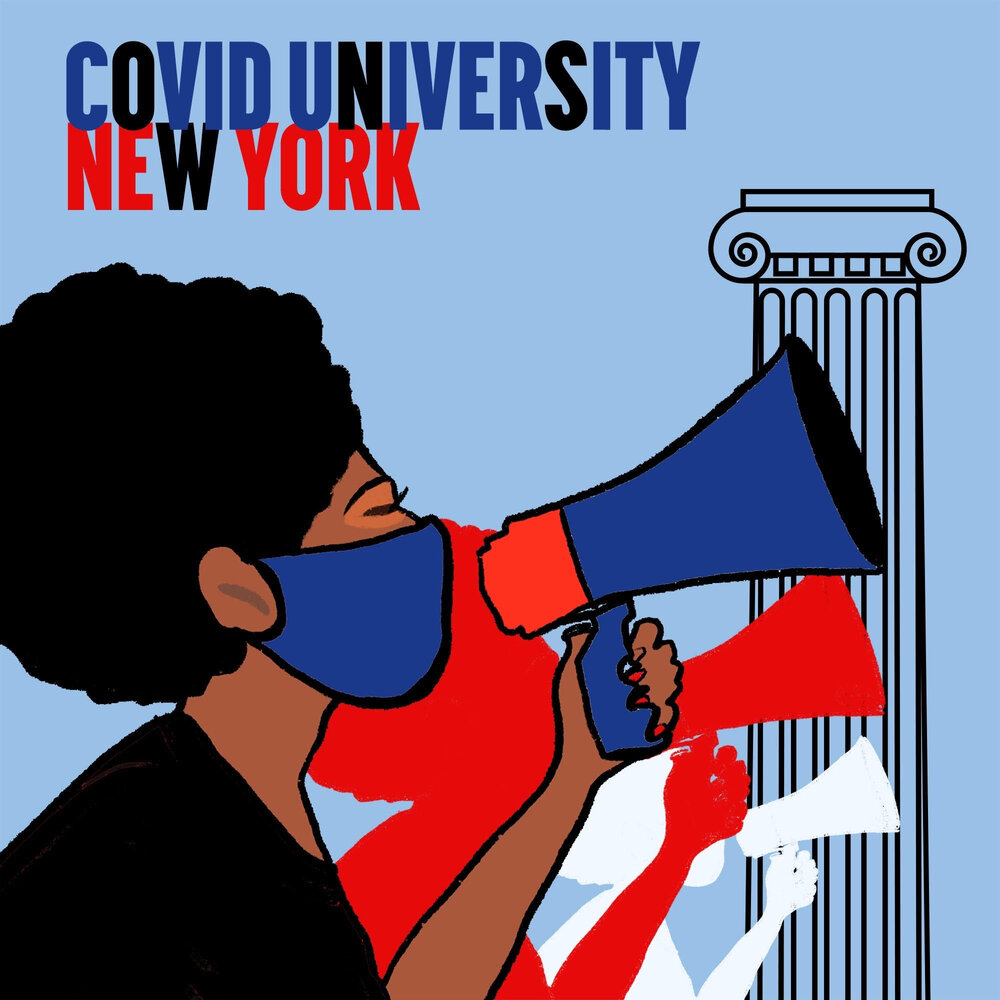 Written By: Olivia McCaa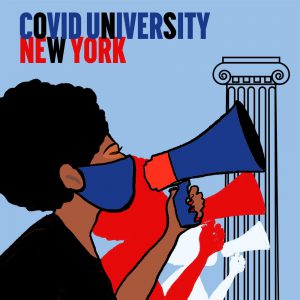 In New York, in order to continue to tell the stories of those most affected by the still raging COVID-19 pandemic,  a small group of journalists are working towards capturing the lives of local students and experts that are experiencing the difficulties of the pandemic in their podcast COVID University New York (CVNY). 
   "There are real people who are impacted by this – people who aren't just big facts and figures. These are people who can't pay rent or buy food," said Char Adams, the host of CVNY and Graduate Center alumna. CVNY is a project stemming from The Gotham Center for New York City History and initially developed by Director Peter-Christian Aigner, a historian of twentieth-century America. 
   The "brainchild for the podcast" as Adams describes Aigner, "had the awesome idea to dive into how COVID-19 is impacting people's everyday lives." Aigner was put in touch with both Adams and audio producer David Hoffman to bring his vision into reality. 
   When the podcast began, the group wanted to cover important topics such as death, social justice, and protests. They put together a mass list of topics and questions that they wished to cover. With each episode, they are able to check off parts of that list and learn more about how the pandemic is impacting people.
   "When we think about the health crisis, we tend to think about it in terms of large impact. This pandemic has become a big statistic and figure," Adams said. From the first episode, CVNY aimed to tackle difficult subjects that have affected the CUNY community, including COVID-related deaths
    Towards the end of August, when the first CVNY episode aired, more than 160,000 people died due to virus complications. With that in mind, Adams and her crew created an episode where they could allow their listeners an opportunity to process the death and mourning through the memorial project "Missing Them," a compilation crafted by Newmark Graduate School of Journalism students. 
   By their third episode, COVID University interviewed two nursing students at Queensborough Community College who are currently serving on the frontlines of the pandemic. The episode recounts their professional and personal problems and encounters they faced including their feeling of being overwhelmed and fearful. 
   For Adams, being the host of CVNY allows her to continue telling people's stories that can connect to others on a personal level.
"I didn't think that I would ever be able to host or be on a podcast because of how I talk. It is a dream that I had given up… It means the world to me that I am finally able to do a thing that I could never do," said Adams. 
   During her journey to become a journalist, Adams experienced many challenges. Initially on a path to pursue dancing, she realized that she wanted to take on a more practical career. This eventually led to her earning her degree in journalism from Indiana University of Pennsylvania in 2014. 
   Adams' involvement and love for writing have always been a part of her work. After moving to New York, she particularly focused on race and gender issues. Adams, a Black woman herself found that she had first-hand experience of many of the issues she reported on. 
"I am a black woman and that has shaped how I am and how I move about the world because that is a huge part of my life," she said. Because of this, she was quickly drawn to politics and the context of Black women's identity as a whole.
   One of the most difficult obstacles she overcame was having a stutter, a neurological condition that she has no control over. "I remember even after college, when I was applying for jobs, I would always see 'excellent verbal skills' and it would make me very anxious and sad."
   In a field that heavily relies on having strong speaking and communication skills, Adams was able to overcome her fear and continue her love for journalism through the National Stuttering Association and local support groups. Adams is proud and finds it, "extremely cool to think about the fact that six or seven years ago I was completely horrified by seeing 'excellent verbal skills' on job applications and now I am talking and working on live broadcast for NBC."
   With each new discussion, Adams and her team aim to talk to people that have gone through a COVID-related problem, and then to talk to an expert in that area who can give context and facts around the experience.
   "The intent was to tell the story of COVID through a more human personal angle. It feels good when people contact us and say 'I never thought about this, it was great to hear about this person's life,'" Adams tells. 
   After releasing seven episodes, they find they are more comfortable and have an even better sense of their intention for the show. Although the podcast has not reached as many people as they initially wished, COVID University has spoken to a fairly large audience. Adams contributes this to "the fact that the stories we tell are very compelling- we take a holistic approach to each episode." 
   Covering the pandemic while also first hand dealing with it is difficult. Keeping the momentum and energy for the podcast is difficult but worth it. 
  Adams emphasizes, " I would like them to know that this is a passion project and there has not been much money."  At the start, COVID University did receive a small amount of funding but overall has been a passion project done with each team member's own time and effort. CVNY works hard to bring relevant, and important stories to their audience through everyday lives.