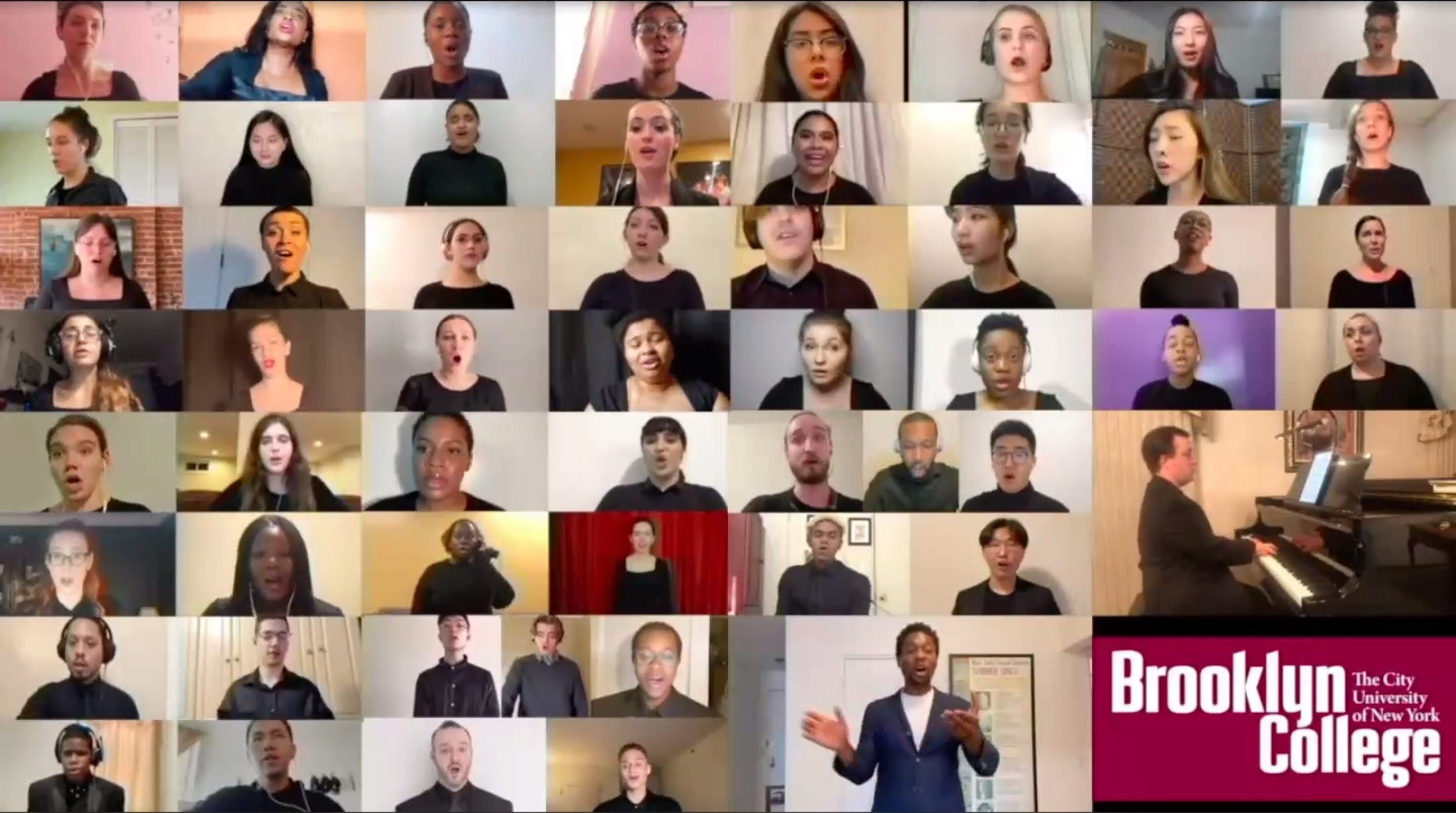 People from all over the world joined together on Wednesday, Feb. 26 for Brooklyn College's 2021 John Hope Franklin Memorial Day Freedom Concert, an annual event that focuses on "social justice through sound and film." 
   Hosted by Brooklyn College Professor Malcolm Merriweather, this year's concert was a sequel to a lecture about the 1921 Tulsa Massacre that took place the day before. 
   The origin of the Freedom Concert, however, can be traced back to Dec. 2014 when Merriweather heard that Daniel Pantaleo, the officer involved in the death of Eric Garner, was not indicted. 
   "This news, having come weeks after the non-indictment of the shooter of Michael Brown in Ferguson, Missouri, stunned me," said Merriweather. "I decided that I wanted to engage the classical music community in the area of social justice."
   Modeled after the freedom concerts of Coretta Scott King during the Civil Rights Movement, Merriweather's concept of the freedom concerts began in Jan. 2015, and he has hosted dozens since then.
   At Brooklyn College, the Freedom Concert bears the name of John Hope Franklin, who became the first African American to be appointed chairman of an academic department at a municipal college when he was made chair of the History Department here at BC in 1956. 
   "John Hope Franklin left a transformational legacy as a pioneering scholar of African American History," said Gunja SenGupta, a professor of history at Brooklyn College. "He made visible the vital work of millions who sought to make this nation more just, equal, and free."
   The Freedom Concert consisted of pre-recorded musical performances and a conversation about them facilitated by Merriweather and a group of panelists. Among them were four-time Emmy winning composer Laura Karpman and BC professors Jonathan Zalben and Stephanie Jensen-Moulton.
   Merriweather began the concert with a performance of "Lift Every Voice and Sing," a song written in 1900 by James Weldon Johnson and J. Rosamond Johnson that has opened all the freedom concerts of the past.
   "This song became known as the Black National Anthem and the official song of the NAACP," said Merriweather. "The poetry is epic, wrenching, and thunderous, but cautious and skeptical."
   After this performance, the concert continued with a clip from an episode of HBO's Lovecraft Country that depicted the 1921 Tulsa Massacre and featured an aria written by Karpman.
   Sung by Janai Brugger, an American operatic soprano, Karpman's aria is based on "Catch The Fire," a poem by Sonia Sanchez, an American poet who graduated from Hunter College in 1955. Karpman's aim was to write a requiem that would memorialize the victims of the massacre and honor their descendents.
   "It was a remarkable opportunity to bring together sort of two parts of my life, which is…writing operas, and also, scoring for film and television, which is what I do most every day," said Karpman. "It was incredible because I felt like a lot was cracked in that moment….and that opera was really brought to a wider audience."
   Stephanie Jensen-Moulton, a professor at Brooklyn College, spoke about her music language, history, and culture class (MUSC.1300) and how she wanted to change the way she taught it this semester. After teaching the introductory music course the same way over and over, it was Karpman's aria from Lovecraft Country that inspired her to finally re-organize her curriculum.
   "I started with this unit on Lovecraft Country, and I took the whole 239 song playlist, and I just started working with it and looking at ways that I could use it to teach the same sorts of concepts," said Jensen-Moulton. "Hearing this aria…was a moment of epiphany in terms of our musial understanding as a culture."
   The concert also featured Harry T. Burleigh's "Go Down Moses," one of many songs from the Black Swans music collection that features restored recordings of Black classical artists. "Go Down Moses" is a spiritual work that utilizes "Let my people go," a line from the Old Testament, in the context of American slavery.
   Upon the piece's end, Jonathan Zalben, a film composer and professor at Brooklyn College, reflected on how he composes for content with sociopolitical themes, including his work on HBO's Axios, a documentary news series.
   "We are always trying to find that balance between having something that is entertaining, interesting, and emotional but also not commenting too much," explained Zalben. "I think [this] is what we're all doing with our curriculum as well."
   Zalben remarked that his favorite class to teach at Brooklyn College is an interdisciplinary recording session class made up of students from film, sonic arts, and the Conservatory of Music. 
   "We're creating and recording music for real projects that the filmmakers are making or the composers are writing," said
Zalben. "It's a group effort, and it's what we do in the real world so it's not just theoretical." 
   This collaboration that Zalben spoke of served as a smooth transition into the concert's next piece, which was a virtual choir performance from the Brooklyn College Symphonic Choir and Conservatory Singers of "The Ballad of the Brown King" by Margaret Bonds ,with text written by Langston Hughes. 
   This piece reflects the journey of Balthazar, the Ethiopian king who traveled to Bethlehem to meet the Christ Child. Unlike the other pieces in the concert, this performance was much lighter with its positive depiction of a prominent Black figure that did not involve slavery or hardship. 
   Soon after, Merriweather brought the night to a close with a singular message and a performance of "O Freedom," the Civil Rights freedom song that ends every freedom concert per tradition.
   "Please go out and share this music," Merriweather urged the audience. "Share Laura's music, share the music of Margaret Bonds, [and] share Janai Brugger's website with someone so that we can share beauty! There's so much beauty in this world."