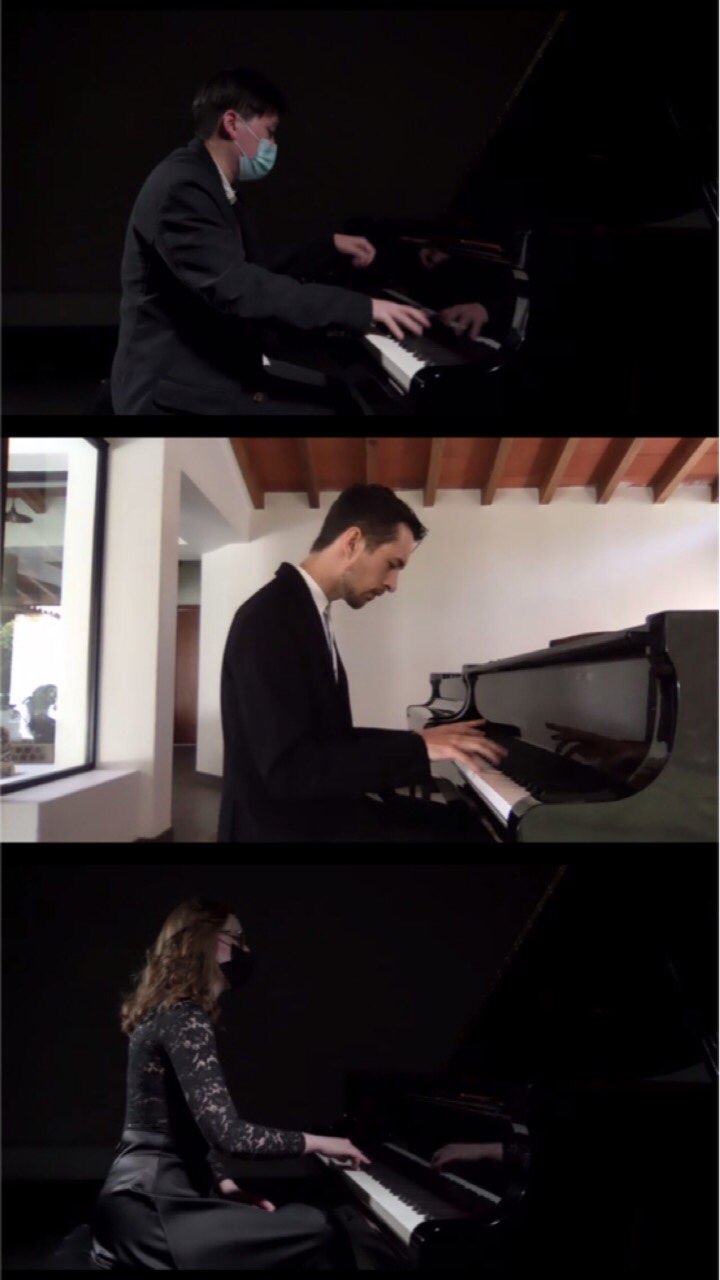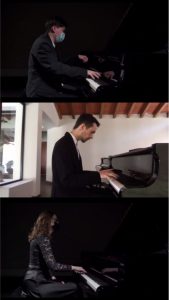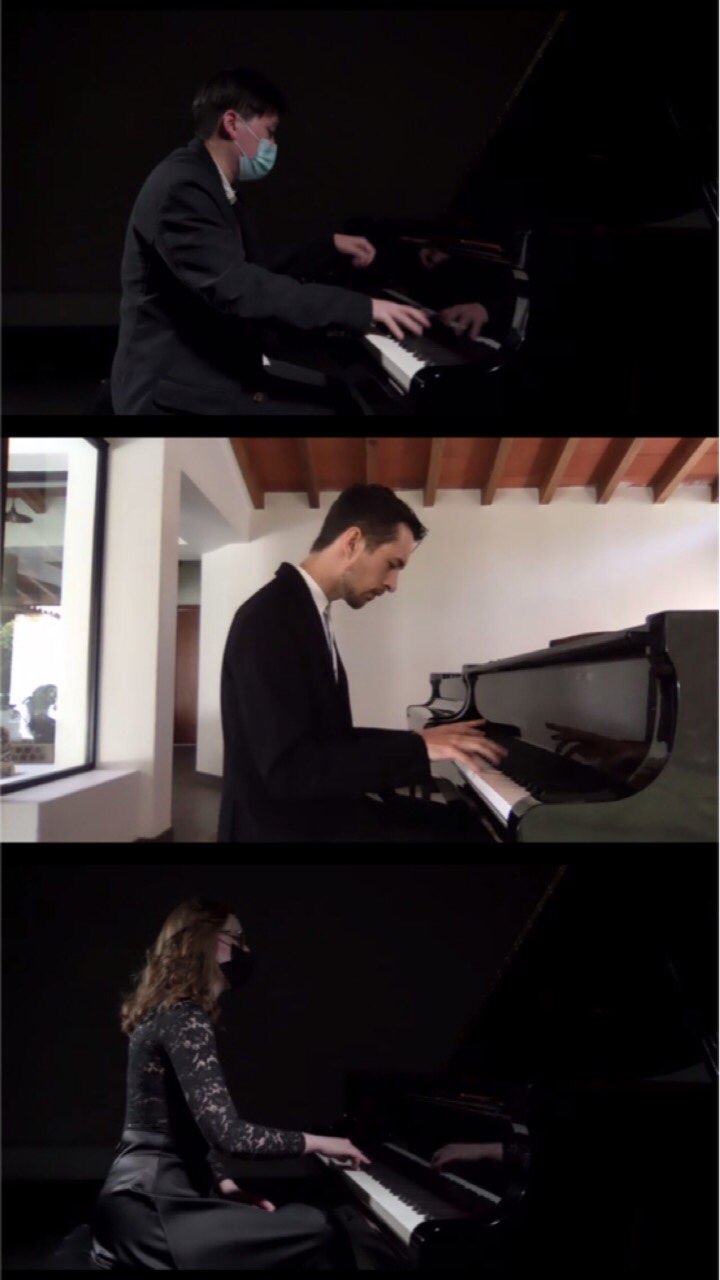 The Conservatory of Music at Brooklyn College hosted an "Afternoons at the Piano" concert on Thursday, Mar. 18, the first since classes went remote over a year ago.
   The live-streamed concert featured Zifeng Michael Zheng, Patricio Apaez, and Martyna Kučinskaitė, three pianists who will graduate this spring from the Conservatory's master's program. Prior to the concert, the trio had not performed since March 2020.
   Despite the campus remaining closed for the semester, both Kučinskaitė and Zheng performed live from Roosevelt Hall at Brooklyn College, and Apaez joined the fold all the way from his home in Guadalajara, Mexico. 
   "[The] afternoon piano series has been a tradition in [the] Conservatory of Music and community of Brooklyn College," said Kučinskaitė at the start of the concert. "I was very excited when Michael [Zheng] came up to me with an idea to do a virtual stream."
   The concert began with Michael Zheng, who performed a section of Franz Liszt's "La Campanella," as well as "Hungarian Rhapsody No. 2" in C-sharp minor.
   "In this set, the 'La Campanella' [was] written in A-flat minor…and in a newer version, Liszt changed most of the materials including changing the key from A-flat minor to G-sharp minor, and it becomes one of the most often-heard versions of this piece nowadays," Zheng explained. "The 'Hungarian Rhapsody No. 2' is perhaps one of the most famous classical pieces in the history of western music art."
   As Zheng began playing, each note of "La Campanella" was heard distinctly as they were seemingly counted out one by one at a range of different speeds and volumes. At various points, the melody would intensify before returning to a calmer state, quickly establishing a theme as it recurred throughout the piece.
   Compared to "La Campanella", the "Hungarian Rhapsody No. 2" was paced much slower to start, but still had moments of great speed and technique as it carried on, breaking the piece up into sections–one noticeably more joyful than the other. This piece in particular, noted Zheng, has been featured in cartoons, such as Tom and Jerry or Looney Tunes. In the case of Tom and Jerry, the double coda, or the shifting and replaying of previously played sections, is a notable presence.
   "You'll hear a short, little cadenza, as well as the most famous double coda from the Tom and Jerry [version]," explained Zheng. "Before [Tom] plays the final chord on the tonic, Jerry restarts the coda one more time in a much more complex way."
   After this performance, the concert shifted to Patricio Apaez, who played Johann Sebastian Bach's "Partita No. 2" in C minor.
   "This piece is a selection of six dances…because each one has a different characteristic. They're all contrasting," noted Apaez. "Bach originally didn't intend [for] this to be played on the piano…but here on the piano, we try to exploit those possibilities of expressivity and just a vocal quality that is so nice in Bach's music."
   Bach's "Partita No. 2" in C minor is broken up into six distinct movements with Sinfonia, Allemande, Courante, Sarabande, Rondeau, and Capriccio. With clear stops at the end of each movement, Apaez makes evident his transition from one movement to the next. This is also recognized in each movement's own unique qualities that distinguish it from the rest, but there is still a common theme that exists throughout.
   Apaez began the piece immediately with careful precision and in the style of a French overture that quickly developed into a smooth, emotive melody. The piece as a whole is generally melancholy, but it maintains a strong emphasis on the shifting style and rhythms from section to section. 
   Finally, the concert came to a close with Martyna Kučinskaitė, who played John Corigliano's "Winging It" and a section of Frédéric Chopin's Étude in A minor, "Winter Wind."
   "'Winging It' is actually dedicated for one of our great professors here at Brooklyn College, pianist Ursula Oppens," revealed Kučinskaitė. "Chopin's Étude…is very challenging for every pianist, but also has amazing, beautiful, [and] hidden melodies in it."
   When writing "Winging It," Cagliano relied on improvisation, and Kučinskaitė made this known early on in her performance. With different notes played at different speeds with varying dynamics and occasional repeats, it was clear that Cagliano was exploring his options. This improvisation technique is felt throughout the piece as it is constantly shifting.
   As for Chopin's Étude, Kučinskaitė played "No. 11" from Douze Études, op. 25, and its challenging nature was made very clear early on as Kučinskaitė required complete concentration to ensure that each note was played distinctly and to perfection. While her left hand maintained the piece's overall melody, Kučinskaitė's right hand was also hard at work by providing the piece with rapid ascending and descending changes in pitch frequency and broken chords, also known as arpeggios.
   Upon Kučinskaitė's strong finish, the concert ended, but not before Zheng could reflect on having performed for the first time in awhile.
   "The last time that I played for this afternoon series concert was back on Nov. 7, 2019…and Martyna [Kučinskaitė] and Patricio [Apaez] were originally scheduled to perform together for this concert on Apr. 2020…but unfortunately that was cancelled due to the pandemic," said Zheng. "I am glad they [could] make it up today."