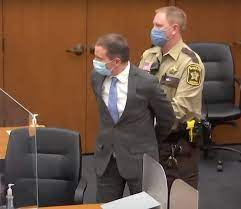 After just 10 hours of deliberation, the jury found former Minnesota Police Officer Derek Chauvin guilty on all three counts in the murder of George Floyd. Chauvin kneeled on Floyd's neck for over 9 minutes. 
   "No verdict can bring George Perry Floyd back to us," said Jerry Blackwell, one of the trial attorneys for the prosecution. "But this verdict does give a message to his family that he was somebody, that his life mattered, that all of our lives matter, and that's important."
   Chauvin, 45, was charged and unanimously convicted of second-degree manslaughter, second-degree murder, and third-degree murder, which characterizes that Chauvin had a "depraved mind" while committing the acts that ultimately resulted in the murder of Floyd outside a convenience store.
   Throughout the 22-day trial, jurors – six White, four Black, and two mixed-race men and women – were shown the horrific video of Floyd's murder and were addressed by police officials who both condemned or condoned Chauvin's choices after taking Floyd into custody. They also watched medical professionals testify that Chauvin's knee on his neck while prone was the main factor that led to Floyd's death.  
   Chauvin will be sentenced in eight weeks and is facing up to 40 years in prison for the top charge of second-degree murder alone. As the verdict was read, Chauvin showed no apparent reaction before being ushered away in handcuffs. Outside the courthouse, the verdict was met with celebrations and tears alike from the Floyd family and people across the country. 
   "I feel relieved today," said Floyd's brother, Philonise Floyd. "I was just praying they would find him guilty…As an African American, we usually never get justice."
   The verdict comes after nearly a year of protests and a national reckoning with white supremacism, institutional racism, and police brutality. However, as many have said since the judgment came down from Hennepin County Courthouse, this is only one example of accountability. There is still much to be done to combat and address all the injustices that people have been fighting for the last 11 months, and long before that.  
 "We have to always understand that we have to march. We will have to do this for life," Philonise Floyd said. "I'm not just fighting for George anymore, I'm fighting for everyone around the world."
   However, this can be established as a positive step in the right direction. 
   "One conviction, even one like this can create a powerful new opening," said Minnesota Attorney General Keith Ellison. "I do hope that people step forward and understand that nobody can do everything, but everyone can do something."