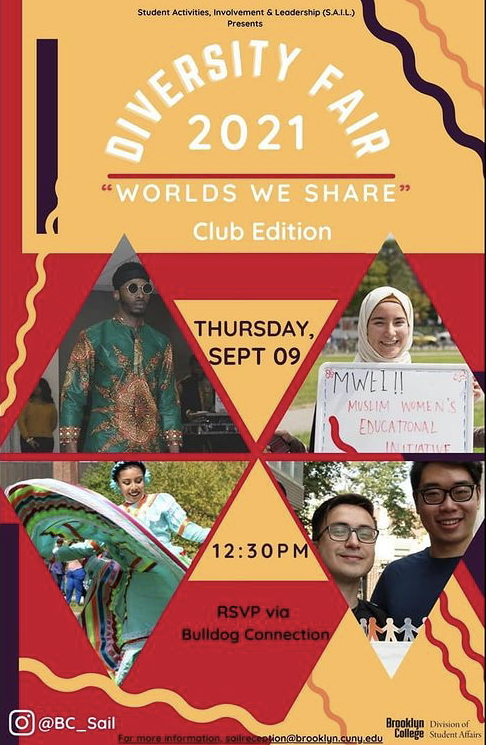 By Serin Sarsour
   As the pandemic persists, Brooklyn College held its annual Diversity Fair virtually on Sept. 9. Rather than being on the quad, behind their table stands, BC club presidents and members were stationed in their own Zoom rooms on BulldogConnection. The students they welcomed were given the opportunity to ask questions and get insight into the different club initiatives and events. But like many things that were forced to move online, the Diversity Fair faced some challenges. 
   "Promoting the fair was not the difficult part because social media and emails help get the word out. Getting individuals to actually attend is what is difficult about holding an event in a virtual format," Hamilton Raymond, the Associate Director of Student Affairs at BC, told The Vanguard.    
  "Prior to the pandemic, more new students attended the fair because it was actually on campus, so students were able to stop at any table with the club that they were interested in joining in between their classes," Raymond added. About 20 clubs had their own Zoom spots in this fall's fair, and over 100 BC students sent their RSVPs. There is no definitive count on how many people attended the event.
   Though the fair's turnout was light, many BC leaders were still eager to share details of their clubs to whoever stopped by. Amber Khemlani, a BC senior who is the co-president of the Desi Culture Club, said her club is "dedicated to celebrating South Asian culture on campus through a variety of events." 
"Our events range from mixers to movie nights to our extravagant annual spring formal at the end of the spring semester," Khemlani continued.
   For those in the Student Organization For Every Disability United For Progress (SOFEDUP), raising awareness about the disability community at Brooklyn College has become their passion. "We want to make non-disabled people from all demographics aware of our struggles and how our struggles impact us, even if our disability or diagnosis is not noticeable on the surface," Austin Nicholas Dragos, a BC senior, told The Vanguard. 
   "Everyone in the disability community deserves as much recognition as people coming from other marginalized communities," Dragos added.
   Similar to the SOFEDUP club, the president of the Islamic Society (ISO), a BC senior named Bilal Khan, gave The Vanguard an overview of his club's initiatives. "Our club aims to provide a platform and safe space for young Muslims in America to feel comfortable with their identity and gain nearness to their faith through knowledge, community service, and social initiatives," he says.
   ISO also works very closely with the Muslim Women's Educational Initiative (MWEI) and Muslims Giving Back. Fahria Orine, a BC senior who is the president of the MWEI, said, "When I think of MWEI, I think of the word 'wholesome.' When you walk into the room or into any event you do not have to worry about being judged; you're taken in with open arms." Orine only wishes that new Muslim students at BC were aware of the club's community. 
   For many organizations, however, COVID-19 has made student outreach an obstacle. "Keeping in touch with our student club members and officers was quite challenging not only because of technological limitations, but because of the negative mental health complications everyone endured," Dragos from SOFEDUP added. 
  Though COVID-19 complicated things for everyone, BC clubs managed through the challenges of the fair and remote learning. "We have increased our virtual outreach through the use of social media, specifically Instagram, and initiated many online events," Desi Culture's Khemlani said.