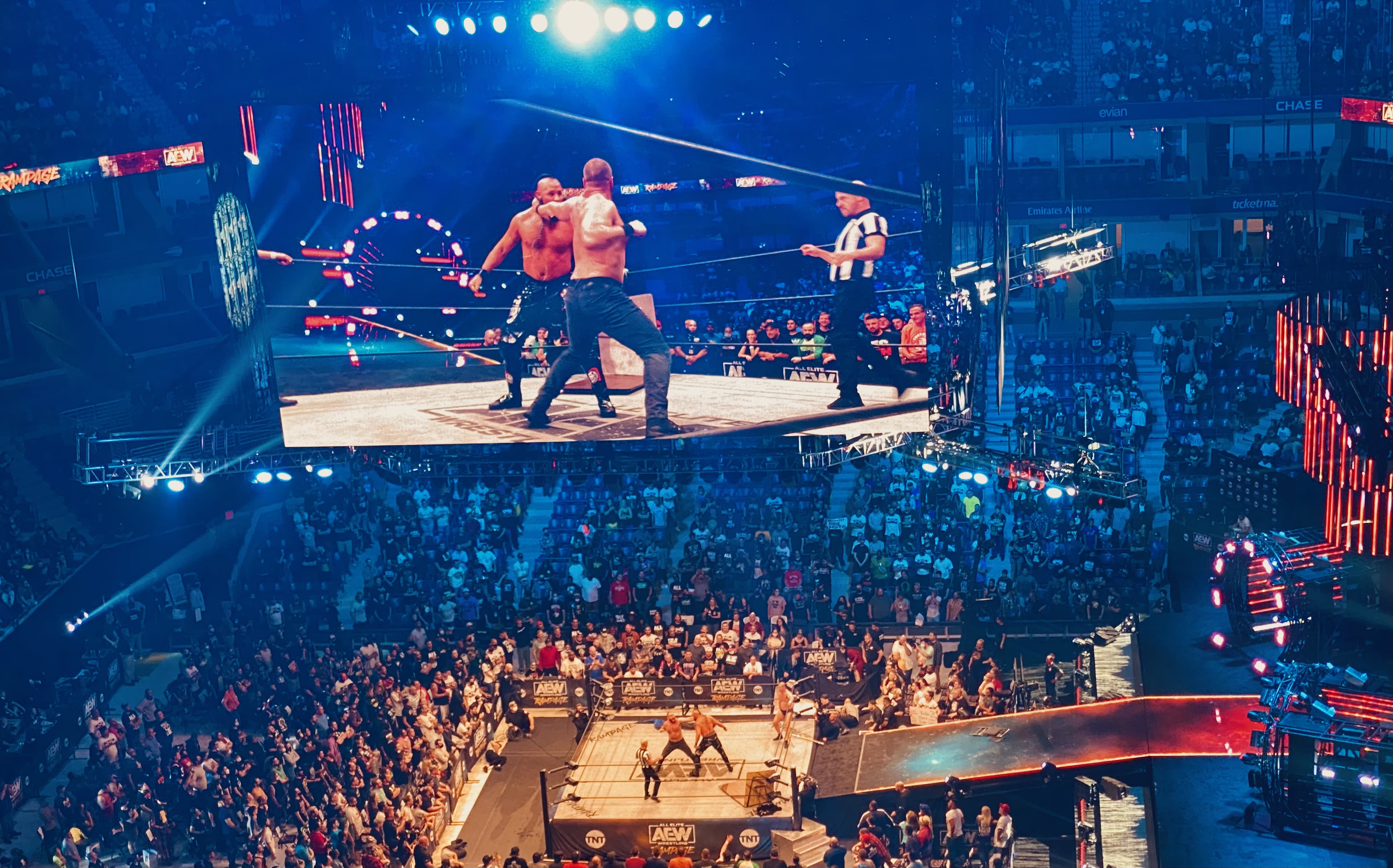 By Matt Hirsch
Reporting assistance by Owen Russell
   All Elite Wrestling (AEW) turned the professional wrestling industry on its head when it launched back in 2019. AEW represents the first legitimate competition to industry titan World Wrestling Entertainment (WWE) since they bought out World Championship Wrestling in 2001. It began as a collaboration between four ambitious wrestlers: Cody Rhodes, brothers Nick and Matt Jackson, and Kenny Omega, and is funded by billionaire Tony Khan. Two years and a pandemic later, the company made its first appearance in New York City in front of a sold-out Arthur Ashe Stadium in Flushing, Queens on Sept. 22.
   The event, dubbed "AEW Grand Slam," was a five-hour pro wrestling spectacle with over 20,000 fans in attendance–the largest crowd in AEW history. Grand Slam was the first pro wrestling event at Arthur Ashe Stadium and the largest non-WWE wrestling crowd in the United States since 1999. NYC is considered one of the most important cities in the business by many and is populated by some of the most passionate fans in the world.
   "It's been long overdue. NYC is notorious for having amazing wrestling fans. AEW is the coolest wrestling company in the world. NYC was made for AEW and vice versa," AEW wrestler Ethan Page told The Vanguard. "Which we saw was true with 20,000-plus fans enjoying all five hours of live wrestling! Feels amazing to be a part of it." Page and his tag-team partner Scorpio Sky defeated thirty-year industry veteran Chris Jericho and former Bellator MMA heavyweight Jake Hager at Grand Slam.
   New York City's deep ties with the business date back to the early 1960s. A time when pro wrestling in the United States was divided into territories controlled by the biggest promoters in the area. The northeast was the territory of the World Wide Wrestling Federation (WWWF), the company that would eventually become WWF, and later WWE. No arena is more important to the company than Madison Square Garden. 
   The Garden was host to the now-legendary championship reigns of the late Bruno Sammartino, who holds the records for longest title reign, and longest combined reigns recognized by WWE, at 2,803 and 4,040 days, respectively. WWWF sold out MSG countless times from 1963 to 1980, as rabid fans came out to support the champion.
   For many wrestlers, including Page, performing at Madison Square Garden is a dream scenario. But a sold-out crowd of 20,000 people at Arthur Ashe Stadium is nothing to scoff at, though. "It's historic. We can skip MSG for now and pack in a bigger crowd! We made history," Page said. Though, when asked if there is any other venue in NYC he'd like to perform in, Page replied, "MSG, eventually. It's [on my] bucket list." 
   With NYC's legacy in the pro wrestling business, Tony Khan knew this momentous occasion deserved a show to remember. Matches featured the likes of Bryan Danielson, who went to a thirty-minute time-limit draw with the current AEW World Champion, Kenny Omega, in his AEW in-ring debut. The raucous crowd was on their feet cheering before the two competitors even made contact.
   The big names didn't stop with Danielson and Omega, either. Minoru Suzuki, a highly-respected pro wrestling legend from Japan, competed in a tag team match with the six-foot-six monster Lance Archer. The two took on former AEW World Champion Jon Moxley and native New Yorker Eddie Kingston in the evening's main event. A surprise appearance from Eddie Kingston's best friend, Homicide, a New York pro wrestling legend in his own right, ended the night in memorable fashion.
   Though the names go on and on, one of the most noteworthy was CM Punk, who signed with AEW after a seven-year hiatus from pro wrestling. Punk is so beloved that his surprise return last month drove fans to tears.
   This historic event is a massive milestone in AEW's tenure. It serves as proof that WWE isn't the only big fish in the pond anymore. "We had to be on top of our game," said Page. "I can only assume that's why Tony [Khan] booked a super card with Grand Slam."