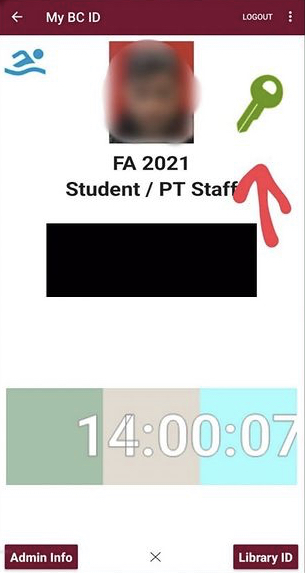 By Gabriela Flores
   Brooklyn College released a green key icon on the BC Navigator app for students and faculty who are fully vaccinated or tested negative for COVID-19 to use as a campus entry pass option. This green key feature, however, can only be used at Brooklyn College. For BC students and staff wanting to enter other CUNY campuses or facilities, a Cleared4 Access Pass is required. 
   "The move to Cleared4 simplified the reporting of vaccination and testing information into one system. Cleared4 is now used for students, employees, and visitors," BC's Media Relations Manager Richard Pietras told The Vanguard. "To further simplify things at Brooklyn College, we were planning to integrate this data into our ID system [BC Navigator] for quite some time." 
   This Brooklyn College-exclusive green key can be accessed after a student or faculty member uploads their vaccine verification or negative COVID-19 test to CUNYFirst, and Student Affairs validates the proof. Using their CUNYFirst login information, a BC member can use their digital identification and green key on the BC Navigator app. However, unlike the new Cleared4 Access Pass, BC Navigator syncs hourly with CUNYFirst records of who is allowed on campus, according to USG President Aharon Grama. 
   "If I'm not mistaken, BC Navigator syncs once an hour if anybody new was added to the list. Whereas the Cleared4 pass would sync every 15 minutes," said Grama. "So if anybody new was added to the list in those 15 minutes, the Cleared4 pass would have that information before while the BC Navigator will still be an hour passed."
   For students and faculty who had Everbridge VaxPasses, they should have received a personal link from Cleared4 to register for the platform's Access Pass, per BC President Michelle Anderson's email sent on Monday, Sept. 20. However, in a Facebook poll run by The Vanguard two days later, 12 of the 13 BC student respondents answered that they did not receive an email from Cleared4. 
   The CUNY marketing team informed Grama that emails were still rolling out and implied that all students and staff would have received their Cleared4 links by Sunday, Sept. 26, a day before Everbridge Passes could no longer be used for campus entry. 
   "I think they could've left it for another week. I don't see the urgency of changing it that fast. And why not warn people from the beginning that this was going to happen," said Grama when referring to CUNY's decision to move entry passes from Everbridge to Cleared4 in 11 days. 
   The Cleared4 blue-colored pass contains a QR code, the current date, and it does not specify whether the user is vaccinated or tested negative for COVID-19. Those who use the pass must save their links to access it daily and provide campus security personnel some form of identification. 
   "For those individuals without a smartphone, they can use their physical BC ID and a copy of their unique QR code from Cleared4," Pietras said. "The QR code is scanned at the entrance and the guard can see the person's current status in Cleared4."