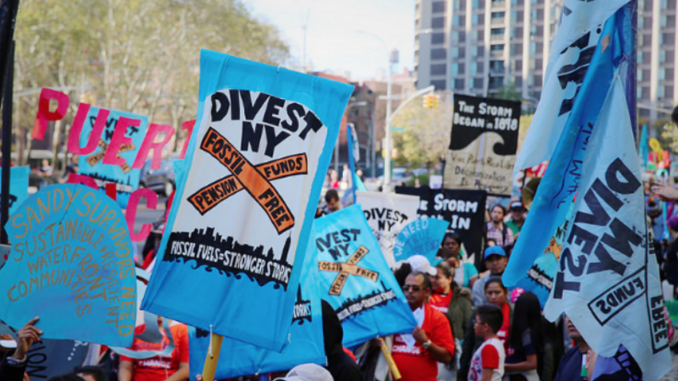 By Gabriela Flores
   To push CUNY to divest from fossil fuel holdings, and opt for green energy and infrastructures like solar-powered phone charging stations, the CUNY Climate Coalition and University Student Senate Sustainability Committee are writing a statement to university leaders and city officials. They call for CUNY to disaffiliate from fossil fuel and energy companies like National Grid, invest and use geothermal energy, among other demands. 
   "Part of the reason that all of these issues need to be brought up and needs to be brought to the CUNY bodies of governance is because it actively affects the students," Brooklyn College alum and statement co-author Alex, who did not want to share her last name, told The Vanguard. "You can't say that you care about the future and then fund the things that would destroy it."
   Calls for CUNY to divest from banks like JPMorgan and other corporations linked to pipeline construction agencies, fossil fuels, and carbon emissions, date back to 2013 with a group called CUNY Divest. No investment data has been released since 2014, when the Wall Street Journal reported that CUNY had $10 million in fossil fuel securities. Under Senate Bill S1829, which is currently in commission, the CUNY Board of Trustees would be required to divest from "certain publicly traded fossil fuel companies" by 2024 if passed. 
   Selected CUNY schools, like Kingsborough Community College and the College of Staten Island, are more directly involved with fossil fuel holding National Grid through its three-year $108,000 scholarship program. 
   "Even if these scholarships would theoretically help students, how are these scholarships truly going to help students when these are the same companies that are destroying our future," said Alex. 
   In North Brooklyn, National Grid intends to construct a natural gas pipeline, cutting through neighborhoods like Bushwick and Williamsburg, where CUNY students and other locals live, the statement noted. If the North Brooklyn Pipeline is built, against the demands of many activists, some Brooklyn-based students may encounter worsening living conditions such as poor air quality, heightened health issues, and further pollution, the co-authors wrote. 
   "It fails the families that they're a part of, the families that they're trying to create, and the careers that they are trying to start," Erica Calabrese, the Chief of Staff for John Jay's Student Council President and statement's co-author, told The Vanguard. 
   Within their working statement, Calabrese and her colleagues also cited CUNY's ties to Enbridge, a Canadian energy company that constructed pipelines like Line 3 that have led to major oil spills in America. Between this past June and August, 28 oil spills were recorded in Minnesota from Line 3, the Minnesota Reformer reported. Through the university's affiliation with major banks, who back Enbridge, they argue that CUNY is supporting the ongoing environmental and humanitarian issues involved with the establishment of pipelines. 
    "Real people are harmed actively and continually because of the presence of pipelines," said Alex, noting the correlation between sexual violence against indigenous people and "man camps," or temporary settlements of pipeline workers. "There are women who never got to come home because of these pipelines," she said. 
   Calabrese is currently looking for more CUNY student leaders and organizations to sign the statement before releasing it to the designees. Though she and the other co-authors hope that CUNY administrators would implement greener changes and completely divest from fossil fuel holdings, they are aware that the university's potential contributions will build a fraction of the measures needed to combat climate change. 
   "Climate change cannot be, I don't want to say solved, but it can't be mitigated because we are far past the deadline to do instant change," said Calabrese. "We have to do it together. We have to do it with every CUNY campus."