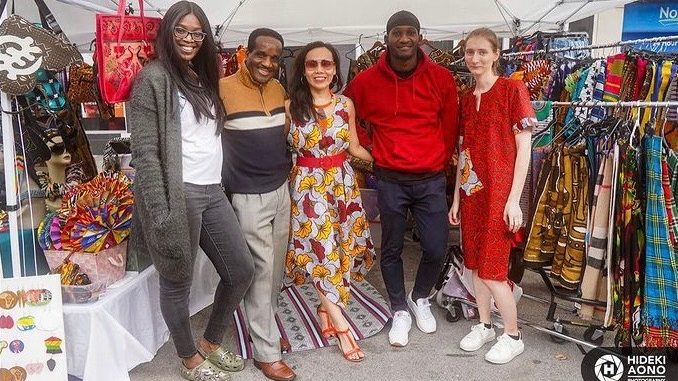 By Mary Zakharova 
   African Restaurant Week (ARW) started as an after-work party where now-CEO of the event, Akin Akinsanya, invited his colleagues to try traditional African food.
It's been eight years since the project started, and now it is an annual city-wide food festival where African restaurants present their traditional dishes. 
   "New York is a melting pot. So why not have our cultures for different people and show them what's best of Africa?," Akinsanya told The Vanguard.
   This year, the African Restaurant Week started on Oct. 7 with the main events held on Oct. 9 and 10. There, restaurants offered their traditional meals to teach the visitors about Africa's various cuisines, and African-owned businesses presented their products, including traditional jewelry, cosmetics, and clothes. One of the designers not only presented her collection, but gave her dresses to the ARW organizers for the event's duration. 
   The festival was held at Hillel Plaza, next to Brooklyn College. It was curated by Find your ID NYC, PYNK NYC, and the Brooklyn College International Business Association (IBA) Club. The BC IBA Club and their advisor, Dr. Ngoc Cindy Pham, promoted the event so all BC students attending were able to get a discount on their tickets and food. 
   "I am a professor of International Business. I always teach about cultures in all of my lectures," Prof. Pham told Find Your ID NYC. "I believe culture is a big part of our life and business. If we understand each other's uniqueness, there would not be any conflict or war."
   All the restaurants at the festival are either small or growing businesses that invite people to try the food they might never have tried before. "Why not make it something bigger to represent the culture?," Akinsanya said, emphasizing the importance of incorporating and promoting small businesses at the festival.
    The menus included Ethiopian, Nigerian, Haitian, Jamaican, Ghanaian cuisine, Akinsanya explained. Visitors tried plantains, a type of banana that is mostly used for cooking, rice, and meat cooked with Suya, an African mix of spices. 
   The event was not just about the food though. At the end of the day, visitors were able to stay for the concert and dance to African music and popular songs performed by African musicians. People were dancing, singing, and sharing their experiences at the event with the crowd.