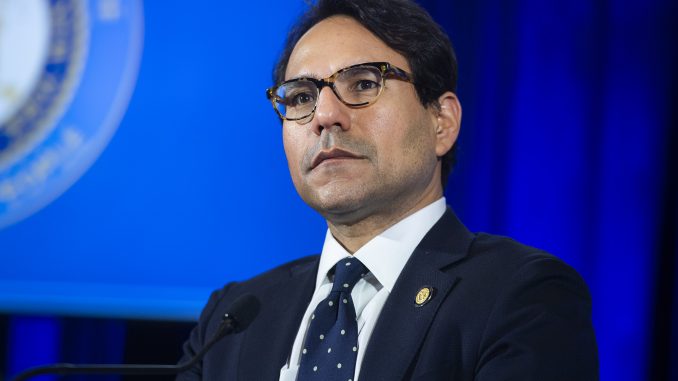 By Matt Hirsch
Taken aback by the news of massive enrollment declines, New York State Budget Director Robert F. Mujica questioned requests for CUNY budget increases at a CUNY Committee on Fiscal Affairs meeting on Oct. 4. 
Enrollment at CUNY colleges dropped sharply over the pandemic as discussed at the meeting; about 22 percent over the last two years at community colleges alone. A figure that Mujica, who is also the Vice Chair of the CUNY Board of Trustees' Committee on Audit, was not expecting.  
"I haven't seen anywhere in any of these documents, where's the plan to deal with a twenty-plus percent enrollment decline," said Mujica. "Or where's the plan to show me what are we doing differently to make sure it doesn't happen?"  
CUNY Senior Vice Chancellor and Chief Financial Officer Matthew Sapienza noted that historically when state unemployment rates go up, so do community college enrollment rates. But after the massive unemployment spike caused by the pandemic, the opposite effect occurred.
Enrollment at CUNY senior colleges saw a slight three percent decline over the pandemic, according to Sapienza.
The total operating budget for CUNY in the fiscal year 2022 came to $3.8 billion, $2.5 billion of which came from state and city funds. The approved budget for the fiscal year 2023 saw an 11 percent increase, about $416 million from state and city funds. 
The budget increase was split into two major categories: programmatic requests, which account for "initiatives that we either want to start or want to expand in order to provide additional services to students and faculty," explained Sapienza, as well as mandatory needs that account for the cost of "doing business."
"It's not clear to me how these investments are dealing directly with the enrollment issue which is really existential to the university," Mujica responded to the proposed budget. The budget includes $283 million for Brooklyn College to renovate Roosevelt Hall over the next five years as part of "strategic initiatives." While $26 million of the proposal is allocated for CUNY's heating, ventilation, and air conditioning upgrades that were needed before COVID-19. 
"So I'm trying to understand the connection between how this budget is requesting these investments and how are they helping deal with this existential crisis that the university is facing," Mujica said. 
Though the budget request was eventually approved for submission to the Board of Trustees, Mujica abstained from the vote.