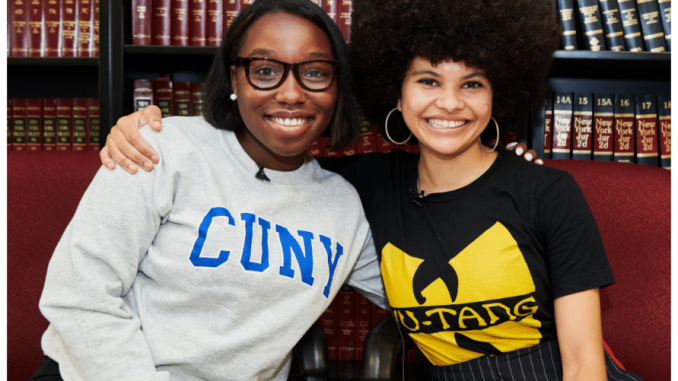 By Gabriela Flores
  In CUNY's new undergraduate-run podcast, CUNY Uncut, conversations about different college-related topics like mental health and one's DACA experience go uncensored, unedited, and most importantly, uncut. After launching its first episode on Oct. 1, the podcast has become a new means of representing student voices, especially for those behind the scenes.
  "​I feel like, for the longest time, CUNY has had somewhat of a negative reputation for not really being in touch with the student body and being at the pulse of what students are interested in right now," said Macaulay Honors-Hunter student Hannah Kavanagh, the show's host, executive producer, and editor. "I really wanted to at least help push CUNY in a more progressive direction in that way – in regards to actually being in touch with what students want to talk about."
  CUNY Uncut's first three episodes were shot this past August after CUNY's Office of Communications and Marketing reached out to Kavanagh to lead their upcoming student podcast. Kavanagh's interest and work in podcasting date back to her time as a freshman living in Hunter's Brookdale Campus Residence, after listening to "The Rewatchables" and enjoying its lax back-and-forth. Juggling her part-time gig and 15-credit classes, Kavanagh decided to trust her instincts and launch her own production Tea For Three.
  "I'm always fascinated by people's stories and hearing what they have to say because I feel like everyone has such an interesting story to tell and I feel like podcasting acts as the perfect medium to bring those stories to light," said Kavanagh. 
  The conversational format of her podcast, echoed in CUNY Uncut, was centered around her love for tea. Kavanagh, along with her friends, would first try different teas, give their own notes on the flavor, and read its aromatic description before delving into that day's discussion. Through this independent project of hers, Kavanagh was first reached out by CUNY to join its vaccine campaign to encourage students to get the COVID-jab.
   Now, heading into her final year as an undergrad, Kavanagh has found creative freedom with her CUNY Uncut duties, from giving the podcast its name to deciding how shots in videos are edited. In balancing her multidisciplinary roles, her initial doubts and worries simmered away as CUNY Uncut's launch date drew near. 
  "I very much like to be in control of content that has my name on it because I feel like whatever project you're attached to, you're representing yourself," she said, noting that she's never been one to follow "authority or bureaucracy."
  In its first episode, CUNY Uncut kicked off with guest and University Student Senate Chairperson Juvanie Piquant, where she and Kavanagh shared how they care for their mental health, navigate learning and living during a pandemic, and other issues that resonate with CUNY students heading into the fall's gradual return to campus. Kavanagh thought introducing the podcast through a discussion on mental health was not only timely but a way for her to remind students tuning in that they are not alone. 
  "I personally wanted to address mental health just because of how widespread mental health issues have been amongst the college population specifically over the past year and a half," she told The Vanguard. 
  After launching CUNY Uncut, Kavanagh gained the confidence to continue her project with the reassurance of her capabilities being enough, remembering the work and dedication it took to have the first episode up and running. 
  "I felt like it really gave me the confidence to look at things from an objective lens and be like, 'Listen, this is good content.' No need to be nervous. It's gonna be okay,'" she said, noting that one of her favorite moments while working on CUNY Uncut was the easy-flowing conversation with Piquant. 
   For its first three recorded episodes, two of which are still on the docket and have not yet been released, CUNY Uncut was hosted in person. Kavanagh explained that all on set were fully vaccinated, following COVID safety guidelines, and luckily, were not set back by the pandemic. 
  "For me personally, having recorded podcasts, both in-person and remote, nothing beats the in-person experience because when you're sharing a space with somebody there's a sense of synergy that occurs – that really falls flat when you're recording podcasts online," Kavanagh said. "So thank God we were able to record all of the CUNY Uncut episodes in-person."
  The next episode will feature Devashish Basnet, Undergraduate Student Government President at Hunter College, who will speak about his experience being a DACA recipient. Following CUNY Uncut's second release will be two CUNY graduate students who founded a non-profit called Strategy For Black Lives. Moving forward, Kavanagh intends to shift CUNY Uncut's discussion topics towards those that are deemed "taboo" but nonetheless related to college students, such as cancel culture and sex-positivity. 
  As for Kavanagh herself, who will graduate next fall after switching her major from journalism to film, she intends to continue pursuing her passion for filmmaking and ensuring that she commits herself to the projects and opportunities she actually wants. 
 "I really just wanna kind of continue on the path of doing things that I love to do and not settling for things that I don't want to do," she said. "(…) From what we learned over this past year and a half, time is so finite. Why would you spend your time doing things that you don't enjoy and wasting all that time?"