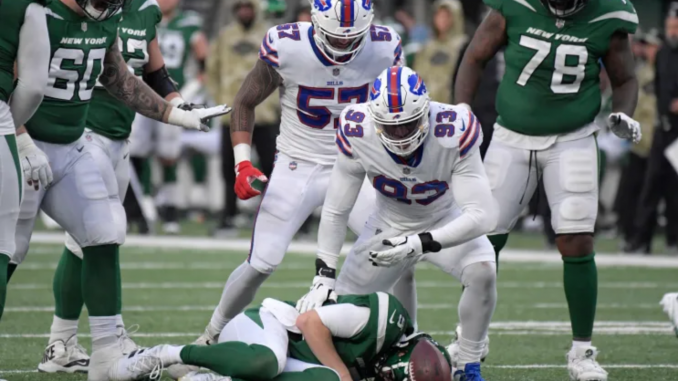 By Elijah Hamilton
   This past Sunday, Nov. 14, the New York Jets (2-6) took a 44-17 loss to the visiting, AFC East-leading Buffalo Bills. 
   The story coming into this AFC East clash centered around Jets' starting Quarterback, Mike White. Coming into this game, White tallied a surprisingly elite performance against the Cincinnati Bengals and a short but promising stint against the Colts. With the Bills rolling into town, many wondered whether or not White could keep the momentum rolling. 
   Meanwhile the Buffalo Bills were looking to maintain first place in the AFC East, after an embarrassing loss to the Jacksonville Jaguars, hoping to fend off a surging New England Patriots.
   White, starting in place of Jets' 2021 first-round pick Zach Wilson, could not replicate any of the magic he had in weeks prior against Buffalo—throwing for four interceptions against an elite Bills defense. The Jets offense, in general, could not get anything going as they failed to score a touchdown till the fourth quarter.
   On the flip-side, Bills Quarterback Josh Allen looked elite against the Jets, throwing 366 yards and two touchdown passes to Matt Breida and Stefon Diggs. The Bills' defense seemed to be in top form, holding the Jets' offense under 20 points with Bills corners, Taron Johnsons, Tre'davious White, and Jordan Poyer totaling four interceptions.
   The Jets will look to bounce back when they face the Miami Dolphins, while the Bills will look to continue gaining ground against the Indianapolis Colts.