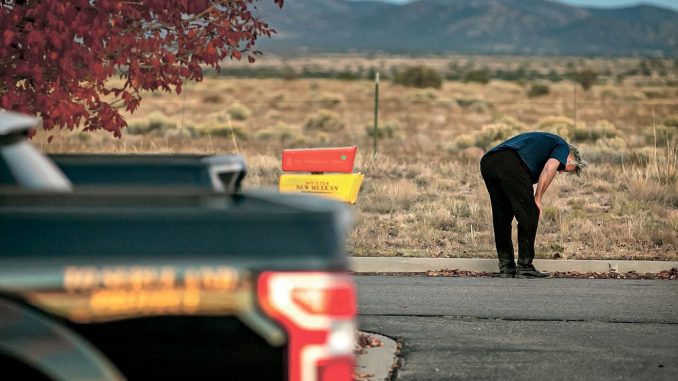 By Melissa Morales
   I remember when the news first came out on Oct. 21. Alec Baldwin was on the set of "Rust," starting to practice the next scene. He took out a gun, which the crew assured was "cold," and pointed it to the lens of the camera. The truth, however, was that the gun was loaded with a live round. What happened next led to fatality and media frenzy nationwide. 
   The film's cinematographer, Halyna Hutchins, was fatally struck in the chest. The bullet passed through her and wounded the film's director, Joel Souza. This, which is now just three weeks past, continues to raise many questions about the safety of movie sets. Why was there live ammunition? How was a revolver placed in the hands of an actor that contained lethal rounds? These questions were immediately asked in the wave of backlash that echoed around the entertainment industry. This news brought many pre-existing concerns about safety on sets back into the spotlight, with firearms obviously taking center stage.
  This case, in particular, reveals how crucial it is to prioritize safety over entertainment at all costs. Having classes for students to learn about set safety would be of significant value for their future careers.
   The "Rust" on-set shooting case gained so much coverage because of the absolute shock of it all. This is understandable considering that fatal accidents on film sets are incredibly rare. The last time a fatality like this occurred was in 1993 when Brandon Lee died while filming "The Crow," where a prop gun mistakenly had a dummy round. A blank round has a live primer but no propellant and no bullet. A dummy round is solid and although it looks like a complete cartridge it has no primer, no propellant, and no separate bullet.
   While film and television sets typically use firearms with "dummy rounds," there is deep inspection of these prop weapons checked by the art department and the props master. Many wonder then, how could this accident have happened, again? The hard truth of the matter is that it was preventable.
   The prop gun with a single, live round that killed Hutchins was not supposed to be loaded in the first place. The assistant director, Dave Halls, believed the gun did not contain live rounds before it went off, assuming it was harmless. 
   There are also suggestions that this incident was the climax of multiple weeks worth of problematic safety practices and a disorderly set. The morning before Hutchins was killed, camera crew workers walked off from the set to protest working conditions, such as withheld pay and long working hours, which is another film industry issue.
    According to the Los Angeles Times, workers had complained about safety the week before the incident. Gun inspections were not strictly followed on the "Rust" set near Santa Fe, the sources said. At least one of the camera operators complained to a production manager regarding gun safety specifically. Additionally, there were two accidental prop gun discharges the week before Hutchins' death, with no investigation looking into them. "There were no safety meetings. There was no assurance that it wouldn't happen again. All they wanted to do was rush, rush, rush," one of the crew members told Los Angeles Times.  Not to mention, the production hired non-union crew members to try to save money and speed up the process.
   While the investigation is still ongoing in the case, recently "Rust" gaffer Serge Svetnoy filed a negligence lawsuit against Alec Baldwin, as well as the film's producers, armorer, and first assistant director. This is the first suit filed in connection to the case, in which Svetnoy publicly expressed his anger at the "negligence and unprofessionalism" that led to Hutchins' death in a Facebook post. 
   I absolutely agree that it was a preventable tragedy; there was a lack of proper inspection and safety on the set. I also believe that from this case, there is much to learn from how essential it is to have knowledge on set safety, especially for individuals looking to pursue careers or their passions in the entertainment industry. Set safety is definitely something that should have its own course and prioritization in film schools by equipping prospective filmmakers with the proper and accurate knowledge on how to avoid future tragedies. 
   Filmmaking is a risky, sometimes even dangerous business, which makes knowing this information all the more important. At least 43 people had died and more than 150 people had suffered "life-altering injuries" in film and TV shoots in the United States from 1990 to 2016, per an Associated Press investigation. While many countries around the world require safety officers onset, the United States does not – instead, the person who oversees safety also has many other responsibilities, which complicates things. 
   If more people are introduced to the importance of set safety earlier on, the more actively involved and informed people can be. In turn, many can begin to advocate for safety over entertainment by creating safe sets and the possibility of safety officers as well in the future.