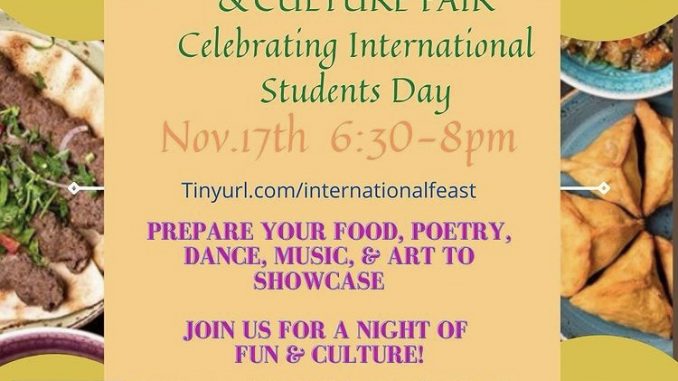 By Gabriela Flores
   Whether it be sharing traditional recipes like shemai, or anecdotes from Caribbean carnivals, attendees of the annual International Students' Day celebration showed their cultural pride and identity on Nov. 17. No matter if one recipe was from Morocco, or poems described the Nuyorican experience, every participant tuned in to hear student and faculty voices rooted from all corners of the world. 
   "Part of the mission tonight is to remember who we are and what we're proud of," said Jesus Pérez, the director of Brooklyn College's Immigrant Student Success Office (ISSO), who organized the event with other administrators and co-sponsors. 
   Before kicking off, the night started with a land acknowledgment, a custom recognizing indigenous peoples as the original inhibitors of New York's land, which contextualized the significance of celebrating one's heritage in the first place.
"As we share and talk about our own cultures and traditions, I think we should be conscious and thankful that we are able to pass down these traditions or reconnect with our cultures despite a long and continuous history of colonization and cultural genocide done onto our own respective communities," said Valeria Pinet, Puerto Rican Alliance's (PRA) Secretary and Club Connector, while giving the acknowledgment. 
   Soon after, participants delved into their own "recipe paired with a story," carrying on ISSO's cookbook motto and tradition that took off last year. Woven into the idea that hearty, decadent food connects all people to their culture, ISSO and BC's Black and Latino Male Initiative thought compiling recipes for a potential cookbook could help raise emergency relief funds for international and immigrant students. As its efforts echoed in the night's celebration, participants spoke of the dishes that hit their nostalgia. One student described his multicultural meal with ingredients from Asia, Europe, Africa, the Caribbean, the Middle East, and the Americas. 
   "I thought of my many friends, which they are a diverse group of people from almost every corner of our beautiful world," said a student named Tino, president of BC Dream Team, admitting he struggled to submit a meaningful dish for ISSO's cookbook. "Then I thought, 'I need to come up with a diverse dish inspired by my friends, only utilizing ingredients found in my neighborhood.' As time went by, I was getting more ideas." 
   Transporting attendees to the island of Barbados with her description of conkies, a banana leaf-wrapped pastry with a melody of sweet potato, pumpkin, fruit, and other ingredients, Renée Straker, BC's Assistant Director For Student Diversity Initiatives, emphasized the dish's decadence. 
   "Conkies make for a great, hardy breakfast or sweet-flavored snacks. But you know, it's something near and close to my heart because in every family there's that one person who can make that amazing conkie. Not everyone can't make it. It's a special skill," Straker said, noting that she doesn't have that special something to make the delectable treats, but her aunt does, making her the designated conkie-maker. 
   Though conkies and other dishes like Mexico's mole poblano are national meals, there's one edible commonality that all countries share, explained Professor Jessica Siegel, who organizes the recipes on ISSO's cookbook. And that one similarity is bread. 
  "All you need is grain and some water and heat; that's what makes bread," she said, detailing how her curiosity of the staple first began when she thought of challah, a Jewish bread that reminded her of her grandparents who came from Poland. During her presentation, Siegel read aloud Pablo Neruda's poem titled "Ode to Bread."
  "Many things that we share is bread, as many people say, it's the staff of life," Siegel said.
   The evening's dabbling in poetry continued with Shadae Brown, a BC alumna who returned to ISSO's celebration to read her poem encompassing her Jamaican pride. Another poem titled "Viejo San Juan," written by a BC student in 1993, was excerpted by PRA President Christopher Arias. The work, written with "Spanglish twang" and paired with drawings on white poster paper, showcased the former student's Nuyocrican experience, or their Puerto Rican diaspora in New York City. 
   "In a five-room apartment where my neighbors were Puerto Rican like me/Dressed in tropical garments/I know, I know, I know/ I'll miss Puerto Rico," Arias read. "And so, and so, and so/I'll live in El Barrio/And when I hit the numbers, I'll return to San Juan/And for the price of pan/Until my life is done/Island blessed by the sun/Here I come, here I come/Donde my roots are from." 
   Beyond food and literary works, participants described the significant celebrations of their respective culture: from Dominican Republic's carnival to the broader festivities the Caribbean hosts. 
"I think that one thing people tend to forget is that we're a very passionate people, not just about each other, but just life in general," said Caribbean Student Union Treasurer Walter O'Meally when describing the importance of carnivals across the islands. "Carnival, in a sense, isn't just about partying. It's a celebration of being here, of being able to live, laugh, and enjoy. And that's why our dance and style of music is so expressive." 
    O'Meally noted, after a game of Caribbean trivia with participants, that though outsiders may see certain Caribbean dances as "provocative or inappropriate," it's ultimately a misunderstanding of the people's nature. "As passionate people, we like to have passionate dances," he said. 
   As more students and faculty described segments of their respective roots, they danced out to "Tu Con El," a salsa beat by Frankie Ruiz, ending the night's celebration of Brooklyn College's diversity.