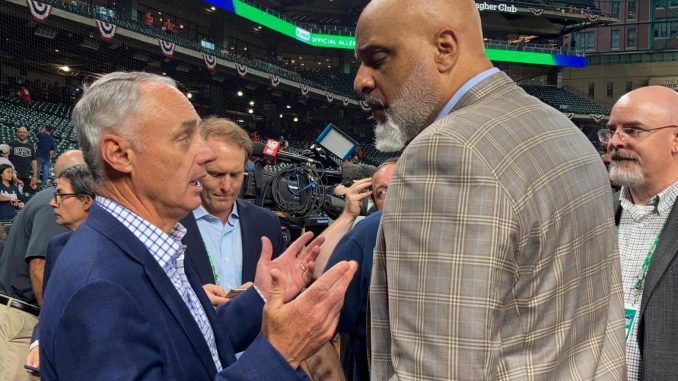 By Johan Abdu
   This Wednesday, Dec. 1, Major League Baseball's Collective Bargaining Agreement (CBA) will expire, leaving many players, organizations, agents, and more waiting in the wings for the future of their contracts, expenses, and other conditions when the league begins pre-season baseball in February 2022. 
   The MLB's CBA has a notorious history of renegotiation and tension between the league itself and its players, with everything from player strikes to labor stoppages. Most notably in 1994, the league had a lockout, leaving players to strike after the owners of multiple organizations tried to impose salary caps.
   Major League Baseball Commissioner Rob Manfred spoke last Thursday in a meeting of MLB organizations and their owners in Chicago, stating that their goal of reaching an agreement by the deadline is their top priority.
   "I can tell you from the clubs' perspective, we're committed to continuing to offer proposals and suggestions in an effort to get to an agreement before December 1st," Manfred told reporters. 
   With so much talk of a potential lockout, spurring memories of 1994, it's important to understand what MLB's CBA is exactly and how it works. 
   The MLB's CBA is essentially a giant contract that sets the base terms and conditions between the players and team owners. The 373-page agreement, signed back in 2017, covers everything from salaries and team rosters to even travel regulations. 
   With both the players and organizations involved, coupled with the rise of revenues from broadcasting rights and million-dollar sponsors, the CBA leaves many players demanding higher compensation as the years to go on and as player salaries get higher. They can demand to sit out in protest and some owners will just refuse to budge, leaving the MLB with the ability to halt baseball for the time being. 
   With the start of the 2020 season being postponed due to COVID-19, much has been speculated over the CBA this time around. The lockout of 1994 led to unprecedented labor stoppages, shortages, players walking out, and even having the whole postseason canceled. 
   Commissioner Manfred, who has been in charge since 2015, is confident in reaching a new agreement with organizations and is steadfast that baseball, its players, and the teams will come to a decision soon for the fans. 
   "Every single time, I have found a way, we have found a way, to make an agreement and keep the game on the field…I just don't put that much weight on it," Manfred told The Athletic. "We've had very, very difficult situations in the past, and we found our way through them. We've got great people and I think we're going to find our way through this one, too."