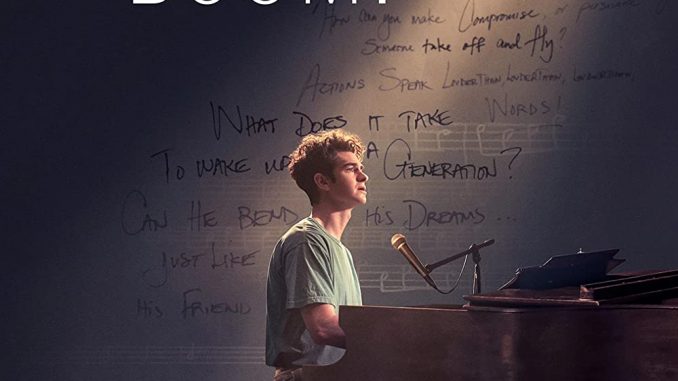 By Alexandria Woolfe 
   "Tick, Tick… Boom!," the movie musical released on Netflix on Nov. 12, tells the inspirational true story of Jonathan Larson, a composer, lyricist, and playwright, as he scrambles to become a successful musical theater composer before the age of 30.
    Directed by Lin Manuel Miranda, the film opens with Larson, played by Andrew Garfield, in 1992, beginning a presentation of "Tick, Tick… Boom!" on Off-Broadway. Larson explained through song how he has been working on his original musical, "Superbia," for eight years but no one has picked it up or shown any interest in paying to put it on Broadway or even Off-Broadway.
   To prepare for the role, Garfield worked on bettering his vocals by studying Jonathan Larson himself, watching numerous vocal training videos on YouTube, and working with various vocal coaches. His vocal skills truly shine throughout the film, as the preparation for the role is clearly shown in Garfield's portrayal of Larson's final performance. Garfield additionally spent the year before filming on learning how to play the piano for the musical's rock monologue.
   I especially enjoyed his portrayal of Larson. I'm familiar with Garfield's non-musical acting, most notably his role as Peter Parker/Spider-Man in The Amazing Spider-Man movies (2012-2014), and I knew of his Broadway work and Tony Award but wasn't aware he could sing. I felt his performance was strong, and the emotion he puts into his previous roles affirms that.
   The year is 1990, and Garfield as Jon struggles with paying all of the rent bills piling up, and hating his job waiting tables at the Moondance Diner on 6th Ave. As his huge presentation of "Superbia" nears, he can't seem to perfect it. In 1992, Jon explained that these events had created a clock-like ticking in his head, counting down to his 30th birthday.
   A recurring and relatable theme in the film to us as students is the impending age crisis where you feel the need to have goals set with dates. Paired with the dreary feeling of having accomplished nothing at all, especially nearing milestone ages such as 20, or in Larson's case, 30, you find yourself as a character in the play and, better yet, the film. 
   The ticking throughout the film seems to weigh heavy on all audience members, as we are all racing against the clock that is life.
   At this point in the movie, you can really feel the weight of turning 30 on Jon's shoulders. He's racing against a metaphorical clock and everything seems to be against him, the ticking seeming louder than ever. 
   The moments where the ticking is isolated from dialogue stick with me, and I feel college students really resonate with the idea of this mental clock ticking endlessly. There are constant reminders of the many deadlines on the horizon and goals you have yet to accomplish that others have completed two times over by your age.
   As Jon grapples with adding a song to become the turning point of his show, a slew of issues come one after another: Freddy, a friend and fellow writer at the diner, is hospitalized with an HIV-related fever; his childhood best friend Michael has taken a new job that pays well and has moved uptown, becoming the kind of adult Jon feels the two never wanted to be; and his girlfriend, Susan, has taken a permanent dance instructing job hours away in Massachusetts, hoping Jon might come or at least explore the option with her.
   Seeing Jon become extremely discouraged after a lack of reaction to his presentation of "Superbia" felt familiar too. The feeling of working on something so hard, something you're proud of, that no one else appreciates. Garfield really sold me that this was an experience familiar to himself as well.
   The audience gradually witnesses how Jonathan feels that his work has been completely wasted and begins to think that he needs to give up on musical theater entirely for a job with benefits and good pay. Grappling with his career struggles, Jonathan finds out his friend Michael recently received an HIV-positive diagnosis.
   This is the second character in the film to announce they are HIV-positive, however, Jonathan's monologue reveals that Michael and Freddy are on a long list of friends and acquaintances who have been impacted by the uncontrolled AIDS crisis. While Larson doesn't dwell too much on this in "Tick…Tick…Boom!," the show "Rent," arguably Larson's most famous musical, has a plethora of HIV-positive characters from different backgrounds. 
   The weight and awareness of the AIDS epidemic at this point in the film is a topic not ignored but embraced very well by the creative team, as they showed how pertinent it was to give viewers a deeper sense of what life was like for people. 
   The film then finally comes to Jonathan's 30th birthday celebration at the Moondance Diner where, even with a long list of rejections, he is happy to make it to 30 as so many of his friends never had the chance to since they lost their lives to AIDS. He has reached a grateful feeling compared to the stress he had been putting himself through over this one musical. 
   As the movie ends, this scene where the cast is all together made me feel warm inside. They all seemed genuinely proud of their parts in making "Tick…Tick…Boom!." 
   Jon then asks the eternal question, what next? His agent Rosa encourages him to keep working, describing the process as: "You write the next one, and then the next one, and then the next one." Jonathan's next one ultimately became "Tick…Tick…Boom!" 
   Following this comes "Rent," a musical that would thrive on Broadway for 12 years. Though Larson does pass away before achieving the success he craved, you see throughout the movie how hard he works toward his goal and how he inspirationally perseveres through the discouraging events around him.
   The musical version of "Tick…Tick… Boom!" was originally created not only as a piece inspired by Stephen Sondheim but as Larson's love letter to him, which was obvious to me while viewing the film after the 91-year-old composer's recent passing. That being said, it is clear that the film version is a love letter and tribute to Jonathan Larson from director Miranda, and how "Rent," as Larson's former girlfriend Susan said in its closing, "changed the definition of what a musical could be."