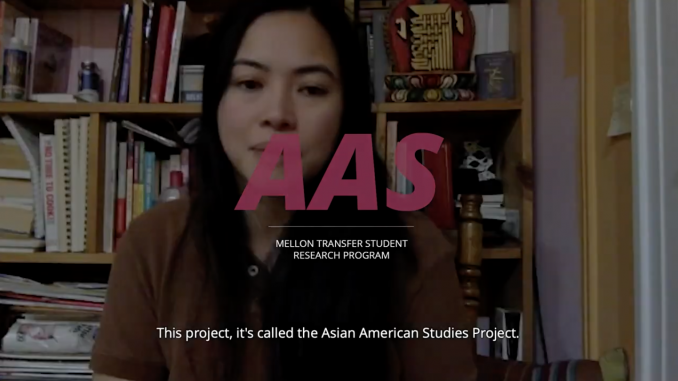 By Mary Zakharova
   "Why Is There No Asian American Studies Program In Brooklyn College?" is a short documentary created by BC students Joshua Leonard, Niara Johnson, and Bridget Squitire, and curated by BC Professor Cherry Lou Sy. The documentary premiered at a conference where students, who form part of the Mellon Student Transfer Research Program, presented their projects.
   After eight people were shot in Atlanta, Georgia in March, six of whom were Asian women, Brooklyn College President Michelle Anderson held a meeting with BC professors to discuss the tragic event. At the end of the meeting, Professor Sy brought up the fact that BC does not have an Asian American Studies program available. There, the documentary's idea was born.
   The three creators interviewed 18 Asian and Asian American students, alumni, and professors to find out what they think about the need for an Asian American Studies program at BC. All those who were interviewed, including members of an Asian American Studies Faculty working group, agreed that it's important to include the program not only for Asian and Asian American students but for everyone who wants to learn about a different culture. 
   Though the documentary focuses on Brooklyn College's lack of Asian American Studies, many CUNY colleges do not offer the program. Only 2 campuses, Hunter and City College, offer majors in the study. Out of the 47 classes offered within the Asian Studies minor at Brooklyn College, more than 30 were either moved to other departments or weren't offered in the 2021-2022 academic year. 
   The featured students and professors argued that questions of race and ethnicity are a priority in twenty-first-century America, but it's impossible to carry those out without having an Asian American program on campus. Many also noted that over 20 percent of Brooklyn College students identify as Asian American or Pacific Islander. "I wish that people cared more about us. I wish that Brooklyn College cared more," commented BC student Annie Ho in the documentary. 
   For the creators, their documentary's purpose was to show the importance of creating an Asian American Studies program, not just the administration's lack of action, Squitire told The Vanguard. "[…] Part of me feels like the only way there is going to be an Asian American Studies program at this point, is that if there is enough negative publicity and for long enough that the administration is forced to not ignore it," she said. 
   Now, the team is hoping to introduce as many people to the documentary as possible to shine more light on the issue.
   Squitire added that transitioning from the premiere of the documentary right to the in-person semester can be used to her and her colleagues' advantage since it'll be easier to engage with more students. "Someone suggested a sit-in and that feels like something big in my mind," Squitire said. "It needs to be impossible to ignore."
   Squitire also shared that she is not aware if the administration watched the documentary, but if they did, they may not have commented on it to avoid bad publicity on their end.
   As the three students intend to make the documentary big enough for the administration to respond, those interviewed by the documentarians will continue pushing for the program's implementation at the college and other CUNYs. "It's time for the administration to walk the walk, not just talk the talk," said Professor Jocelyn Wills in the documentary. "And if they are not willing, then maybe they should think about going somewhere else." 
    To watch the documentary, visit: https://vimeo.com/652937796.