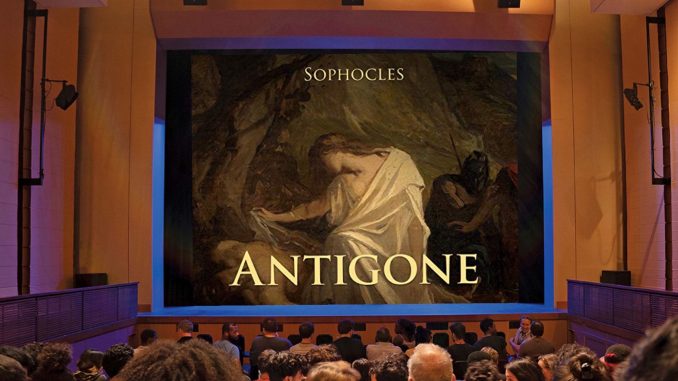 By Michela Arlia 
   As Brooklyn College heads into a new semester with more in-person opportunities as far as classes and other on-campus experiences go, the theater department gears up for a new season of performances and theatrics.
   The department will be producing two full-length plays and a festival this spring, with the mainstage shows already cast, and auditions for the festival underway this past week.
   Opening up the semester's season is the Greek tragedy "Antigone" by Sophocles, directed by Zachary Tomlinson, a Directing MFA alum who graduated in 2021.
   "Antigone is a young woman who wants to give her brother a proper burial even though her uncle, Creon, the king of Thebes, has forbidden it. Antigone defies Kreon's edict, forcing him to choose between his family and the law," Tomlinson told the Vanguard. "This conflict threatens to engulf the city in chaos and tear their family apart. Will one of them give in before it's too late?"
   To put a spin on the ancient classic, Tomlinson said the plan for the production is to draw influences both from ancient Greece as well as our modern day world, both in theme and language. The version of the play being used is translated by Anne Carson, which may show a more approachable version of text for audiences to understand.
   "It's not quite Ancient Greece and not quite our modern world, but draws influences from both," Tomlinson told the Vanguard. 
   In the second main stage production of the semester, MFA graduate Nicholas Browne directs "Concord Floral," a play that tells the story of a group of Staten Island teens finding themselves within an abandoned greenhouse. 
   "Hidden beneath the rotting floorboards [of the greenhouse] is a secret, and when two friends stumble upon it they set off an unstoppable chain of events that brings everyone back to where it all began and forces them to confront the event they all tried to forget," described Browne. 
   With more productions moving from online to onstage, both Tomlinson and Browne are ecstatic to showcase their work in the flesh. 
   "There is something special about connecting with each other in the same space that can never be replicated over Zoom," said Tomlinson.
   To close out the season is the One Acts Festival in May, advertised by the department as "an evening of three short plays directed by the MFA 1st year directors with design by MFA design students."
   The plays set to be featured are Anne Washburn's "When the Tank Breaks" directed by Florence Lebas, Caryl Churchill's "The Skriker" directed by Lauren Zeftel, and Tina Satter's "Away Uniform" directed by Ivey Lowe. The latter two of the three plays have not yet been set in stone as the rights to the material are pending.
   As the department usually produces three mainstages per semester in addition to a festival, an unfortunate cut was made to the roster. An executive decision by department faculty resulted in the cancellation of the production Lynn Nottage's "By the Way, Meet Vera Stark," set to be directed by Patrick Sabongui, the head of BFA acting. 
"We want to push the envelope, but we have to take care of our community's mental health," said Sabongui on the decision to cancel the production. 
   Laura Tesman, BC's theater chairperson, cited that the canceled show was too demanding for performances in the COVID era, according to a department newsletter released in November. 
"We have been experiencing significant challenges with regard to production this year," wrote Tesman. "A variety of factors have played into this – ongoing campus access issues, delayed budgets for personnel, detailed COVID safety plans requiring approvals at each step, reduced student availability for labs and crews, facilities requiring extra work after an 18-month pause, etc."
   Despite the setback, Sabongui says there is still much to look forward to in the coming semester. "It shouldn't take away from the fact that in the face of insurmountable odds we still produced so many plays," said Sabongui, reflecting on seasons past and present.