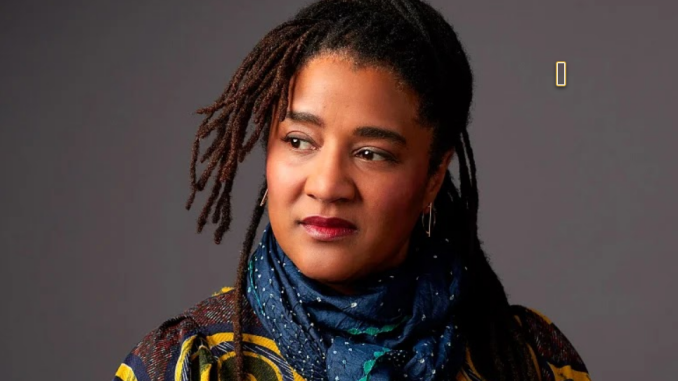 By Cailah Parker 
   Columbia University hosted a talk session featuring playwright Lynn Nottage on Mar. 4, as part of the school's Complex Issues series. This online series focuses on the theme of repair, a conversation of performance that engages social initiative and human interaction. 
   Nottage is a Brooklyn native who has won two Pulitzer Prizes for drama and her plays have been cast and seen by many worldwide. A Libretto, which was the topic of discussion, was introduced among several other achievements in the theater circuit.
   Nottage gave an intro into what could be expected from her latest play "Intimate Apparel." She took the time to explain a personal story, a photograph, and what it meant for her to learn about the willingness to share the past in her family. Unfortunately, with the timely passing of her family, she did not have many resources to find out her family's history. 
   With the research she had done, she was able to piece together a notion that black women during a certain time were invisible.
    "This play that I wrote, which really was something that I wrote for my mother and was truthful and emotional and really represented where I was emotionally – which was missing my mother and just trying to figure out how do you love something that is no longer there," said Nottage. 
   "The Intimate Apparel" was based on the idea of complexity of relationships and telling the history of not just all women, but African American women and many other minorities. The addition of a musical component only added to the fluidity of the opera and brought it to life.
   "I never dreamed that it would find another form until Ricky Ian Gordon, who is a wonderful composer, approached me to say 'Do you want to write an opera?' and I'm like 'Yeah, I kind of do want to write an opera!,'" said Nottage.
   Gordon had just finished writing an opera and became interested in the commission of new works that were being showcased with an ambiguity in their purpose. He confessed during the event that he read every play that Nottage wrote. When he first read "Intimate Apparel," Gordon said he connected to it in multiple ways.
   Gordon proceeded to contact Nottage on Facebook and ask if she wanted to write an opera for the Met with him.
   "It was a perfect piece for me," said Gordon. "It really just began the campaign of writing a Libretto, which just meant that the music tells a lot of the story. By the third draft it was a dream; it was stunning. It was a very transformative piece to write and luckily that was translated."
   Nottage took the time to discuss the cast and how different everything was this time around compared to what she's used to. The cast had time to rehearse for a month with music and refine the work that was unusual for the process.
   Gordon stated that the rehearsal process was set up where the actors performed as if they were actually giving a show, while there were changes and revisions being made at the same time. 
   "It's a kind of luxury that you never have in the opera world," said Gordon.
   When Nottage and Gordon first sat down to create this piece, they focused on the idea that they wanted it to be easy to grasp but also brought with it a sense of comfort across all audiences.
   "One of the things I loved about making this opera is that we really had an opportunity to  delve deeply into the rehearsal process and develop the characters in ways that are unusual," said Nottage. 
   Snippets of the opera were shared during the discussion to expand on the process and nature of the play, along with what one could expect from the main characters, Esther and Mami. 
   Nottage added, "It was a delightful exercise to figure out how to expand this world of Esther but keep it very true to the initial impulse of the play."
   Nottage also stated that when she and Gordon were writing the opera they were really interested in the fact that it had taken place at the beginning of modern America when there was an amalgamation of many cultures. 
   She stressed how in the end, the piece needed to feel like a collision of cultures.
   "As a black woman, who has not only been marginalized in every aspect of my life but also has felt marginalized in terms of the way we approach the telling of stories, I really feel that it is essential in my own art practice that I tell the stories of people who have shaped me – and those are workers," said Nottage.
   "Intimate Apparel" can be seen next fall on PBS.