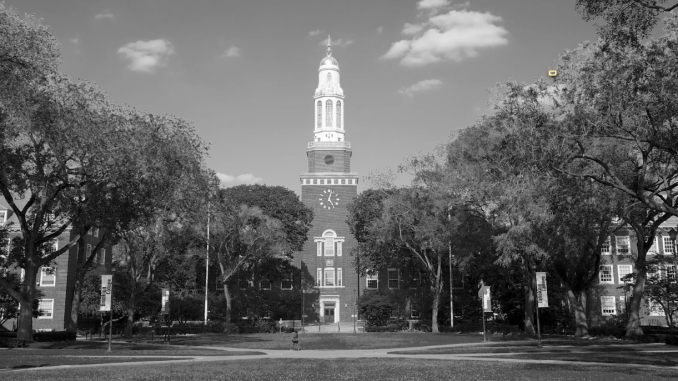 By Serin Sarsour and Gabriela Flores 
   It has been two years since CUNY announced every one of its campus' doors would close and classes would move online. Many Brooklyn College students and faculty members utilized the second anniversary of CUNY's COVID shutdown to reflect on the impact COVID has had on their learning, teaching, and life experiences.
   "I often joke with my friends from back home that I feel socially crippled," said Joshua Narisma, a sophomore at BC. "I feel awkward when speaking to new people now, and I need to warm up my social skills because I was constantly at home."
   Although the pandemic has negatively impacted the social skills of many students, including Narisma, seeing other individuals face to face is appreciated now more than ever before. 
   "My mood has never been better. I was prone to bouts of mental health issues during the early stages of the pandemic, but seeing people in person again has made me feel better," Narisma added.
   When the university first closed on Mar. 11, 2020, adjusting to schedule changes and a deadly pandemic soon became second nature to many BC students. However, the abrupt and isolative move to remote learning and working brought about struggles as most stayed home. 
   "Running for me is really important. And so when I had to stop, it definitely did affect me a lot," said Farvorites Lotin, President of the National Association of Black Accountants chapter at BC. 
   Before the pandemic, Lotin was a student-athlete who formed part of BC's cross country team. To stay afloat and remain connected with her BC peers, she used the college's resources, such as the Women's Center, to cope with challenges that came her way. 
   "It was definitely a sad time, but at the same time, you try to stay positive. And what I keep telling myself is like, 'I hope COVID ends pretty soon.' So that's the only thing that kept me positive," Lotin said.  
   Contrary to what many in the BC community and worldwide expected, the pandemic has remained for two years and counting. Across New York City, waves of contractions reached highs and lows, with over 66,000 COVID-related deaths recorded as of press time, according to Our World in Data. While the pandemic made some people paranoid with the realization and fear that anyone could die at any second, others have learned to navigate this apprehension and the pandemic holistically. 
   "It [COVID-19] helped me deal with my anxiety by learning to set appropriate boundaries with the world at large. I am still going to go do the thing that I want to do, just in a safer way," said Turner Cowles, a new Television, Radio, and Emerging Media (TREM) professor at BC. 
    Cowles decided to take a break from teaching when the pandemic broke out, prioritizing his mental health while facing difficult and unpredictable times. 
   "Being an adjunct professor really gave me that flexibility so that I was like, 'I don't really want to do this.' I stopped teaching and just worked my regular nine to five. I just did kind of the bare minimum of work just to focus on the stress and the anxiety that came with a global pandemic," he said.
    Despite all the chaos of COVID-19, some students fulfilled new goals as industries across the board were changed drastically. 
   "It's one of the worst things that happened to the world, but probably one of the best things that could have happened in my life because of all of the change that it brought," said Joshua Leonard, President of BC's Riverrun. 
   Before arriving to BC in the thick of COVID, Leonard was working as a fashion designer. With some free time on his hands after being laid off in February 2020, he decided to return to school and pursue a second degree in creative writing. 
   "If it wasn't for the pandemic, I would still be miserable and designing clothes," added Leonard.     
   Learning and teaching are also aspects that were heavily altered by the pandemic, where students and faculty went through many modality switches in the span of two years. 
    "I think the majority of students can attest to skipping classes more, missing deadlines, etcetera during online school," said Narisma. "In-person learning has made me more attentive to my studies and more diligent overall, which is why I prefer in-person classes."
    As more activities and courses are in-person again, many students like Chaya Friedman, President of BC's Orthodox Club, have found that the pandemic has taught them to prioritize not only their mental health but the well-being of their friends and loved ones. 
    "Even if you don't wanna see them in person, don't forget to call your friends," said Friedman, "check how they're doing. Even just showing them you remember them – that you're there." 
   With her elderly family members, Friedman also noticed how the aging had been hard hit during the pandemic as many were less active and unable to connect with others in person. 
   "That's super important to still call them, FaceTime, if you can, visit," Friedman said.  
    While many students settle into their classrooms after two years running remote or partially in-person, there are rising concerns over CUNY's policies and next steps for navigating the new normal. Though many are excited to return and others eager to graduate in-person at Barclays Center this spring, students wonder what the university has in store for the coming months as cases drop, especially regarding online course offerings. 
    "A lot of our ways of life have completely changed. So many businesses have completely changed the way that they operate, " Leonard said. "I think that Brooklyn College and CUNY need to reevaluate how life has changed to give people these [online] options because I just think people are gonna lose access to classes."