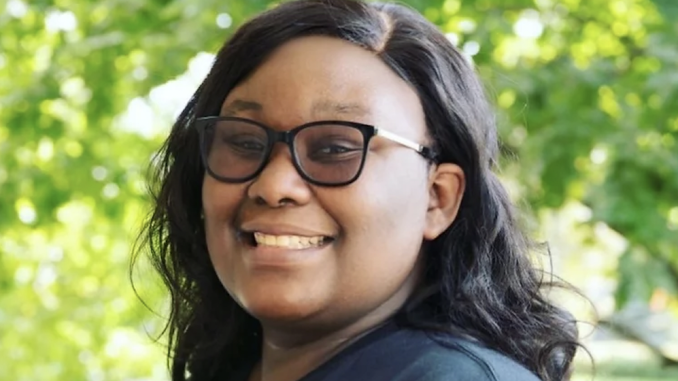 By Gabriela Flores
Reporting assistance by John Schilling
   Diane Lake, a recently transferred Brooklyn College student, passed away on Friday, Mar. 4 at 9:15 pm. The family was unable to confirm the cause of death to the Vanguard before press time. She was 22. 
   "Diane has a huge heart and always puts others before herself. Diane was a lovely person and some people might say that she was a very funny person," wrote Sheilla Lake, Diane's mother, on a GoFundMe page she organized for Diane's funeral on Saturday, Mar. 5. 
   Lake was known to many as a selfless and giving person, who strived to create positive impacts day-to-day. Whether it be singing in her Seventh-day Adventist Church or being there for those in need, Lake made her mark on those around her. 
   "If somebody was hungry she would go buy them something to eat. She wasn't a selfish type of person, she didn't even like people who were selfish either. She was a person who would give, and she wouldn't care to receive anything from what she's giving," Jonathan Lake, Diane's younger brother, told the Vanguard. 
   Lake, who was a first-generation Haitian-Jamaican student, shared a close bond with her brother, giving him life advice and lovingly bothering him while he played video games. Together, Diane and Jonathan envisioned outfits together, cracked jokes, and helped feed those who were hungry in their local community.  
  Before her passing, Lake experienced a work-related accident that fractured her ankle. The Vanguard did not receive confirmation before press time if her injury contributed to her sudden death.
   Despite the odds stacked against her, Lake persisted and garnered many accolades, including getting her driver's license. 
  "I feel like what really motivated Diane was the fact that she fractured her ankle and she wanted to prove a point that anybody who fractured their ankle could do it too," said Jonathan. 
   Lake was working towards her goal of becoming a school teacher. Before arriving at BC, Lake was a student at Kingsborough Community College, where she served as president of the Student Government Association. In December 2021, Lake received an associate's degree in Early Childhood Education at KBCC.
   "She was selfless and saw the best in everyone. As a colleague and friend, I'm so devastated by this sudden occurrence but I know she is resting well and in a better place," said Aliza Bowles, KBCC's SGA vice president who worked closely with Lake. 
   Lake also served as the Vice Chair for International Student Affairs at the University Student Senate's Steering Committee, vowing to "work with USS and all of our CUNY colleges [to] help our international students feel like they are home while they are with us," she wrote in her biography on the USS website. According to those closest to her, Lake was open to any opportunities that came her way and always advocated for others. 
  "I wanted to be a video game designer, have my own company and make a point in the world. Diane wanted to do the same thing, make a point in the world, to live in the world," Jonathan said. "Be someone – be a blessing to someone, to be honest, not just sit there and see someone hungry and not feed them – [she] tried to help."
  While at Brooklyn College, where she started this spring, Lake pursued her bachelor's in Early Childhood Education. Lake's USS colleagues, like Louis Di Meglio, Brooklyn College's president of the Graduate Student Organization, hope to honor her memory through an honorary bachelor's degree and other memorials. 
   "I know she would've been a great teacher to her future students," said Di Meglio. "[…] She represents our [Brooklyn College] community and she represents a lot of students in this community – even if it was for less than three months."  
   Though Lake did not live to complete all her goals, her brother and those around her will remember the lessons she taught them with her selfless acts and fighting spirit. 
    "Diane always said not to be selfish, because if you're the type of person that's selfish, it's not going to get you far in life. But if you actually give back and be kind to people, it's going to get you far – because it got Diane far," said Jonathan. "And if Diane was with us to this day, she would've gone even further."
   The Vanguard will continue reporting updates regarding Lake's funeral arrangements and the cause of her passing as soon as the information is made available.