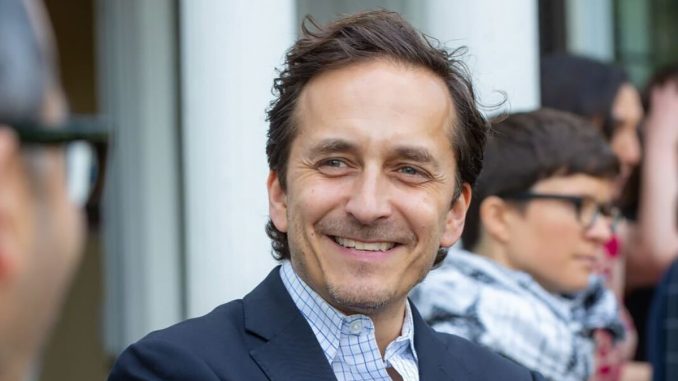 By Michela Arlia 
   Award-winning filmmaker and journalist Brent Renaud was shot and killed in Ukraine on Sunday, Mar. 13. He was 50 years old. 
  Renaud was the first American journalist on assignment in Ukraine to be killed amidst the ongoing war in the country by Russia. Killed in Irpin, a city next to Ukraine's capital, Renaud was said to be stationed there while working on a film project that would capture the refugee crisis caused by the war. 
   According to an article published by The New York Times, "Renaud was shot in the head when Russian forces fired at his car, which was being driven by a local civilian across a Ukrainian checkpoint near the northern border of Irpin." 
   Renaud was traveling with Juan Arredondo, a photographer and adjunct professor at the Columbia University Graduate School of Journalism, who was injured in the same attack and  rushed into surgery immediately after. 
   Aside from being a Peabody award-winning filmmaker for his work with human suffering, Renaud was also a CUNY student, who was in his second semester of the MFA creative writing program at the City College of New York. 
   Michelle Valladares, the program's director, told The Vanguard that Renaud informed his nonfiction workshop professor that he would be traveling to Ukraine for work but would be back Thursday, Mar. 17 for an in-class presentation. He was killed the Sunday prior to his return. Valladares stated that Renaud had profound respect and love for the MFA program on campus. 
   "We know that he loved being in our program," said Valladeres. "He expressed that to his screenwriting professor last semester."
   In a statement made by Mikhal Dekel, the interim department chair of the MFA in creative writing, he highlights Renaud's involvement in the college. Though his time with the college was very short, it was most definitely impactful. 
   "It occurs to me that a New York based artist who chooses to throw himself in the thick of things, would naturally end up in our program," wrote Dekel. "Not in a secluded artists' retreat, not in a rarefied private school, but at City College, where absolutely nothing is sugar coated and where people are deeply accepting [just] because, not despite, of the lives we live."
   Renaud originally set out to enroll in the MFA program to workshop a screenplay, taking one Zoom class in the fall semester and an in-person course this spring. In light of his passing, the department has decided to honor Renaud and his screenplay at their departmental awards ceremony. 
   "I wish he could have completed his screenplay and submitted it for an award himself," said Dekel.  
   Best known for the documentaries "Off to War," "Last Chance High," "Warrior Champions," and "Dope Sick Love," Renaud served mostly as a cinematographer and director on his pieces. 
   Renaud, along with his brother Craig, formed their Peabody Award-winning documentary film team that drew attention to human suffering, and was reported to be working with the television and film division of Time magazine on a multipart series about refugees around the world called "Tipping Point" at the time of his death. 
   In a statement made by CCNY President Vincent Boudreau on the day of his passing, deep sorrow was expressed as the CUNY community and world mourned this tragic loss. 
   "We mourn the loss of Brent to our community both because we will miss his remarkable presence among us and for the reminder he represents of the deeply personal pain that every life lost, in any conflict, triggers," wrote Boudreau. 
   In light of the catastrophe, President Volodymyr Zelenskyy of Ukraine took to Twitter to share his condolences for the journalist.
   "I extend my heartfelt condolences to the family of Brent Renaud who lost his life while documenting the ruthlessness & evil inflicted upon Ukrainian people by Russia," wrote Zelenskyy. "May Brent's life & sacrifice inspire the world to stand up in fight for the forces of light against forces of darkness."