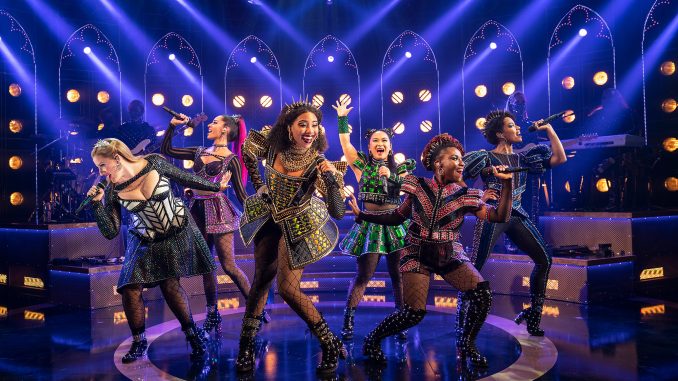 By John Schilling
   Divorced. Beheaded. Died. Divorced. Beheaded. Survived. What some have viewed as a grim time in European history has now been reimagined as a comedic, feminist pop musical about the six women that were once married to King Henry VIII of England. Throughout the show, the six women argue over which one of them suffered the most from being his wife. 
   The idea for "Six" was born at Cambridge University in 2016, when then students Toby Marlow and Lucy Moss were tasked with writing an original musical to be performed at the Edinburgh Festival Fringe the following year. After diving into history books and watching a Beyoncé concert, Marlow and Moss finished "Six" and were met with high praise — praise that would lead to online virality and professional productions in the West End, and now, on Broadway.
   There is no doubt that "Six" is an intriguing concept that has succeeded in what Lin-Manuel Miranda's "Hamilton" did around the same time. It almost feels unfair to make this comparison, but the two have done nearly the same thing: each musical meets the youth halfway with a few rhymes and elaborate costumes in an effort to make learning history cool, all the while modernizing the going-to-the-theater experience.
   It is where "Six" and "Hamilton" differ, however, that exposes the shortcomings of the former. "Hamilton," while comedic as a concept and even with some comical moments, takes itself seriously and has a strong, clear narrative from start to finish. "Six," on the other hand, is a self-admitted comedy that feels less like a historical narrative with a modern twist and more like a spoof reminiscent of "Spamilton." 
   This does not invalidate what "Six" gets right, and it does get things right, but "Six" does not enjoy the same acclaim as "Hamilton" or other Broadway classics alike because the musical does not know what it is.
   When watching "Six," it becomes apparent early on that it has an admirable freshness. The six leading ladies, known individually as Catherine of Aragon (Adrianna Hicks), Anne Boleyn (Andrea Macasaet), Jane Seymour (Abby Mueller), Anna of Cleves (Brittney Mack), Katherine Howard (Samantha Pauly), and Catherine Parr (Anna Uzele), each take the stage one by one in their shiny, vibrant costumes, state their fate, and seamlessly bounce off each other vocally as a pop group.
   It is also worth mentioning that the creative team has fascinating attention to detail, with Boleyn and Howard each sporting chokers as a symbol of their beheadings, and Seymour being the only Queen to still be seemingly in love with Henry VIII, as she died in childbirth and was neither killed nor divorced by him.
   This rich sense of history, or "her-story" as they quip, is the backbone of the show. But as "Six" progresses, you soon realize that it is more of a concert than a Broadway musical, with each Queen singing a solo in the style of a mainstream pop icon. 
   Catherine of Aragon's "No Way" makes for a Beyoncé-Jennifer Lopez hybrid classic; Anne Boleyn embodies Avril Lavigne with "Don't Lose Ur Head;" Jane Seymour pulls at the audience's heartstrings in an Adele-like fashion with "Heart Of Stone;" Anna of Cleves brings the house down in the style of Nicki Minaj with "Get Down;" Katherine Howard parallels a young Britney Spears with "All You Wanna Do;" and Catherine Parr's "I Don't Need Your Love" pulls from the likes of Alicia Keys.
   Among these performances, the notable standouts are "Don't Lose Ur Head," "Get Down," and "All You Wanna Do," but the talent of each of the actresses cannot be emphasized enough. 
   Alas, it is here, surprisingly, where "Six" ultimately falls short. While the actresses are quick-witted and vocally strong, almost all of the show is made up of moments in which the audience members respond by wooing and wowing or dancing in their seats. "Six" is almost entirely played for laughs and hard to take seriously. 
   You may ask: how could you take a play with six women acting and singing out of character about their shared husband seriously? When you put it like that, it is obvious that "Six" is a parody or completely satirical, but that's exactly the problem. While it is supposed to be comedic, it isn't supposed to be sarcasm or mockery, so why does it feel like it is?
   When Anne Boleyn playfully sings "Don't Lose Ur Head," as the title suggests, she pokes fun at the fact that her outspoken personality got her beheaded. When Katherine Howard sings "All You Wanna Do," however, it is more of an emotional cry for help that tells all about how she was abused by men, including Henry VIII, throughout her life. 
   This moment with Howard is no doubt compelling as it is performed beautifully, but within this song of desperation are sexual innuendos and double entendres sprinkled in for amusement. The show can't help itself. It has to be funny even when it's not necessary or appropriate.
   Understandably each Queen's song is crafted to represent what they went through historically and how they act and sing is reflective of that. In fact, this is quite admirable and helps emphasize their individuality that often gets overlooked by historians. Not to mention, there is nothing wrong with having a show that lightens the mood with a joke here and there.
   These moments in "Six," however, are often the antithesis of what the show sets out to do: separate the Queens from Henry VIII and redefine their legacies. This is helped by the fact that all six Queens come to the consensus that they have been robbed of their individuality and relish taking it back with a song titled "Six," the show's closing number. "Six," holistically though, has a tonal problem that makes the revisionist history element of the show hard to grasp.
   If "Six" is truly meant to be a feminist retelling of history that can be enlightening, then much of the humor is overdone and poorly placed. If "Six," however, was meant to be satirical, which it isn't, then you could argue the show is a masterpiece.
   Regardless, "Six" does deserve praise for how far it's come even with the show's identity crisis, which, along with the concert-like atmosphere it creates, begs the question as to whether or not it can stand the test of time.
   "Six" will undoubtedly continue to welcome back the loyal following it has created over the years to the Brooks Atkinson Theatre, but like all concerts, it will likely come to an end at some point. Or perhaps more grim: the typical theatergoers will simply just listen to the soundtrack instead of coughing up $100 minimum for a ticket, which for this show, is the smart thing to do.