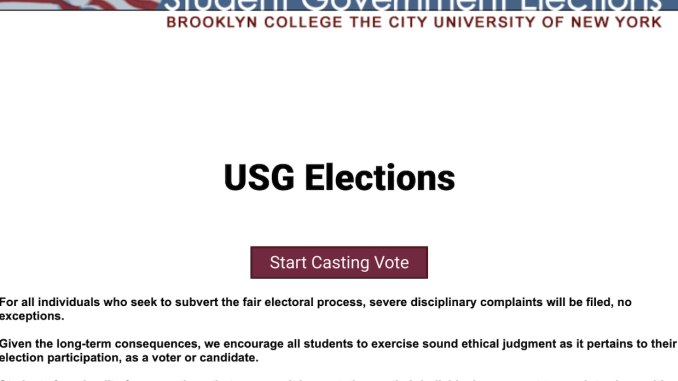 By Gabriela Flores
    With one ticket running for president in the student government election, and a referendum that proposes cuts in student activity fees for all undergrads and other changes, Brooklyn College students began casting their votes this Monday, Apr. 4 for who will form part of the new Undergraduate Student Government administration. The election ran till Wednesday, Apr. 6 at 5 p.m., with the results pending as of press time. 
   "Make sure to cast your vote for the students who you feel will best represent you and your interests at Brooklyn College and CUNY. Please let your voices be heard," Ron Jackson, Vice President For Student Affairs, wrote in a college-wide email on Apr. 5. 
   On this year's ballot, USG Co-President Aharon Grama bids again for presidency with his new running mate, Carrie Ebbin, a first-year student who is currently serving in the government's senate. The election also included 23 other students running for senate, a legislative body that sets the annual budget for USG and the 104 student clubs that are overseen by its governance, according to BC's official website. Senators also investigate and address student concerns.
 Though the senate has 27 spots for interested students, the proposed referendum included for voting this year will decrease the openings to 19 if passed. To Grama, this decrease would enable the government to operate with a balance of "the diverse aspect and probably the effective aspect." 
   For the cabinet – the executive branch that allows representatives to speak, introduce directives, vote, and count for a quorum on cabinet meetings – will also have one seat removed and transferred to the senate, bringing the total number of cabinet members to seven if the referendum passes. 
   "This would also be beneficial because that odd number will help with getting quorum," Grama told The Vanguard, noting that the student advocate role would be moved to the senate.  "[…] The student advocate over there, who used to be on the cabinet, would actually now be in charge of the senate in some capacity – I think that's very good for the check and balances."
    The proposed referendum also asked BC voters whether they wanted to have their student activity fees decreased and for certain referendum groups to move under the discretion of USG.    
   In order for the referendum to be implemented, regulations call for several steps, including a majority student vote on the proposed changes and President Michelle Anderson recommending the referendum to the university's decision-making body, the Board of Trustees, who has the final say in its passage.   
  For a candidate to be voted in, however, a majority vote is needed from the elections held earlier this week. If voted in again for the presidency, Grama intends to make long-term initiatives that would benefit future BC students alongside Ebbin.
   "There's a lot of stuff we want to do in student government, but I would say the continuity for me is to leave something that's actually going to continue. Yes, it's important to do something short-term, but I want to leave something long-term," said Grama, who is entering his final year as a BC student this fall. "[…] I want to make changes that are important for students that in the next five, 10 years, or whatever, they'll be able to enjoy it."