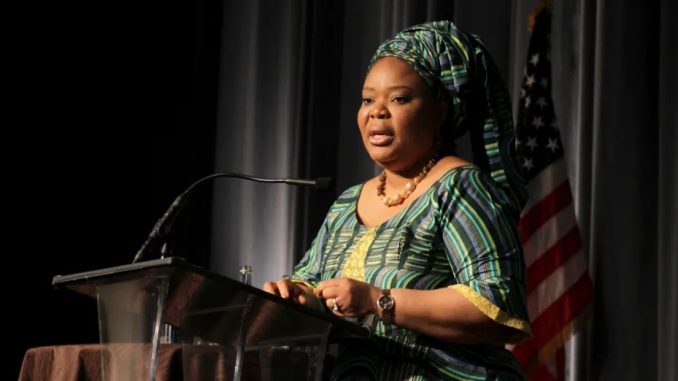 By Gabriela Flores
   Whether it be fighting against the Second Liberian Civil War or preserving in the wake of struggles, Leymah Gbowee has become a powerful figure of peace. Before being named Nobel Peace Laureate in 2011, Gbowee was on the frontline of protests she and her fellow Women of Liberia Mass Action for Peace launched, ensuring that their call for a ceasefire did not fall on deaf ears – even if that meant risking their safety for the cause.
   "Peace for me is not just the absence of war. Peace is the presence of conditions that dignifies all of us," Gbowee said during a conversation with Brooklyn College President Michelle Anderson on Apr. 8. 
    The college invited Gbowee to speak about her advocacy along with Liberia's wars and complex history. Anderson, who sat beside Gbowee in the Woody Tanger Auditorium, kicked off the dialogue by asking the activist where her story all began: as a child living in Monrovia, Liberia. 
   "I consider myself a daughter of the community. A daughter of the generosity of people and a daughter of many tribes," Gbowee said. Within her neighborhood, Gbowee and her neighbors were living by Umbuntu, a principle of how someone is who they are "because of what we all are." This translated to the activist being cared for by many, even getting a dollar coin by those in her vicinity if she had a strong report card. Her spirit to stand up for herself and others, however, bloomed from her "first feminist teacher": her grandmother. 
    But life as the activist knew it changed on Dec. 24, 1989 – the day that Liberia's first civil war began. At the time, Gbowee was 17, grappling with the shift in her neighbors' attitudes towards one another and a specific ethnic group. 
    "[…] It confused me as a 17-year-old because my best friend till today was part of the ethnic group that everyone was calling evil. But prior to that war, I slept at their house, their mother washed my clothes, she took care of me," Gbowee said. 
   The war that flipped Liberia upside down stemmed from the nation's long history that began with the American Colonization Society (ACS), an organization created by Congress after slavery. With formerly enslaved black people gaining their freedom, the ACS sought to move them abroad so they would not "override the white population," Gbowee explained, noting that Liberia was never intended to become a country but was simply "a project." What waged once free slaves came to Liberia in 1947 was a similar look to segregation in America, where the newcomers "did exactly what was done to them on the plantation to the indigenous people," Gbowee said. 
   "If you had my last name at the time, you couldn't go to a particular high school. So segregation was there," said Gbowee. The indigenous people of Liberia eventually executed the leading descendants of free slaves in 1980. Fast-forward nearly a decade later, Charles Taylor, the country's former president, started the First Liberian Civil War in 1989. Taylor, a descendant of free slaves, fought against the government, creating a war that killed about 10% of the roughly 3 million Liberian population at the time. 
   "Once he became president and eventually decided to become a dictator, another round of violence happened in 2003," Gbowee noted, indicating that the latter war pushed her and her fellow activists to organize the Women of Liberia Mass Action for Peace. 
    "It was in 2003 that we stepped out and started protesting 14 years of the loss of our innocence, the loss of children, the loss of everything," said Gbowee. 
   Putting her nose on the grindstone, Gbowee was reckoning with her anger of the war's impacts and the challenges she faced in her personal life as a mother who left an abusive relationship. According to Gbowee, anger is "fluid" and cannot be simply defined as good or evil. There are two compartments, or "containers," of anger that vary from one another: non-violent and violent. 
   "And what I recognized when we started activism was that you can't give what you don't have. You can't be a peace activist unless you have a sense of peace," Gbowee said. 
   Once she was able to configure this, she and her seven female colleagues, who were tired of the war, began working on a statement to President Taylor – fiercely calling for the immediate ceasefire of the second civil war, deployment of an international intervention force, among other demands. There, they named themselves Women of Liberia Mass Action for Peace and were able to catch the attention of the press and other women with similar beliefs. Before they knew it, the group built by the seven extended to thousands and was finally able to speak to the president face-to-face after many turndowns. 
   Once the group made Liberian officials sign a peace agreement and demobilize soldiers, members did not stop there, as Gbowee and her colleagues sought to ensure that democratic elections were restored in 2005. 
    In the face of adversity, Gbowee didn't stand down from her responsibility as a leader to her fellow Liberian women who were of different religions and backgrounds. Though she earned her title of Nobel Peace Laureate in 2011, she never went into her activism with the intent of garnering personal accolades. 
   "The difference with movements today, once the leader gets to some form of notoriety, they want to maximize every personal benefit," said Gbowee, noting that she and her fellow activists were only driven by the cause. 
   Once Liberia's first female president, Ellen Johnson Sirleaf, came into power, Gbowee decided to take a breather from activism and return to academia, coming to the United States to pursue a master's. During her studies, she searched to determine if she contributed to "actual peacebuilding" and later found she did exactly what is described in theory. 
   After many years of hard-fought battles, Gbowee finds herself today reflecting on her life as a whole, determining that self-care is important to keep up any good fight for peace. 
   "I always say to young people, 'The essence of why you started a movement is either to bring peace into your community or to achieve a specific goal,'" said Gbowee. "All of the opportunities that you see around you will come if you stay on the course."