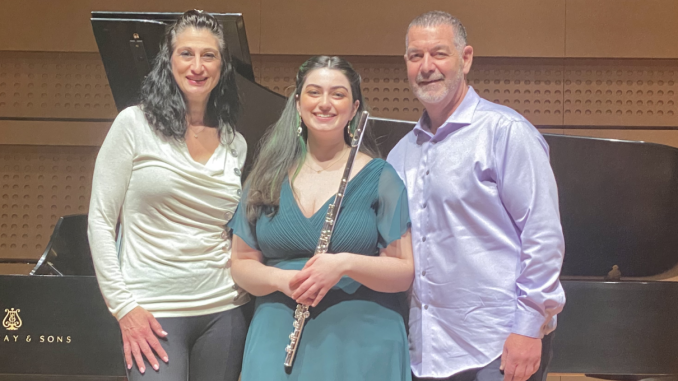 By Aliyah Jacobson
   As the spring term comes to an end, the Conservatory is hosting recitals performed by graduating Brooklyn College students. Nicole Auriti, a BC student earning a master's in music with the guidance of Andrew Rehrig, performed her flute recital at the Don Buchwald Theater on Sunday, May 1.
   During her recital, Auriti was accompanied by Steven Beck who played on piano and harpsichord as she performed five movements.
   The first movement, "Alone, Together-A Monologue for Solo Flute" by Samuel Adler, was almost haunting with the flute sounding like a human conversation. 
   The second movement was "Flute Sonata No. 1 in B Minor, BWV1030" composed by J.S. Bach, and it included a. Andante b. Largo e dolce and c. Presto. As all Bach pieces, it was lively and full of gusto. 
   The third movement was "Pisces from Signs of the Zodiac" composed  by C. Matthew. Those born during the pisces season are known for their kindness, empathy and emotional awareness – and each was heard in Auriti's sensitive, empathetic and emotional music. 
   The fourth movement was "Sonatine for Flute and Piano," which was in a. Allegretto b. Andante c. Anime, and composed  by H. Dutilleux. Allegretto means a quick and fast beat, while Andante translates to moderately slow. Paired with anime, a fan-based music combining Japanese animated shows, the three beats resembled each other's styles perfectly.
   Auriti's last and fifth movement, "Introduction and Variations, D. 802" by Shubert, was the most calming and thrilling to listen to of all the movements. This last piece reminded me of "Peter and the Wolf," a symphonic children's tale, and when Auriti's mother reflected on her daughter's love of the show, I clearly saw the resemblance.
  "Nicole's love of music all started in kindergarten when she watched 'Peter and the Wolf'and she fell in love with the little bird," said Laura Auriti, the performer's mother. "Even though it was a piccolo in the story, Nicole fell in love with the bird and she fell in love with the flute and that is where it all started." 
   Auriti's style was mostly of the Baroque period and each movement seemed to tell a story. Her program was very detailed with even the length of each movement.