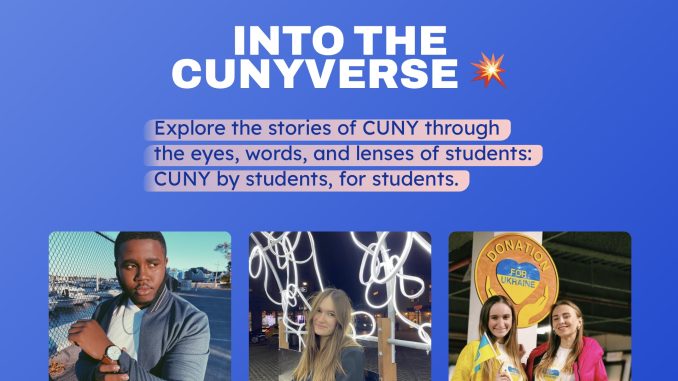 By Serin Sarsour
   A new blog called CUNYverse was created by CUNY to serve as a platform where its students can share their voices and read the stories of other fellow CUNY students. Not only is this site dedicated to students, it is also run by current and former students. Although the idea of the site had been circulating for years, it was not officially released until earlier this year.
   "CUNY is a system of 25 colleges across the five boroughs with hundreds of thousands of students. It's very hard to get a full picture of just all the different things that can come out of CUNY. I think even already, just in the first couple of months at CUNYverse, you're really able to see all the many different paths that students can take," said Terrell F. Merritt, one of the co-editors at CUNYverse.
   Merritt graduated from City College in 2020 with a major in advertising and public relations, and a minor in English and journalism. Graduating at the height of the COVID-19 pandemic, Merritt was able to use CUNYverse as a vehicle to help share his experience.
   "The stories of CUNY students are powerful and are really what drive the success of this university. And I think we've both been able to play a much bigger part in making sure that people get to see that," Merritt said.
   Working alongside Merritt in the CUNY Office of Media and Communications as a co-editor for CUNYverse is former Macaulay Hunter College student, Sumaita Hasan. She earned a major in English literature and media studies, and a minor in music.
   "I feel like my favorite part [about CUNYverse] is just getting to read students' stories," said Hasan. "Sometimes it might be a more traditional article, but I find the most moving pieces to be kind of like little memoirs that students write and they feel comfortable enough to share their story with a wider audience."
   Merritt and Hasan, along with the rest of the CUNYverse team, welcome all CUNY students to submit their stories and contribute to the blog by filling out a form that can be found on the site. Students can even apply to intern at CUNYverse. The CUNYverse team also finds students and alumni to reach out to become guest contributors for the blog by searching the news and Dateline: CUNY, a site that gathers stories from all CUNY undergraduate student newspapers.
   The CUNYverse team does a variety of things to increase engagement on the website. Other than utilizing social media platforms, such as Instagram and Twitter, the team sends out biweekly newsletters, or student briefs, to reach a larger audience. Hasan contributes largely to the creation and sending of the briefs.
   "Some of our best performing briefs this year have been CUNY stories, particularly TikTok profiles or students who just started their own nonprofits or are getting brand deals. I think other students are interested in hearing about their peers and gaining inspiration from them, as well," said Hasan.
   Additionally, Hasan notes that reading stories by fellow CUNY students also serves as a kind of step towards networking with their peers who have similar interests or career goals in the future.
   Merritt emphasizes the importance of students stepping out of their individual schools and looking into the entirety of the CUNY system. "I think that there's a lot to be said about the written word […] I am most expressive in that platform. I can't sing, I can't do art. I write for a reason, but we have plenty of students who can do those things," Merritt said. "And I think being able to bring more of that creative side of things into this space would be a big way that we could expand and make sure that people just get to see the full spectrum of what it is to experience CUNY as a student."
   Hasan and Merritt hope to continue expanding CUNYverse's team, guest contributors, content, and overall engagement on the blog. One of Hasan's goals for the website is to experiment with different creative factors, such as "including more multimedia aspects to it."