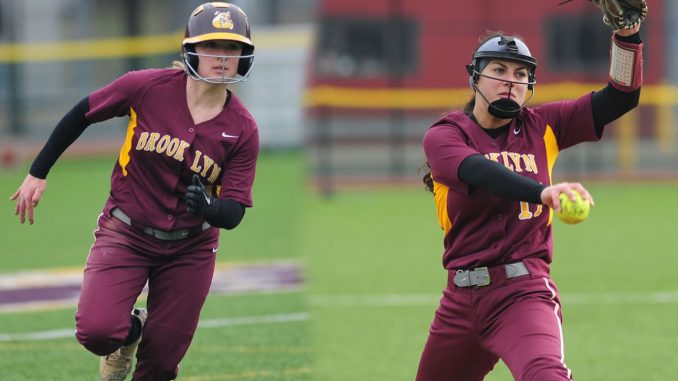 By Owen Russell
   The women's football team closed its season with a match against Lehman College on May 3. The Bulldogs faced the Lightning in the CUNYAC Postseason play-in game. Brooklyn had played Lehman four times this year, having lost each of those four games heading into Tuesday's meeting. Both Brooklyn and Lehman were vying for a spot in the CUNYAC Tournament, but in the end Brooklyn came up short. It was a scoreless day for the Bulldogs as Lehman scored six runs against them (though only two were earned). It was not a terrible day for the Bulldogs. Brooklyn committed a few costly errors which turned into runs and allowed multiple sac-flies. In the batter's box, Brooklyn managed only three hits. 
   Brooklyn closed the season with a record of 6-21. It wasn't a picture perfect season for the Bulldogs. The Bulldogs were shut out in seven of their 21 losses. That said, the 2022 season marked Brooklyn's first softball season since COVID. Despite suffering an early playoff exit, this year's team will go down in history as the first post-pandemic.  
   Center fielder Stella Witkowski was one of three Bulldogs to record a hit. Though it was not an ideal year for the Bulldogs as a whole, Witkowski and others achieved individual success. Witkowski was named to the CUNYAC All-Star team along with pitcher Danielle Guzzardi, who was also named to the CUNYAC Sportsmanship team for softball.
   With softball's season coming to an end, thus ends the sports year at Brooklyn College. It has been a year filled with ups and downs. Amongst the whirlwind of wins and losses, one thing is true about each and every team at Brooklyn College. Despite all the uncertainty created by COVID-19, every Bulldog who stepped onto a court, field, or a starting line, helped transition CUNY out of the pandemic and back to a sense of normalcy. As fall sports resume next semester, athletes and fans alike hope that crowds will remain. 
   Congratulations to every athlete who competed for Brooklyn this year.