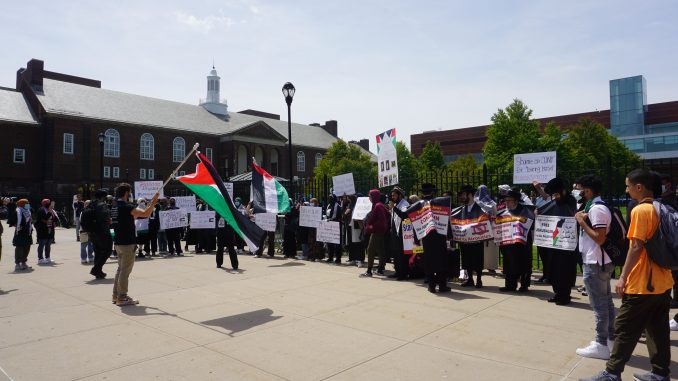 By Gabriela Flores
Reporting Assistance by Matt Hirsch
   Last Thursday, May 5, several Jewish-based and pro-Israel clubs hosted Brooklyn College's traditional Israel Independence Day, or Yom Ha'atzmaut, celebration on the West Quad. Outside the quad's gates, protesters from the Student for Justice in Palestine rallied alongside allies to condemn the festivities, the state of Israel, CUNY's recent trip to the country, and other issues. 
   "[We are here] to raise the voice of many Jewish communities worldwide and especially in the United States in total outrage at the existence of the state of Israel and especially to the celebration taking place here," said Rabbi Dovid Feldman, who joined SJP. "And we as Jews are concerned as well."  
Before the rally began, Israel Independence Day organizers tabled different stations where BC students could learn more about Israel's history, taste traditional foods, and bounce in a bouncy house with upbeat music in the background. For BC's SJP, a club that aims to amplify Palestinian culture and condemn the "ongoing Israeli occupation," the festivities were considered inappropriate given that it aligned with Palestine's Nakba, which refers to the 1948 "[…] displacement of over 750,000 Palestinians out of their homes due to Israeli settler colonialism," according to the club's Instagram page.    
   "In actuality, they're celebrating their independence, but it's actually like the genocide for the Palestinian people – it's when they lost their homes," an anonymous SJP board member said, who wanted to be called "Fatima" due to their concerns of being "blacklisted." "So for us, it's a very sad period. It's nothing to be celebrated."    
    After the SJP rally was announced, the president of the Bulldogs for Israel – an organization that was set to join the independence day festivities – reposted a story on Instagram about the protest, alleging "these people are violent and have harmed several Jews in NYC" when referring to SJP alongside Nerdeen Mohsen Kiswani, a CUNY Law student who is known for her anti-Israel activism. The same post called on celebrants to "be prepared to defend yourself," and to contact the original story source for where they can get pepper spray. 
   The Undergraduate Student Government released a statement condemning the club's repost that was "promoting violence" against SJP and protestors. On Israel Independence Day, the club was not represented at the fair. 
    "The Israel Independence Day Committee believes all students should feel safe on campus. We condemn all forms of violence and affirm our commitment to the free speech rights of all members of the Brooklyn College Community," the committee's official statement stated on an Instagram post. These posts leading to Thursday's protests are backdropped by an ongoing federal investigation against Brooklyn College for antisemitic incidents that are unrelated to SJP and an "all-time high" count of antisemitic incidents in 2021, according to ABC News.  
    Going into the rally, SJP members decided to only demonstrate outside the West Quad's gates for their own safety and to ensure the rally remained peaceful. 
   "We never went upon their [Israel Independence Day celebrants] premise. We never tried to disrupt whatever they were doing. We stayed on a public property and we held our ground and everything," said another anonymous SJP board member, alias "Jack." "[…] We planned it peacefully. It happened peacefully."
    During Thursday's protest, several public safety officers were stationed around the West Quad's parameters to monitor the rally. SJP demonstrators and allies from the Orthodox Jewish community held posters that condemned Israel and the killings and displacement of Palestinian people. Protestors also chanted sayings including, "From the river to the sea, Palestine will be free," "Judaism yes, Zionism no," and "Israel go to hell." During their demonstrations, the protestors were met with two pro-Israel people who attempted to disrupt the protest and another pedestrian who argued with one of the allying rabbis. Fatima noted they felt "uncomfortable" and unsafe from these attempts. 
    In the background, the Israel Independence Day celebration continued. 
"Even before they said anything, we knew from months ago that they [SJP] were going to do something of the sort," said Allegra Timsit, who helped organize the event. "We were preparing for it pretty much the whole time. But, to be honest, it doesn't bother us. We are here having a great time, having a fun time celebrating our state and its birthday. So, we're just happy to be here, really." 
    Among their chants, SJP members also protested against Brooklyn College President Michelle J. Anderson and other CUNY school presidents for their recent trip to Israel alongside CUNY Chancellor Félix V. Matos Rodríguez. Anderson announced in a college-wide email on Apr. 26 that the "Scholars as Bridge Builders" trip is in partnership between the CUNY Chancellor's office and the Jewish Community Relations Council of New York. The visit, which took place from Apr. 27 to May 3, aimed to connect CUNY leaders with "Jewish and Arab students, faculty, and administrators," according to Anderson. 
    "We heard from people with divergent perspectives on higher education, equality and diversity efforts within higher education, the Palestinian-Israeli conflict, and the prospects for peace," Anderson wrote in a statement to The Vanguard.
   "The study tour provided us with a complex set of perspectives. As such, it resonated with core academic values of open-mindedness, listening to others, assessing the evidence and historical facts, considering alternate interpretations of that evidence and those facts, enhancing empathy for people from very different backgrounds, and being willing to change one's understanding when faced with new perspectives," she stated, noting she joined the trip to "enhance my understanding of the complexity of the region in order to better serve our community."
   For SJP members, the trip was "insensitive," given the recent killings of over 30 Palestinians during this past Ramadan. 
   "Why Israel out of all the countries in the world? What policies are they trying to bring in CUNY? It just rose a lot of questions and it's very insensitive […]," said Fatima. 
   According to SJP members, they wanted the rally to educate the community on Nakba and condemn the on-campus celebration of Israel for its violence against Palestine. 
   "A human right is a human right. It doesn't matter where it's being violated, and we should stand for all people across all the world that are experiencing atrocities being committed to them," said Jack.