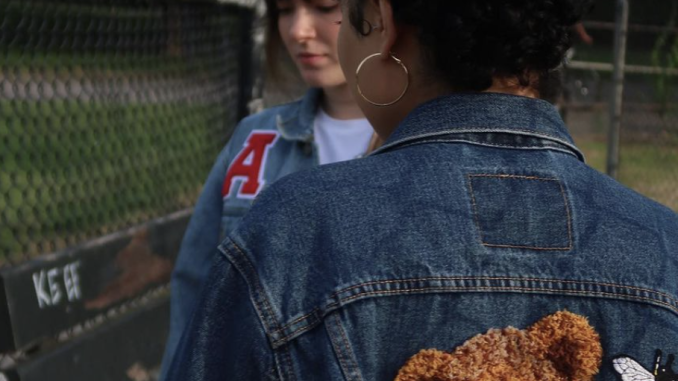 By Gabriela Flores
    While she searched through the city's thrift and vintage troves, Manuela Surillo became a budding entrepreneurial force to be reckoned with. After a few months of tinkering with the idea of owning a brand, the Brooklynite looked for denim, fabrics, and what some consider fashion's tattoos: stitched patches. Once she graduated from Brooklyn College this past spring, Surillo hit the ground running to make her brainchild, Patch Me Studios, come to life. 
   "With 'me' being in the title, it's all about who you are, how you express yourself, and I just thought of it as tattooing your own clothes. That's what my brand is based on," Surillo told the Vanguard. 
     Stepping into the fashion industry wasn't always part of Surillo's plans. Before majoring in business at BC, she thought of being a gynecologist and studied biology before realizing it wasn't her forte. After taking a year off from academia, she reset the button and worked in retail, eventually showcasing her stylistic eye on windows, mannequins, and throughout different stores like Banana Republic.
     Though she finds fashion a form of self-expression, it's not what defines her. 
    "I'm always very fierce but at the same time […] I would say that I bring that within my energy. I don't need to do much as far as fashion for me to be present in a place," Surillo said. "I dress to the occasion. To a couple of people, I may overdress for whatever occasion it is – but that's just how I am."
     Patches have been a part of Surillo's wardrobe throughout the years. Through Patch Me Studios, she's created pieces representative of her own hobbies, allowing fashion lovers to customize their pieces with stitched symbols. Though the brand's concept was born a year ago, its groundwork started after she had a tough day at work and came across teddy bear patches that later became the focal point of her first drop: the MASCOT COLLECTION. 
    "Through hard times, I had to remind myself to be my own companion. I myself got this – that I could go through anything," said Surillo, recalling her college days when she pushed herself to be her own mascot and support her degree pursuit. "And nobody can do it better than you. Push yourself even further to do whatever it is you need to do. And that's what the bear symbolizes – a true mascot." 
    Drawing inspiration from the 70, 80s, and 90s, she's taken snippets of the past and blended them with current fashion trends on denim jackets. As Surillo sought from the get-go, all her inventory is thrifted. She consciously aims to reduce her brand's environmental impacts by sourcing her products from NYC's thrifting hubs. 
    "I've seen how much fabric goes to waste. I've seen how much paper is put into use," Surillo said. "So what better way than to go to your local thrift and pick up something that is still in very good condition–at times even new still–you know? There's a lot of people who put so many clothes to waste, so why not try to reduce the fast fashion and stop manufacturing new products, and just flip fabrics that already exist?"
    Channeling the groove and fun times of decades ago, she hopes her brand will encompass a similar momentum through its products and transfer to those who wear them. As a budding entrepreneur, Surillo focuses on in-house marketing and keeps up with the latest fads and upcoming holidays to curate her new drops. She's currently on the hunt for patches that commemorate Hispanic Heritage Month and is looking to improve her stitching skills to design her own patches eventually.
    No matter the products she releases, she ensures that they all meet her brand's high standards. Though she's faced challenges like website crashes, she's taken them on with stride and learned the finer details of taxes and other legal paperwork. With the support of other entrepreneurs like her cousin, who owns an online candy shop called Chile Babe Dulcería, she's picked up tips from her inner circle. Surillo also remembers the push she received from her professors at Brooklyn College. 
    "They gave us the courage to just go for it, and I really do appreciate that. I feel like I needed that the most to just go ahead and start my business," Surillo said, mentioning her time with Dr. Ngoc Cindy Pham. 
    "She definitely helps her students tremendously in putting their resume out there, pushing you forward to go ahead and find a job. Not only that, if you're starting a business, she'll go ahead and put your stuff out there," said Surillo. "I really do appreciate her because you don't get a lot from a lot of people."
    As she continues growing along with Patch Me Studios, she envisions her brand taking off. Though she's not where she initially planned, Surillo remains open to learning from her mistakes, building toward her goals, and leaving her comfort zone as a newly-graduated business student. 
   "For me, I worked retail for five years, and I had my last trigger where I was like, 'Okay, I'm tired of working for other people. I'm not good for this,'" Surillo noted about what fueled her entrepreneurial drive. "But you know, everybody has their own moments. You cannot force things to be there. If you're not ready, you're not ready, and that's completely fine. Everybody has their own timing."