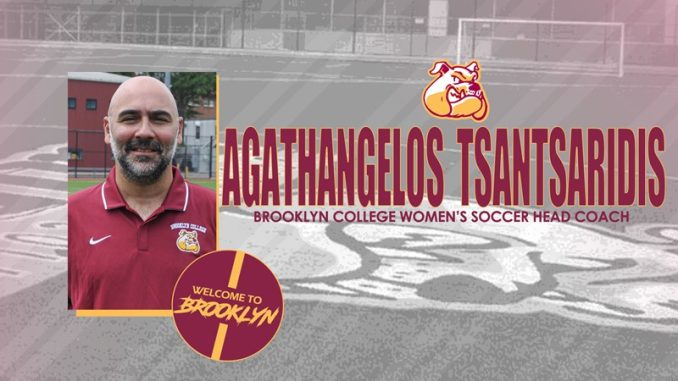 By Gabriela Flores
   A new name has made its way to Brooklyn College's women's soccer roster and is looking to lead the team to success both on and off the field. Coach Agathangelos Tsantsaridis was named the Bulldogs' head coach in July, becoming the fourth leader in the program's existence. As the season kicked off this past Saturday, Sept. 3, Tsantsaridis and the players prepared to take on their competitors over the summer. The college's new coach was certain about him and his team giving their best to the opening game. 
   "Like every other game, this one is no exception – we will focus on our game and go for the best possible outcome," Tsantsaridis told the Vanguard. 
     Before rolling with the Bulldogs, Tsantsaridis was an associate head coach at John Jay College, a back-to-back CUNYAC Champion that took home the university's highest athletic title in 2019 and 2021. During his run with the Bloodhounds, the team went on to appear in the National Collegiate Athletic Association Tournament, a first in the program's history. 
   "I was fortunate enough to be there almost from the beginning of the program with Coach Casey Sommers," Tsantsaridis said about his John Jay days. "While the winning did not come straight away, with vision, patience, and hard work, we were able to turn the program around, and for that journey I am always grateful." Now at Brooklyn, Tsantsaridis is hoping to make similar splashes. Taking his experience with changing the Bloodhounds' trajectory, he aims to place the Bulldogs on the top again.   
   "My passion for soccer, combined with all of these I took from being a Bloodhound, will be my guide to bring the Bulldogs back on the front stage," he said. 
     Tsantsaridis' drive for the game was nurtured from his childhood in Greece. His footwork frequently showed out in local pickup games, and his father was a soccer fanatic.
    "After school, I would find a pickup game on my way home and would literally only return home when my parents got worried and came to look for me, or when the sun was down and we couldn't see the ball any longer," he reminisced. At around nine years old, the destined-to-be coach was officially asked to join a team where his sportsmanship continued. 
     The dream to become the head of a professional team always seemed tangible for the young soccer star, who played for a semi-professional team in Athens in 2010 while pursuing a degree in finance. Once the opportunity to land a coaching license opened, he took the first stepping stone towards his current career and applied to a month-long Union of European Football Associations course. 
    "The day of the first in-person meeting for the course, before I left my apartment, I wrote down on a piece of paper, "If you don't try, you will never know," Tsantsaridis said, noting his nerves leading up to the big moment. "I went there and immediately knew that it was the right decision, and there was no other place I wanted to be." Soon after, Tsantsaridis was able to add "coach" to his name and hasn't dropped his clipboard since. 
      Tsantsaridis' days in Greece's elite academies and local pickup games have carried on to his coaching style today. Some challenges he's faced as a player included competing with others who were on the same level or even higher. One of the key lessons he's remembered, however, is the significance of playing fairly while living out and shooting goals on the field. 
   "[…] The most important was that everyone there was ready to do everything in order to make their dream come true, between the FairPlay lines, of course," said Tsantsaridis. "You will see some very kind kids off the field, and when you get on the field, everyone puts their most competitive face on." 
    Though the Bulldogs' opening game against Sarah Lawrence was canceled, the team went on to compete with Rutgers-Newark last Saturday. There, they lost their first fall game 1-9, with midfielder Rachel Gomez landing Brooklyn's sole goal. As the new face of Brooklyn's women's soccer team, Tsantsaridis has high hopes for his future with the Bulldogs. 
     "My hope is that everyone on the team will become successful on and off the field," he said. "That we will be able to bring the most talented student-athletes and provide not only an exceptional academic experience that Brooklyn College offers but also a fantastic soccer college career."